Although American college and university faculties have become more diverse over recent decades, tenured faculty remain more likely to be white and male. According to a Pew Research analysis of data from 2017, while 27% of junior faculty were nonwhite, only 19% of tenured professors were. Until now, however, no data existed about what schools were doing—or not doing—to mitigate these issues.
In a report issued Wednesday, the American Association of University Professors (AAUP) released the results of the first national survey to include questions on DEI practices in the context of tenure. It provides the first snapshot of institutional efforts to address the comparative lack of diversity at the highest levels of their faculty.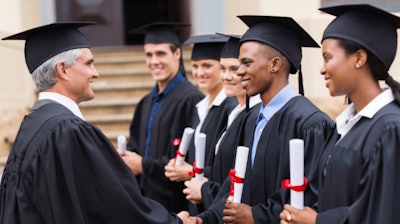 The reasons for this lack of diversity are various and complex. Students may evaluate faculty from different backgrounds in different ways, and tenure committees may be implicitly biased, less likely to know and respect the journals in which minority faculty have published. And decision-makers may not recognize the mentorship and service obligations that disproportionately fall on faculty of color, a form of DEI work that has often been likened to a "cultural tax."
AAUP asked whether schools had taken several specific steps to mitigate these issues.
The survey found that around 22% of institutions included DEI criteria as part of tenure reviews, and that around 39% had reviewed their tenure standards for implicit bias. Roughly the same number had given implicit bias training to their promotion and tenure committees in the past five years. Although the numbers were not overwhelming, to Dr. Kimberly A. Griffin, associate dean of graduate studies and faculty affairs at the University of Maryland's College of Education, they represented progress.
"For a long time, the idea has been that we increase faculty diversity by focusing on the candidates themselves and helping them better navigate structures and systems," said Griffin. "And we're moving more and more at the institutional level [to] acknowledging the barriers that are in place and the ways that institutions actually limit access to success in the academy long-term."
Many of the schools that hadn't taken the steps said that they were considering them. Around half of those that didn't use DEI criteria or review their standards said that they might in the future, as did about 70% of those that didn't use implicit bias training. However, although these numbers may augur well for the future, Hans-Joerg Tiede, director of research for the AAUP, didn't see them as a cause for celebration.
"I was expecting that almost anybody who hasn't done it would say, 'But we are thinking about it,'" said Tiede. "That's not even a formal commitment; it doesn't even require them to do anything."
According to Tiede, this lack of commitment is at odds with the public posture of many colleges and universities.
"A large number of institutions are saying they have goals to promote diversity, equity, and inclusion, to recruit and retain a more diverse faculty. I'm sure many of these institutions have strategic plans and public statements saying that they're committed…There seems to be a disconnect," he said.
However, the biggest impediment to more diversity in tenured faculty may be a reluctance by schools to offer tenure-track positions in the first place. The AAUP report notes that tenure lines have been shrinking as a proportion of the academic workforce for decades. Dr. Patricia Matthew, an associate professor of English at Montclair State University and editor of Written/Unwritten: Diversity and the Hidden Truths of Tenure, thinks that with fewer positions available, it may be even harder for candidates from under-represented backgrounds to get hired.
"Departments are already risk-averse because they don't get to hire tenure-line faculty very often," said Matthew. "So, all of the biases against hiring faculty of color come to bear on those decisions. If you're looking for a hire for a tenure line, you want someone who can meet the requirements of your institution, and you want that to be legible immediately. If people believe that the bar is lowered for graduate students of color or that faculty of color are always going to leave, they're less likely to consider them."
And with fewer opportunities for minorities to get tenure, the harder diversifying the academy at all levels becomes.
"Tenure comes with stability," said Griffin. "It comes with the ability to engage in leadership roles across campus, to set policy. So, if we want to see systemic change, we really need to see more scholars of color at the table to make those decisions."
Matthew agrees. "As long as we're relying on a contingent faculty to do our work, we cannot do the work of diversity effectively," she said.
The AAUP's survey shows that although some institutions are examining their tenure processes, true representation is still distant. "We're at the beginnings of a movement," said Griffin, "but I think we still have a long way to go."