College administrators and faculty have to be much more aggressive in reclaiming the importance of a liberal education, particularly in the wake of sweeping legislative efforts in some states to restrict academic freedom and to outlaw the teaching of some subjects.
"There is a sense of urgency around achieving our shared objectives at a time when higher education and liberal education is under siege," said Dr. Lynn Pasquerella, president of American Association of Colleges and Universities (AAC&U), which is holding their annual meeting in San Francisco this week, drawing more than 1,200 academics to one of higher education's most important convenings.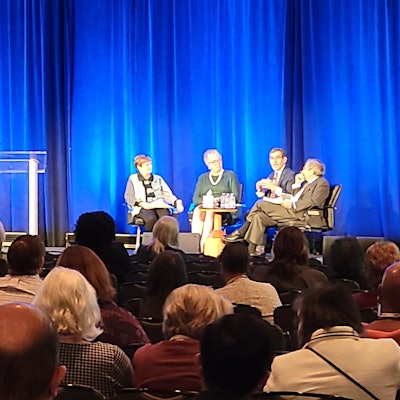 "What we have done in the past has not worked," said Pasquerella, who has led the global membership organization since 2016. "We can't be passive recipients to those who know better, who know that African American history is real history. We need to start controlling the narrative."
Pasquerella's comments come in the wake of Florida Governor Ron DeSantis' decision to block a new Advancement Placement course for high school students on African American studies.
Earlier this month, DeSantis sent a letter to the College Board, which oversees AP coursework, to inform the nonprofit assessment organization that the Florida Department of Education's Office of Articulation said the course is "inexplicably contrary to Florida law and significantly lacks educational value."
Amid declining trust in public education, growing governmental inclusion, ongoing racial injustice, attendees expressed a greater commitment to protecting the "democratic purposes of higher education."
"The humanities are about raising questions to which there are no clear right or wrong answers," said Dr. Andrew Delbanco, who is the president of The Teagle Foundation and is the Alexander Hamilton Professor of American Studies at Columbia University. "What is the responsibility of the living for the sins committed by the dead? That's a hard question."
Delbanco was on a panel with others including Dr. G. Gabrielle Starr, president of Pomona College and Dr. Mike Flores, chancellor of the Alamo Colleges District in San Antonio, Texas.
"With the extraordinary diversity of the institutions represented in our association, there are opportunities for collaboration," said Starr, who along with the other panelists added that a liberal education should serve as a tenet for a thriving democracy.