The U.S. Departments of Education (ED) and Labor (DoL) have announced new efforts to expand Registered Apprenticeships for educators and bolster teacher preparation programs.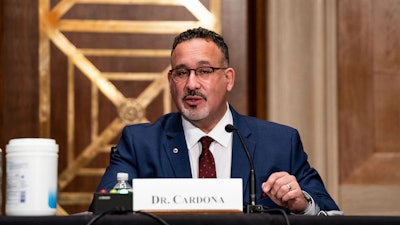 The efforts range from monetary investment to new guidelines, such as more than $27 million in awards from ED to support educator preparation programs; more than $65 million from DoL for Registered Apprenticeship programs in critical sectors, including education; and new National Guidelines for Apprenticeship Standards (NGS) for Registered Apprenticeships for K-12 teachers.
The guidelines – a quality standards framework – were developed by The Pathways Alliance, which included organizations such as the American Association of Colleges for Teacher Education, National Education Association, American Federation of Teachers, and the Learning Policy Institute.
"Teacher apprenticeships are a key strategy in our plan to Raise the Bar in education and improve learning conditions in our schools by ending the educator shortage and providing all students with great teachers who are prepared to succeed in the classroom from day one," said U.S. Secretary of Education Dr. Miguel A. Cardona. "Providing opportunities for future teachers to earn while they learn has created an affordable and exciting pathway into the teaching profession that can help states build a talented and diverse pipeline of educators at a moment when doing so has never mattered more. I'm thrilled that in just one year, the Biden-Harris Administration has helped grow the number of states with Registered Apprenticeship programs for teachers from two to 21, and look forward to these new guidelines helping get all 50 states get onboard."
ED also released a policy brief on how states are taking steps outlined by the Biden-Harris administration for effective teacher recruitment, preparation, and retention.
Meanwhile, DoL announced that RTI International will be serving as an intermediary that will focus on creating and supporting K-12 education Registered Apprenticeship programs.