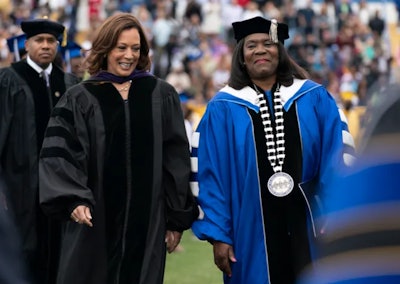 Tennessee State University (TSU) President Dr. Glenda Glover will step down from her post at the end of the spring 2024 semester, closing out a decade of leading her alma mater, the Tennessean reported.
"Serving as president of Tennessee State University has been the honor of a lifetime," Glover said. "This is where I got my start. I came to Tennessee State University, graduated in 1974. From 1974 to 2024, a 50-year blessing. And now it's only appropriate that I announce my retirement from the place that gave me my start."
Glover – who was hired to lead Tennessee's only land-grant, historically Black university in 2013 – said her voice was needed on a "more national platform," though she had no specific plans for the future. She is one of the longest serving current presidents of a public Tennessee university.
"My skillset, leadership, voice is needed now much more than ever as we fight to protect access and equity," she said.
Before taking over the presidency at TSU, Glover had served on the faculty at Howard University and was the dean of the College of Business at Jackson State University.
During her tenure, TSU increased grant funding to over $100 million in 2023, more than doubled endowments, and gained recognition as a "high research" school.
"HBCUs remain at the frontline of educating students who need access to the transformative power of higher education despite discriminatory funding. We often ask the question, 'Why do we still need HBCUs?'" Glover said during a hearing before the U.S. House Committee on Education and Labor. "The question should be, how do these colleges and universities have so little and produce so much?"