Walter "Ted" Carter Jr., president of the University of Nebraska system and former superintendent of the U.S. Naval Academy, will become the 17th president of The Ohio State University (OSU), the school announced Tuesday.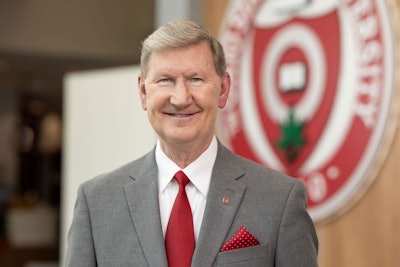 "I am immensely grateful for the opportunity to serve as president of Ohio State, an institution founded upon and well known across the globe for research, teaching and an enduring commitment to service," said Carter in a post on OSU's website. "The work being done across Ohio and beyond to shape the future of research and innovation, workforce development, the arts, health care, college affordability and college athletics is remarkable. These are areas of particular passion for me, and I can't wait to begin my journey as a Buckeye."
While in the Cornhusker state, Carter spearheaded the Nebraska Promise, a program which offers full tuition to low and middle-income state residents and implemented a two-year tuition freeze. At the Naval Academy, he was the longest continuously serving superintendent, with a five-year tenure. Carter is a retired vice admiral, with 38 years of service, and has flown 125 combat missions in Iraq, Afghanistan, Kuwait, Bosnia, and Kosovo. He received the Distinguished Flying Cross with combat distinction for valor and the Bronze Star.
Carter will be taking over for Dr. Kristina M. Johnson, who led OSU since 2020 and departed under somewhat mysterious circumstances. Upon the announcement of her resignation in November, it was reported that she was leaving in response to an outside investigation in response to staff complaints. Both Johnson and OSU denied that there was an investigation, but the reason for her departure remains unclear.
Carter will face headwinds as OSU's leader, including lawsuits from the survivors of sexual abuse by Dr. Richard Strauss, who was a physician in the athletic department between 1978 and 1998. According to WOSU, Carter avoided saying whether he supports paying settlements to the survivors.
"I followed my predecessors [in] saying how sorry I am and I apologize to those survivors of that abuse. I know this university has been open to listening to them and I know there's more litigation to be done, and I'll have more comments and thoughts on that as I get more knowledgeable in the seat," Carter said, per WOSU.
He will also face pressure from the Ohio state legislature, which last year nearly passed a bill that would have banned DEI training and programming and restricted the teaching of so-called "divisive concepts" about race.
According to WOSU, Carter said that he wanted to try to have more dialogue with legislators. Carter said that his motto in doing so would be "I do not write state laws, I follow them," according to The Columbus Dispatch. He said that he was happy that compromises had been written into the Ohio bill, which could resurface this coming year.
Carter will begin his term on January 1st. It will last through the end of 2028.