Dr. Barbara Bryan has stepped into the role of acting president of Broward College after an ally of Florida Gov. Ron DeSantis, Harry Mack III, turned down the position he had accepted just the day before, the South Florida Sun Sentinel reported.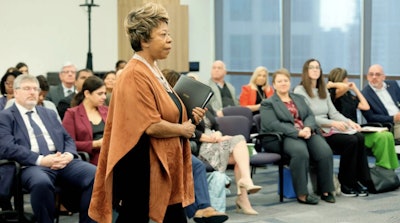 Bryan will serve as the school's first female president.
"I am thrilled for the opportunity to lead Broward College through this time of transition," Bryan said. "I've spent the greater part of my career at the institution, and it is an honor for me to return in the capacity of acting president to serve among the dedicated and passionate faculty and staff in our mission to provide quality education and job training to our community."
Previously, Bryan served as president of the college's north campus before retiring in 2013. During the presidential search for someone to take on the temporary leading role, she had been the runner-up while Henry Mack III – a former Broward College administrator, education lobbyist, and state education chancellor – had been the trustee's first pick.
However, Mack and Broward couldn't agree on salary and contract length, according to school officials. Mack had requested $400,000 and a housing and transportation allowance though the job posting listed a salary range of $250,000-$350,000.
"We offered $287,000. We were willing to go up a small amount of money for reimbursement of travel because he doesn't live in Broward and there would be some commuting back and forth," said Trustee Chair Alexis Yarbrough. Mack lives in Tallahassee.
Mack also wanted a contract for longer than a year, but Broward only wanted the temporary role's contract to last six months. Mack wanted to stay long-term and planned to apply for the permanent job, he told the Sun Sentinel.
"I think there was a disconnect," Yarbrough said. "It was advertised as an acting job, and some of his [interview] responses even implied he understood it was an acting role, getting the college in a posture for a permanent role."
Mack ended up withdrawing, citing family reasons.
Bryan's contract will last six months, with a possible second six-month renewal. Her salary will be $287,000, the same amount as former President Gregory Haile, who resigned last month after a tense relationship with the new DeSantis appointees on the Broward Board of Trustees.
Bryan holds a B.A. in sociology, an M.Ed. in counseling education and student personnel services, and an Ed.S. also in counseling education and student personnel services from the University of Florida. She also holds a Ph.D. in higher education administration and leadership from the Barry University Adrian Dominican School of Education.