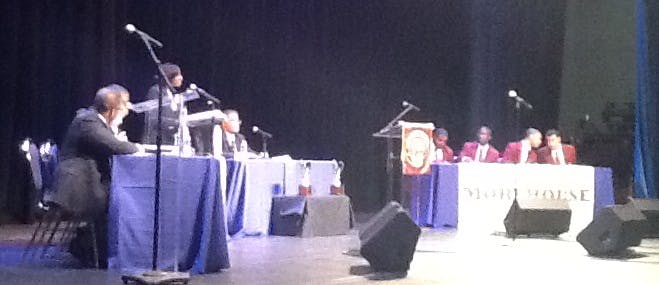 WASHINGTON – Before the Howard University and Morehouse College football teams squared off last Saturday at RFK Stadium for the AT&T Nation's Football Classic, debate teams from both HBCUs tackled some tough topics during the "Game Before the Game."
The verbal showdown featured fiery rhetoric, sharp witticisms and even a few personal barbs as both teams sought to score points with an enthusiastic crowd.
The near-capacity audience at Howard's Cramton Auditorium was so engrossed in the debate that many ignored repeated pleas to hold their applause until each debater finished his or her spiel.
If any one thing distinguished the debate, it was the fact that when the teams had to argue against something that enjoys widespread support among African-Americans, or conversely, for something that is widely rejected by African-Americans, they did so from a perspective that emphasized themes of empowerment and enfranchisement.
Leaders of both teams said that from a strategic standpoint, it was expedient to advance their arguments in a way that they thought would play well with the predominantly Black audience, as opposed to simply co-opting familiar lines of attack that have already been advanced in mainstream society.
Thus, when Morehouse found itself arguing in support of a national law that would require voter IDs, it did so in a way that addressed the concerns of critics, such as the NAACP, who charge that proposed voter ID requirements are actually conservative-backed attempts to disenfranchise the minority vote.
For instance, to allay the concerns that requiring a voter ID would place an undue financial burden on the poor, the Morehouse team — acting as federal lawmakers — advocated for the federal government to shoulder the cost for the poor to obtain documents necessary to get a voter ID. They also sought to make it convenient for the poor to obtain a voter ID at the local post office or DMV.
Whereas voter ID initiatives are widely backed by Republicans, Morehouse flipped the voter ID debate on its head and suggested that voter identification was necessary to prevent voter fraud among Republicans seeking to unseat President Obama.
"Of course, the type of debate that we do requires us to provide coherent arguments," said Austin Williams, leader of the Morehouse team. "If we had to implement some type of voter ID law, we want to make it as inclusive and as enfranchising as possible."
Howard had the uphill burden of having to advocate against affirmative action — a position that often brings vitriolic criticism to any African-American who adopts such a stance, particularly if he or she has benefitted in any way from affirmative action policies. (Consider all the times the phrase "Uncle Tom" has preceded the names of Ward Connerly and Clarence Thomas.)
The Howard debate team's tactic was to argue against affirmative action, not on its merits in principle, but rather as an antiquated solution that has in practice become so diluted that it no longer addresses discrimination against African-Americans, but diversity for other groups.
"That approach was taken because the way it is debated in mainstream society, it is a debate that is dominated by the majority," said Daniel Cokes, a legal communications major who led the Howard team. "So when it comes to debating why it is germane for us, we have to maintain the empowerment elements, especially with affirmative action. We don't want to say we don't want our community to have progress and equality. We just need different means."
A few of the more memorable moments from the debate, officially titled the "Mordecai Wyatt Johnson – Benjamin E. Mays Student Debate," named so in honor of the former longtime presidents of Howard and Morehouse, respectively, are as follows:
Howard University's Gavette Richardson charged that attempts to require a voter ID are borne from ill intentions disguised as integrity.
"It's not about the card," Richardson said. "It's about the mind behind the card, and the mind behind the card is trying to disenfranchise and suppress the minority vote."
Though her remarks resonated with the audience, they drew sharp criticism from Morehouse's Williams, who sought to distinguish Morehouse's proposed voter ID measure from Republican-backed voter ID initiatives.
"You cannot come up here and deliver a canned speech and completely ignore our case," Williams said, reiterating that under Morehouse's proposal, the federal government would help the poor pay for any documents needed to get the voter ID.
Howard's Demarquin Johnson questioned how the federal government could pay for such an initiative given the massive federal deficit.
"They just want to add more money," Johnson said.
When a Morehouse team member said, "so it's OK to spend billions on the Iraq war" but not on efforts to improve the integrity of the electoral process, Johnson — without the slightest bit of hesitation — dismissed the war comparison as a "red herring that is irrelevant to this case. In debate we have these things called fallacies."
Morehouse cited a study that shows nearly 2 million dead people are registered to vote, and that suggested that — in a tight race reminiscent of Bush-Gore in 2000 — President Barack Obama could be unseated by voter fraud among Republicans.
"If that's not a problem, I don't know what a problem will be to them," Williams said. "Everything that happens in the White House is determined through this process," he said, adding that the next president could be "illegitimately put in."
On the affirmative action debate, Cokes, of Howard, cited Regents of University of California v. Bakke and Grutter v. Bollinger — a pair of landmark U.S. Supreme Court cases — as two of several instances in which affirmative action was judicially stripped of its power.
Of the Bakke case, which involved a White medical student denied entry into medical school while several minority candidates with lower GPAs and MCAT scores got in, Cokes said: "On one side they condemned racial considerations necessary to remedy past discrimination, but then simultaneously give privilege to the overrepresented majority."
Chris Forston-Gaines, of the Morehouse team, chided Cokes for sounding like a "preacher" and also noted that he "spoke too long" by going over the allotted time.
Although the Bakke case struck down racial quotas, Fortson-Gaine said, "race is still very much under consideration" and the court found that "diversity is a compelling interest."
"To say that being Black or Latino is not included in being diverse is absolutely ignorant to the definition of the term," Forston-Gaines said.
No winner was declared in the Johnson-Mays debate, which is considered an "exhibition debate," and both teams were given trophies for participation.
As one clergyman told the audience of the students before the debate, "we come not to judge and critique, but to celebrate their gifts."
Whereas debates can be difficult to score, in football games, the touchdowns are impossible to ignore. And so, in the AT&T Nation's Football Classic, the Howard Bison narrowly defeated the Morehouse Maroon Tigers, 30-29, and thus kicked off their season with a record of 1-0.