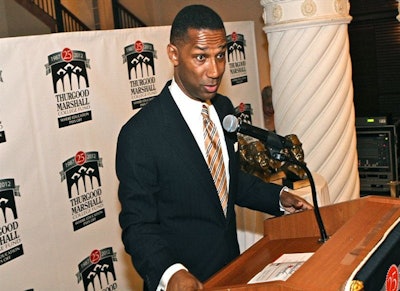 In an initiative to create schools exemplifying 21st century innovation, the Thurgood Marshall College Fund (TMCF), a leading HBCU advocacy and support organization, and its member universities are collaborating to establish college prep academies that combine classroom learning with online instruction.
TMCF officials have announced that the initiative aims to launch as many as 10 college prep academies over the next five years at or near HBCU member campuses. TMCF, which counts 47 public historically Black universities as member schools, has turned to Connections Education, a division of education services giant Pearson Education, to provide online instruction and the technical support for the new schools.
The "blended" secondary schools "will deliver students a rigorous college preparatory curriculum, while also addressing 21st century learning needs," according to officials.
Designated TMCF member schools will join in the collaboration by hosting the new secondary schools, supporting them with professional development and student teacher placement, and delivering early college programming.
TMCF president and CEO Johnny C. Taylor Jr. says each fully blended instruction school will be designated as a 'TMCF Collegiate Academy.' The academies will be developed as tuition-free, public charter schools and enroll students between sixth and twelfth grades. High achieving students will gain eligibility to receive TMCF scholarships to attend member schools.
"We believe that blended [education] is where everyone is going and we better make sure that HBCUs and the students that are likely to matriculate on [HBCU] campuses know how to perform in that environment," Taylor says.
Since the summer when the initiative was first announced, two HBCUs have begun working on either a partially or fully blended learning college prep academy. Southern University New Orleans has committed to developing the first full-fledged TMCF Collegiate Academy, which university officials want to launch in Fall 2014. In North Carolina, Winston-Salem State University, TMCF, and Connections Education are developing for Fall 2013 what will be the TMCF College Prep Café at the Winston-Salem Preparatory Academy, an already existing magnet school in the Forsyth County school system.
Fixing the K-12 pipeline
Taylor says the initiative represents an effort by the fund to help improve the educational opportunities of potential HBCU students. HBCU presidents have made it known to Taylor that they have a growing concern that the public schools from which their students originate are declining in quality. Too many "students that we were recruiting to come to HBCUs were significantly underprepared for college," he notes.
"While being on the campuses, it became really clear and evident that TMCF needed to get a little bit deeper into the pipeline and not just focus on [enrolled] college students," Taylor says.
Prior to his 2010 TMCF appointment as president and CEO, Taylor, as a Charlotte, N.C.-based business executive and attorney, nurtured an interest in K-12 education reform and shared the ambition of starting a charter school in North Carolina with a colleague.
"I think there's a real divide in public education — [between] the haves and the have nots. [My colleague and I] began thinking about what role we could play in helping change some of that," Taylor says.
After the move to TMCF, Taylor revived the charter school idea and tapped Juontonio Pinckney, the colleague with whom the TMCF chief had earlier discussed launching a charter school, to determine the feasibility of establishing college prep academies. Taylor had already recruited Pinckney to TMCF to be the organization's senior director for talent acquisition and campus relations.
"Two things the [HBCU presidents were] saying [to us]: TMCF, get involved in K-12 somehow. And two, please use technology and new forms of education because our kids have to be prepared" when they get to HBCU campuses as students, according to Taylor.
The charter school options, as Pinckney learned, ranged from launching a traditional brick-and-mortar charter school, starting an all-virtual school where home-based students take all of their courses online, to establishing 'blended learning' schools where students experience face-to-face and online instruction within a brick-and-mortar environment. Pinckney also learned that 30 of the 47 member universities had no association with an affiliated K-12 university lab, magnet or charter school.
Although the blended school idea proved appealing, it also represented the least-tested of the schooling models that TMCF officials considered. The TMCF search for an online education services provider led the organization to the Baltimore, Md.-based Connections Education. The company, which was acquired by Pearson Education late in 2011, had established itself primarily as an online services firm for all-virtual schools over the past decade, and more recently, it has expanded into developing blended learning programs and schools.
"We wanted an organization that was doing something different. Just doing the same stuff wasn't going to move the needle," Taylor says. "And coincidentally, Pearson bought them shortly after we began conversations. And that made [them] even more attractive."
Mickey Revenaugh, executive vice president of Connections Education, says her firm's move into blended programs and TMCF's push into K-12 education represented "a convergence of interests" for both parties.
"Our legacy has been in virtual charter schools from around the nation. And we have 25 of those in 23 states," Revenaugh says. "In each one of those instances, one of the things we have paid attention to is making sure the students from the minority communities have access to those virtual charter schools."
Connections Education operates five blended learning secondary schools in Ohio and Michigan. It has blended K-12 education partnerships with the University of Maryland-College Park and Prince Georges County.
"[The TMCF collaboration will] be our first partnership with an organization that has a network of partner colleges and universities. We've been pretty consistently interested in figuring out how to put blended learning to work for minority communities," Revenaugh says.
In addition to the academies, TMCF is expected to launch a professional networking pipeline for its member-school students and alumni with Connections Education. Also, a web-based leadership series for the students enrolled in Connections Education's national network of Connections Academy virtual public schools and Nexus Academy blended public schools will highlight prominent public HBCU alumni.
Southern University New Orleans in the mix
For Southern University New Orleans (SUNO) chancellor Victor Ukpolo, the decision to pursue development of a Thurgood Marshall Collegiate Academy proved an easy one for the New Orleans school. Ukpolo says SUNO as well as New Orleans families have much to gain by the proposed academy becoming a high-quality secondary school serving students from the predominantly poor and minority school district.
"We became interested [in the Thurgood Marshall Collegiate Academy project] because of the challenges in preparing many of our students to be college-ready," Ukpolo says.
"Many of these young students are well-versed, more than my generation, on the use of technology and electronic gadgets to gather information," he adds. "I believe the use of technology can help maintain student interest in terms of keeping up with school work and helping them to do well."
In recent years, SUNO has attracted considerable public attention stemming from the school's struggle to rebound from Hurricane Katrina flood damage. More recently, an attempt by state officials to merge the historically Black school with the predominantly White University of New Orleans sparked public outcry and debate over SUNO's future.
Appointed the SUNO chancellor in 2006, Ukpolo has presided over campus rebuilding projects that have marked the school's rebound from Hurricane Katrina. Last year, the merger proposal died in the state legislature after proponents, including Louisiana Gov. Bobby Jindal, dropped efforts to push the initiative.
Ukpolo says the collegiate academy should bring exciting opportunities to SUNO. He expects to see the SUNO College of Education engaged in the professional development of academy teachers whose role it will be to facilitate student use of online instruction. SUNO faculty will get the "chance to mentor instructors at this high school" and provide "direct professional development to teachers," he notes.
SUNO's collegiate academy will have the potential of helping students and their families bridge the "digital divide" technology gap that persists between low-income and middle- to high-income households, Ukpolo says. That means the school will likely be involved in getting broadband Internet access, computers and other digital devices into student hands and their homes.
"We want to try to close that divide. When they get to college, they won't have to worry about how to access information," says Ukpolo. "That's basically what I'm facing now on my campus. Many of my students are being exposed for the first time on using the Internet and learning online."
High hopes for blended learning
Dr. Anthony Picciano, an education professor at Hunter College and the CUNY Graduate Center, says that while researchers have only recently begun to study blended learning's effectiveness in K-12, he has high hopes for its use. A leading researcher of K-12 online education, Picciano is a co-author of K–12 Online Learning: A 2008 Follow-up of the Survey of U.S. School District Administrators, published by the Sloan Consortium.
"I did three national studies on this at the K-12 level — two were [fully] K-12 and one was high school — and it's my impression that the blended learning model is really very appropriate, particularly at the high school and college levels," Picciano says. "The online technology, in particular, makes a great deal of sense in terms of providing content in a manner that can be more efficiently delivered … and it can build in a lot of assessments, which we don't always do as well in the face-to-face world."
Piccciano says blended learning offers compelling strengths with regard to "efficiency, assessments" and "engaging students into a modality that they seem to want to use in a significant way, which is technology." He adds that another benefit coming from online is the potential for "differentiated instruction."
"It means that you are able to attune instruction, in any modality, to the needs of specific students," Picciano says.
Forsyth County [N.C.] Schools superintendent Dr. Donald L. Martin is eager for the Thurgood Marshall to get the TMCF College Prep Café up and running next school year. The café will be a designated computer lab and study area where students will have the option of taking elective online courses supplied by Connections Education.
Students will also be able to interact online with college student 'success coaches' from Winston-Salem State University's School of Education and Human Performance. The success coaches will help Winston-Salem Preparatory students with their school work and provide advice on preparing for college.
"It's a pretty unique arrangement, and for us we have not experimented with blended learning where the [classroom] teacher and the online learning work together," Martin says.
Martin sees the TMCF College Prep Café as an entity that should help the academy boost its overall enrollment. The academy, which is predominantly African-American in its population, enrolls students from grades 6-12.
It's under-enrolled … The high school part is only about 220 kids in grades nine through 12. And we've said that what we would really like is to have 100 freshmen" next fall, says Martin.
With the TMCF College Prep Café in place by then, "the incentive for the freshmen will be that they can qualify for Thurgood Marshall College Fund scholarships to go to Winston-Salem State, or to other Thurgood Marshall College Fund schools," Martin adds.