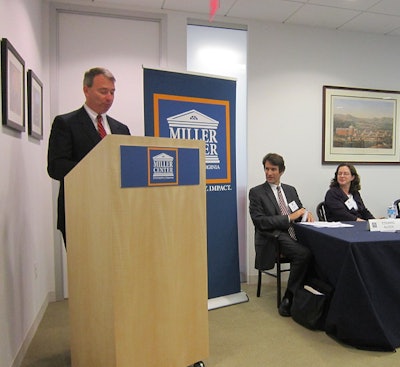 WASHINGTON — With comprehensive immigration reform likely to undergo serious consideration by Congress, a politics and policy research institute affiliated with the University of Virginia (UVA) convened a timely exploration of the political, economic and legal issues defining the policies that govern high-skilled immigration to the U.S. late last week.
Addressing the theme, "High-Skilled Immigration: Politics, Economics and Law," the 2012 Mortimer Caplin Conference on the World Economy focused on how "foreign-born engineers, scientists and entrepreneurs make significant contributions to U.S. innovation and competitiveness, yet current policy makes it difficult for highly-skilled immigrants to remain in the country." The conference, organized by the Washington office of UVA's Miller Center of Public Affairs, also examined the impact of international students on U.S. campuses and the workforce.
"We simply wanted to bring people together who simply don't talk to one another about topical issues. You have lawyers who talk to lawyers; economists talk to economists; policymakers talk to policymakers; and people inside the Beltway talk to people inside the Beltway," said Dr. David Leblang, the conference director and the Newman Professor of Governance at the University of Virginia. "By bringing together people with different backgrounds but with similar interests, we can maybe solve some problems."
Conference panels, comprised of academic and think-tank scholars, addressed the high-skilled immigration issue in three parts, which were: 1) how the most economically competitive countries attract the highly skilled; 2) what highly-skilled immigrants contribute to the U.S.; and 3) admission, persistence and retention of highly-skilled immigrants.
"We all know that immigration reform is back on the table legislatively. In Congress … it's probably safe to say if there is a consensus on any aspect of immigration reform, is that attracting and retaining highly-skilled immigrants is a benefit to the United States," said Edward Alden, senior fellow at the Council on Foreign Relations, who served as a panel moderator.
During the first panel, Dr. Susan Martin, the Herzberg professor of International Migration at Georgetown University, said U.S. immigration policies have been historically slow to evolve and respond to social and economic challenges.
"The first point of my paper is that immigration reform in the United States is not the pattern, it's the exception. It's really difficult to achieve," Martin said. "We've always had rigid and inflexible policies — immigration policies — and they've continued today."
With regard to employment-based immigration, Martin recommends that "policies should be flexible enough to respond to changing market conditions."
"Market mechanisms to regulate flows — such as fees that make the cost of hiring foreign workers equal to or greater than U.S. workers or auctions — would constitute one way to manage numbers without ceilings," according to Martin's conference paper, Labor Migration to the United States: Challenges and Opportunities.
During the third panel, Dr. Madeline Zavodny, an economics professor at Agnes Scott College, said a significant part of U.S. immigration reform should focus on reorganizing employment-based visa systems such that there is a greater availability of green cards, or permanent visas, to the pool of highly-skilled immigrants. The system for temporary visas should be revised to ensure that it's more strongly tied to the U.S. business cycle and that it allows flexible employment options for foreign workers as a safeguard against potential abuse, urged Zavodny.
"One failure [of the current system] is that the bulk — about two-thirds of green cards — are being issued on the basis of family ties. And these tend to be relatively low-skilled, low-educated, perhaps not even working immigrants," Zavodny said.  
"Only about 14 percent of green cards are being allocated on the basis of employment. … So very few green cards, or permanent visas, are being issued on the basis of employment. That's a failure from the standpoint of trying to bring in high-skilled immigrants," she noted.
The conference keynote session concluded with a roundtable discussion. Invited participants were Dr. Teresa Sullivan, president of the University of Virginia; U.S. Senator Mark Warner, D-Va.; and Steve Case, founder and former CEO of America Online.