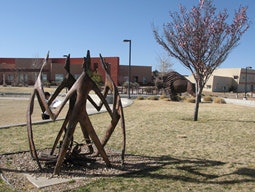 Linda Lomahaftewa, a noted painter, has taught at much bigger places than the Institute of American Indian Arts.
But Lomahaftewa, who is Hopi-Choctaw, and others on the faculty of IAIA are intensely devoted to the mission of this small but unique school.
IAIA — the nation's only four-year fine arts institution devoted to American Indian and Alaska Native arts — is celebrating its 50th anniversary this year.
Since its creation in 1962, the tribal college near Santa Fe, N.M., has produced thousands of painters, sculptors, writers and filmmakers.
Some have attained national and international reputations in the art world, including Earl Biss, T.C. Cannon, Doug Hyde and Roxanne Swentzell. Renowned contemporary artists have also taught at IAIA, including Allan Houser, Fritz Scholder and Charles Loloma and his wife, Otellie Loloma.
Giving back
Lomahaftewa, 64, is proud that the school has survived some tough times and has had a deep influence on American Indian art on many levels. "Students will say, 'My teacher in high school was at school here,'" she says.
Growing up in a family of artists, Lomahaftewa attended a fine arts program for high schoolers at the newly-opened IAIA. She later enrolled at the San Francisco Art Institute and received bachelor's and master's degrees in fine art from the school. She also worked as a teaching assistant.
Lomahaftewa went on to become an assistant professor of Native American art at California State University in Sonoma and taught in the Native American Studies Department at the University of California at Berkeley for two years.
By that time, she had two children with her husband, sculptor Leonard Slock, and was homesick for the Southwest. She wanted to bring her kids back to the region so they could become familiar with their heritage.
"Santa Fe was close enough to the Hopi," who are predominantly in northeast Arizona, she says. So she joined the faculty at IAIA. She is still there, 36 years later, creating paintings that reflect Hopi themes.
James Stevens, a member of the Akwesasne Mohawk Nation in upstate New York, teaches creative writing at IAIA. He is an IAIA graduate who later won a full fellowship to Brown University, where he earned a master's degree in creative writing. He has written seven books of poetry as well as essays.
Stevens says he loves the school because the classrooms are small and intimate. And the students start with at least some basic knowledge about Native American culture.
"Many schools don't have that connection," says Stevens, one of the three creative writing faculty members.
Humble beginnings
Initially a high school formed under the Bureau of Indian Affairs, IAIA became a two-year college in 1975 and a four-year institution in 2001. It offers two- and four-year degrees in creative writing, indigenous liberal studies, museum studies, new media arts and studio arts.
IAIA costs less to attend than other local colleges — tuition is $1,440 per semester and $1,290 for books and supplies — and scholarships are available. The school, one of three congressionally chartered colleges, relies mostly on federal funding.
The school faced a near-death experience when Congress cut its 1996 funding roughly in half, to $5.4 million, and threatened to eliminate it entirely. IAIA laid off instructors, and enrollment dropped drastically. But supporters rallied behind the school, which bounced back with a new president, Della Warrior, who was seen as a better fit. Enrollment rose.
IAIA settled into its permanent home on 140 hilly acres south of Santa Fe in 2000 after decades of sharing campuses with other schools. The campus features sweeping views, bright colors and a Southwestern look. Buildings are arranged around a big circle adorned with sculptures.
Three new structures went up in 2010 — the Sculpture and Foundry, Center for Lifelong Education and Science and Technology buildings.
The last one features a multi-media dome, against which images are flashed from computerized digital projectors. It also houses the permanent 7,500-piece collection of the Museum of Contemporary Native Arts, a part of the school that is in downtown Santa Fe.
Dr. Robert Martin, who succeeded Warrior in 2007, hopes to double the school's enrollment of about 400 students with the help of online participation. The student body is mostly American Indian, coming from tribes around the country and Canada, although there is no quota, and the school welcomes all applicants.
Martin is intent on expanding students' world views. In 2011, 10 students were invited to participate in the Venice Biennale, one of the world's most prestigious art expositions, through a program at Marist College. Six eventually went, thanks to fundraising efforts.
Martin is partnering with representatives of indigenous universities in Mexico and Istanbul Technical University in Turkey on student and faculty exchange programs.
The school also offers students courses in entrepreneurship, marketing and creating websites to promote their talents and artwork.
To mark IAIA's 50th anniversary, an exhibit of art by 50 former students in the past 50 years will be shown until Dec. 31. The exhibit, called "50/50," will be curated by Tatiana Lomahaftewa-Singer, Linda's daughter. She is a graduate of IAIA and curator of the contemporary art museum's collection.
Lomahafetwa speaks smilingly of her daughter as visitors gaze at part of the collection.
"Tatiana practically grew up on campus," she tells them. "So it's fitting she's running all this."