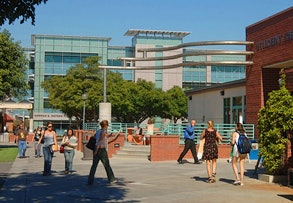 In an age of increasing pressures on the future workforce, the Presidents' Round Table, a network of African-American community college presidents and chief executives, seeks to meet the demand for supplying and training the next generation of educated employees for the evolving job picture.
Among its varied goals, the Round Table works to empower and provide community college leaders with the skills to keep the nation's community colleges viable.
To get a glimpse into the of the needs and stresses facing community college leaders, Diverse: Issues In Higher Education spoke with two of the Round Table's leaders: Dr. Andrew C. Jones, chancellor of Coast Community College District in Southern California and convener of the Round Table, and Dr. Charlene M. Dukes, president of the Prince Georges Community College in suburban Maryland, outside of Washington, D.C., who is secretary of the Round Table.
Following are excerpts of the dialogue with them:
DIVERSE: Let's start off by having you tell me a little about the Presidents' Round Table. How did it come to be? And how useful is it?
Jones: The Round Table is 29 years old . . . and was founded in 1983 by a group of about eight African-American [community college] presidents, who at that time found themselves in a fairly isolated situation. They were all over the country. They didn't have a way of really connecting with one another, except through some of the general professional meetings. Some of them knew each other from previous experiences, but they decided to form an organization that would be in [the interest] of promoting the development of more African-American leaders at that time, and that's how the Round Table was actually "born," if you will. Over the last 30 years, it has been the most prolific executive leadership organization in terms of promoting the ascension to the presidency of any leadership organization in the county. We think it's very successful.
DIVERSE: In an effort to get more people to do it, you have the Thomas Lakin Institute, where you bring people who are not already presidents "into the loop," so to speak.
Jones: That's basically true, but we have had, on several occasions, sitting presidents during their first year, in some cases, also attend. I think Dr. Dukes was one of them.
Dukes: Right. I was appointed to the presidency [at Prince Georges Community College] in July of 2007, and in October of 2007, I actually attended the Lakin Institute because, as a new president, I certainly wanted to be there and glean some knowledge and just some common sense ideas from those people who had been presidents for some time. And then I also wanted to understand what are those kinds of things that I certainly need to be both aware of and on the lookout for as a president of color. All of those things were certainly running through my head as they ran through the heads of my peers who were at the Lakin Institute that year.
Well, I think it [the training from the institute] does a couple of things. One is that it certainly provided the opportunity for those who are in senior administrative positions in their institutions, but they are not at the presidency level. They interact with college presidents, who are coming from across the county. It is living the life of a president during that week.
We have things for them to do, so that they understand that you may be up and out at 6 or 7 in the morning, and you are still going at 7, 8, 9, 10 o'clock at night. So, you have to understand that it's not just about sitting on your campus, or at your institution, behind your desk. It is also about community engagement. It's about student engagement. It's about political engagement. So, it really gives them an opportunity to assess, "Is this what I want to do?" "Do I really aspire to the presidency?" "Do I aspire to a more senior-level position within the organization I'm in or another organization?"
DIVERSE: What do Round Table members see as the diversity challenges and successes for community colleges?
Jones: I think one is, as the population demographically shifts to what everybody is projecting to be the majority-minority population, we're seeing a lot of those shifts also in our college-age populations. We are challenged to find commensurate numbers of faculty and staff who are representative of those population shifts. So, in my district, for example, as I said, we are predominately Caucasian, but we're seeing a very significant growth in both Hispanic and Asian populations here in this part of Southern California. But we have very few Hispanic, Asian or African-American faculty members. And so, if you buy into the notion that role models are important, we have very few role models for our students to emulate. That's one challenge.
Dukes: Funding certainly continues to be a major challenge to ensure that we are funded appropriately by whatever model exists in the states in which we reside. And another major challenge, of course, is the focus on graduation. Are students leaving us with the appropriate certificates, associate degrees, workforce development, licensures or certification? Are they coming in, and are they being focused and motivated and then being successful by leaving us with that piece of paper that indicates their credential that they have indeed earned at the community college? Are they then moving on, whether it is to transfer to a four-year college or university to finish their last two years, or is it to move out into the world of work?
DIVERSE: Are you finding that success occurring?
Dukes: I think that it occurs in pockets of students, if I can speak [only] for Prince George's Community College. You will find that we — there are some community colleges whose graduation rates are in the 60 to 70 percent range, and there are others who have lower graduation rates — when you combine them with transfer rates, because our students do transfer before they actually graduate. Then you'll find that we are probably somewhere in the 40 to 45 percent range of students either getting a degree or moving on to transfer prior to the degree.
DIVERSE: The economy has been bad over the last several years, but we've seen a little uptick in economic recovery. However, state appropriations to higher education institutions seem to have dwindled. I'm curious to know if state appropriation cuts come at a time when the community colleges' enrollments are spiking upward, as more students are looking on the community college system as a value proposition.
Jones: Yes, in California. In fact, we have 400,000 students who have been denied access to community colleges because of funding. We have the largest community college system in the country. We were at 2.9 million in 2009; we're now at 2.5 million. So, we've had a systemic decrease in what we can do, what they call a "workload reduction," where not only was our funding decreased, but we were actually ordered to take down the number of classes that we provided. So, in years past, even if there was a reduction in funding, colleges could, if they chose to, serve students that they weren't being paid for, essentially. The last couple of years, we've not been able to do that; we've actually had to reduce the number of classes that we offer. So, at my institutions, we reduced our number of classes by 2,000. We had about 10,000 students over a year and a half that weren't able to get the classes that they needed because of funding.
It seems to me that the shift has gone from "education is a public good" to "education is an individual benefit," and that's allowed policymakers and lawmakers to be able to cut higher education in a way that's been unprecedented. There has to be a fundamental belief that education is no longer a public good; there's no other way to explain what's happened.
Dukes: Have our budgets gone down in Maryland? The answer is "yes." We have more students and probably less state aid per student, but we also have a governor who has tried to hold tuition low. As a matter of fact, tuition was frozen at the university systems for about four years. At the community college systems, we were asked to raise our tuitions no more than 3 percent per year. If we did that, we were able to access a special tuition-incentive fund, so that there have been, I would say, some creative ways to ensure that we are able to keep tuitions low and still keep our doors open to students.
DIVERSE: Does this mean, then, that you are required to do more for an increasingly needy population with fewer resources?
Dukes: I think that the obvious answer to that is "yes," but there also is that commitment to staying true to our mission, and in some cases, we do that in a variety of ways. We don't necessarily have a specific number that we target for freshman enrollment, and as enrollments increased over the last three or four years, we were able to: one, start classes earlier or hold classes later on Monday through Friday. We were able to increase the number of classes that we offered on Saturdays and Sundays. A large number of our students are taking advantage of online courses, so you don't have the same kind of overhead that you might have for students who are actually coming to the college, physically. There are ways that we've been able to make it work. I would also say to you that this semester, for the first time probably in about the last four years or so, across the country, community colleges' enrollments are flat, if they've increased slightly at all.
Jones: It's just the opposite in California, where we've had what we call the "perfect storm" in unprecedented demand and very limited capacity. So, in California, the projection is that enrollments will continue to increase, at least for the next few years, and largely depending on what happens with the economy. It's typically a cycle, when the economy is robust, that enrollments go down.
DIVERSE: When I think of community colleges, I envision occupational changes that are going on in the society, and community college is a place where you go for "retraining," particularly for older workers who want to learn new skills. Computers immediately came to mind from a previous generation. Is that the current community college model?
Jones: It's never been the community college model. It's been a misnomer. I think you must look at most community colleges, and there are certainly some exceptions, but on the whole, of 1,188 community colleges nationwide, I'd say probably less than 10 percent of them would fit that bill. Most of us have been primarily transfer institutions, or at the very least we're 50/50, where a lot of our focus and emphasis has been on workforce development. But what you really just described is kind of the continuing education or the community education component of what we do; it's not part and parcel of our main mission or our main percentage of our work. Many of our students come for retraining, retooling. … Certainly when there have been economic downturns, we've seen a lot of people coming back looking to recertify or to change careers.
But here's something interesting: As we continue to listen to the public policymakers and the "workforce experts," we hear this resounding theme that the work of the future is going to be somebody who works 10, 12, 15 jobs over their lifetime and that will probably work in four or five different professions. And they will have great opportunity to work outside of the country just because of how the global economy is developing. That really signals to me perhaps a different role for community colleges, in particular, in the short-term, but more in the long-term future. I'm not so sure that, as we look at our mission, that we've incorporated that new role in our mission. This is certainly an evolving kind of thing, but I think we could look up in a few years — five, six years out — and we could see a very different mission emerging for community colleges.
DIVERSE: Are your students today ready for college?
Jones: Let me just say this: Consider the freshman class at Harvard. Over 25 percent of the freshmen at Harvard had to take remedial classes. OK? So, these are supposed to be the best and the brightest anywhere in the world. I think that gives you some sense of what we're dealing with. Well, this is not unique to community colleges. It's probably much more profound with us because we're not getting that, you know, talented 10th, or whatever it is. For the most part, we do have some very talented students, but on average, our students are probably not the students that are going to Stanford and Harvard and U.C. Irvine and all those places. But there is a huge gap, every place I've been in Maryland and Texas and California, in Michigan and Alabama, there's been a pretty significant gap between what students know when they leave high school and what they need to know when they go to college. And I'll just leave it like that.
Dukes: I think the other thing that we have to think about is that our average age at community colleges is somewhere between 27 and 29. I find that older students are much more disciplined in that process because they have been very focused on the decisions they have made to re-engage with the world of education and higher education. They bring a whole different energy to the classroom.
DIVERSE: Out in California, Brice Harris is the new chancellor of the largest community college system. What does that mean for the future of the system in that state?
Jones: I think that Brice Harris' ascension to the state chancellorship is a very positive direction for the state. He's been known as a very forward-thinking chancellor. I think that he has a good relationship with the state legislature, with the governor, so we're hopeful that that is going to signal for us a return to some of the the better days in California higher education, particularly in community college education. And we think that there's a lot of support for him from the community college sector.
– Sam Fulwood III is a Senior Fellow at American Progress, where he analyzes the influence of national politics and domestic policies on communities of color.