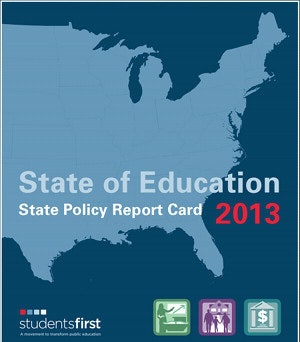 Washington — A new report card released Wednesday gives mostly mediocre and poor grades to states on whether their education policies are conducive to raising student achievement. But it was the report card itself that earned some unfavorable marks during its national debut.
The new annual report card — titled "State of Education: State Policy Report Card" — was released by StudentsFirst, a Sacramento-based organization founded and led by controversial former Washington, D.C. Public Schools Chancellor Michelle Rhee.
Its relative value became a matter of debate Wednesday during a forum about the report held at the Thomas B. Fordham Institute here in the nation's capital.
The report was billed by StudentsFirst as "the most comprehensive state-by-state assessment" of policy in the areas of elevating and improving the teacher profession, giving parents more information and choice and making sure public dollars are spent wisely in ways that help students learn.
Critics remained unconvinced.
"For advocates who support StudentsFirst, this [report card] is a good thing," said Ulrich Boser, senior fellow at the Center for American Progress. "But for skeptics, for people who are not supporting of the StudentsFirst agenda, this does very little to convince them that this is the right set of policies."
Boser directed his remarks at the various education policies that the report casts as being favorable to school reform. Those policies include equitable funding for charter schools and adopting "parent trigger" policies that give more information and power to parents to demand school turnarounds at low-performing schools.
Boser also criticized the report for grading states on whether they govern well and spend wisely without really elucidating how public money in the various states is being spent.
"While it's called 'spending wisely,' there's no data on whether states are spending wisely or not," Boser said. "There's no information on actual dollars spent, or dollars spent relative to outcomes."
Rick Hess, director of education policy studies at the American Enterprise Institute, found fault with the report's tone that conveyed a sense of omniscience with respect to what education policy ought to be.
"One thing that frustrates me in all of these conversations of report cards is the degree in which both self-styled reformers and self-styled teacher advocates tend to talk about reform measures with an implied universality and a sense that they know what works," Hess said.
While "sympathetic" to the cause of StudentsFirst and their scoring rubric, Hess said he was hesitant to agree that everything the organization recommends is good for all schools and then issuing poor grades when states are not on board.
For instance, he said, the report's emphasis on notifying parents when a teacher is ineffective, he said, "strikes me as premature" because the metrics used to gauge teacher effectiveness have yet to prove reliable.
And grading states on how well they close achievement gaps in specific ways is "far more prescriptive than we know to be at this point," Hess said.
A StudentsFirst representative acknowledged the report is imperfect but defended its reformist tone and its various recommendations.
"There is no data on whether states and districts are spending wisely, so having financial transparency policies in place and grading states on what they do is critical," said Eric Lerum, vice president of national policy at StudentsFirst, in reference to states deemed to do well in financial transparency.
Lerum also downplayed the need to convince the "skeptics" referenced by Boser.
"I think there are a lot of folks in the middle who do not know what the education policies are in their states," Lerum said.
"I think that a lot of folks will realize that these are solutions, common sense, and what's in place right now in most states does not make a lot of sense," Lerum said of the report's recommendations.
The StudentsFirst report card comes at a time when the legacy of the organization's founder is being called into question. To wit, the evening before the new StudentsFirst report card was released, "FRONTLINE" on PBS aired a documentary, titled The Education of Michelle Rhee, that contained allegations of a cover-up of cheating on standardized tests during Rhee's tenure as chancellor of public schools in D.C.