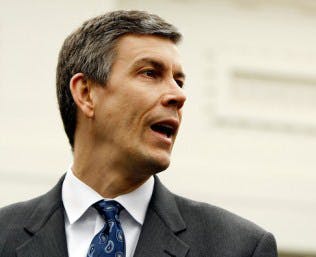 Washington – Calling it a case of "educational malpractice, economically foolish and morally indefensible," U.S. Secretary of Education Arne Duncan on Thursday pleaded with a Senate committee to stave off the 10 percent across-the-board cuts set to take place throughout the federal government on March 1.
Duncan said the cuts would be particularly harmful to the nation's neediest students at the K-12 level and take a major toll on higher education.
"Education isn't just another number in the budget," Duncan told the Senate Committee on Appropriations. "Education is fundamentally an investment. It's an investment in the future of our children, our economy, our competitiveness and our country."
Duncan made his remarks during a full committee hearing on the impact of "sequestration," the term being used to describe the looming across-the-board cuts meant to reduce the nation's deficit by $1.2 trillion after a congressional "super committee" failed to reach a deal in 2011 on where to trim back.
In his oral testimony and written statement, Duncan outlined the impact that the "mindless" cuts would have on various programs funded by the U.S. Department of Education.
In the realm of higher education, Duncan said sequestration would:
•  Cut $49 million from the federal Work-Study program, eliminating 33,000 students from participation.
•  Cut Supplemental Educational Opportunity Grants, or SEOGs, by $37 million, thus eliminating 71,000 students.
•  Hamper the department's ability to collect defaulted student debt and provide "high-quality services" to borrowers once they are out of school. "If we do not collect on loans, fewer funds will be repaid to the Treasury, and our deficit will increase," Duncan said in his written statement.
Duncan noted that Pell Grants would be spared from sequestration.
Most of the resulting pain from cuts to the Department of Education would be felt in K-12 education, Duncan said.
"In particular, sequestration would hit hard at the Federal, State, and local efforts to improve educational opportunities for the Nation's neediest students and their families," Duncan said.
For instance, he said, federal funds for special needs students could be cut by $725 million, and federal funds for students with disabilities could be cut by $598 million, potentially putting at risk the jobs of thousands of teachers, aides and staff who serve students from these populations.
Sequestration would also lead to a $60 million cut to Impact Aid Basic Support Payments for schools, which Duncan said need the funds to meet the basic needs of students and pay teacher salaries this spring.
Duncan said the cuts would cause the United States to fall behind other nations educationally.
"I can assure you that our economic competitors are increasing, not decreasing, their investments in education," Duncan said.
Duncan was joined in giving testimony by Danny Werfel, Federal Controller in the Office of Management and Budget, or OMB; U.S. Secretary of Homeland Security Janet Napolitano; U.S. Secretary of Housing and Urban Development Shaun Donovan; and U.S. Deputy Secretary of Defense Ashton B. Carter. All spoke of the devastating toll that the sequestration would have—from weakened border patrol and military might to longer waits in line at the airport.
Among the Senate committee members who attended the hearing, there was little disagreement that sequestration was a bad thing to do, with one senator going so far as to call it "dumb"—a characterization that got nods from all of the cabinet members who testified.
However, partisan rifts began to manifest when the senators opined on why the government is faced with such serious budget problems.
"I want to disagree with those who say we have a spending problem," said U.S. Sen. Tom Harkin (D-Iowa).
"We're the richest nation in the history of the world. We are now the richest nation in the world, the highest per capita income of any nation," Harkin said. "If we're so rich, why are we so broke? Is it a spending problem? No, we have a misallocation of capital," he said, lamenting tax loopholes that favor the wealthy and encourage businesses to offshore jobs.
Sen. Richard Shelby (R-Alabama), blamed the problem on "entitlement spending" on an aging population, rising health care costs and an expansion of health insurance subsidies.
"Absent reform of entitlements, this will lead to an unstoppable debt spiral," Shelby said.
Later Thursday, Democrats unveiled a proposal called The American Family Economic Protection Act that they said would "replace sequestration through January 2, 2014 with an equal amount of balanced and responsible deficit reduction."
Among other things, the act includes the Buffett Rule, "which reduces the deficit by $54 billion by making sure that taxpayers with a gross adjusted income above $1 million cannot pay tax at a lower effective tax rate than middle class families," according to a document obtained by Diverse. It also calls for $27.5 billion in "responsible defense cuts" and $27.5 billion in "responsible domestic cuts."
Committee chairwoman Barbara Mikulski (D-Maryland) asked Werfel, of OMB, to sketch what will take place on March 1 if the sequester takes effect.
Werfel said it will be "multidimensional in its negative impact."
He urged the committee not to let things get to that point.
"What the world looks like on March 1 is very intense pre-staging actions that are taking place," Werfel said, referring to notices of contract changes being sent out to contractors and negotiations on furloughs for federal employees. "I don't think it would be prudent at all to think that because the lights don't shut out on March 1 that we can go across that precipice and pull back later."