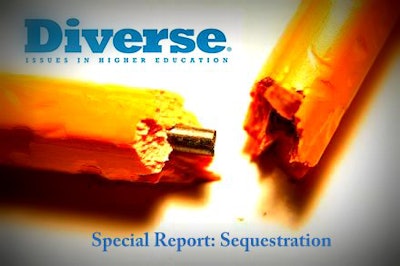 Unless the stalemate over sequestration is resolved, July 1 will commence a dreary fiscal year for the nation's tribal colleges and universities, according to school administrators and advocates. The 37 schools, which depend heavily on federal funds, are anticipating stringent cuts to programs, faculty and student services. For example:
Little Big Horn College in Crow Agency, Mont., could lose $400,000 to $500,000 of its funding, according to school president David Yarlott. That means no summer session, laying off up to six faculty members and instituting a two-week furlough for roughly half the school's 74 employees.
Sitting Bull College on the Standing Rock Sioux Reservation, which straddles North and South Dakota, could lose almost $1 million. College president Laurel Vermillion expects to freeze salaries and ask employees to contribute 50 percent to health insurance. As a last resort, the school would increase tuition. Full-time students pay $1,800 per semester.
Ilisagvik College in Barrow, Alaska could lose $355,000. The school may have to lay off tutors and learning center staff, while cutting other student services. "It would be a real disaster if we were to lose these funds," college president Pearl Brower said in a press release.
Tribal colleges and universities are public institutions that are chartered and operated by federally recognized tribes or the federal government. A majority of students and board members must be American Indian citizens.
Carrie Billy, the CEO for the American Indian Higher Education Consortium, estimates budget cuts could total $85 billion. "Their basic operating funds are going to be cut this year and for the next 10 years under the sequestration agreement," she said.
Cuts to the Tribally Controlled Community College Assistance Act are one reason the schools are slashing so deeply. The money comprises 30 to 80 percent of a school's operating revenues depending on the size of the institution. "That, combined with tuition and fees are the primary source of funding for them, for faculty salaries and the core things that you need," said Cheryl Crazy Bull, president and CEO of the American Indian College Fund. The fund raises provide scholarships and financial support for tribal colleges and universities.
She added cuts to the Title III program from the Department of Education could harm the colleges' efforts at capacity building. "One of the reasons why the potential cuts are so critical is because a lot of the colleges get significant funding and use it for very core program development," Crazy Bull said. "A lot of the colleges have used them quite extensively for technology resources."
The tribal colleges and universities serve about 88,000 students and community members, according to the American Indian Higher Education Consortium. At Sitting Bull College, those constituents include preschoolers who are learning Lakota, which is in danger of extinction. College president Laurel Vermillion worries about the fate of the project.
"We have three-year-olds who are on our campus in what we call an immersion nest, and nothing but Lakota language is spoken within the classroom," she said. "I know we're probably going to experience some cuts in [the program]."
The school administers the reservation's public transportation system, which also receives federal money. Sequestration means service will probably be reduced, adding a hardship to those living on the isolated 2.4 million-acre reservation.
"Many of the people who ride our transportation, they're going to medical appointments in Bismarck. Many of our veterans ride the buses to doctors' appointments. If the dollars are cut — and I'm guessing they will be — then we'll have to cut out some of the routes," Vermillion said.
She and other administrators worry that fewer course offerings and faculty layoffs will affect students' eligibility for Pell Grants. Although the grants are exempt from sequestration, the program only pays for 12 semesters.
"We have some students who are running into the problem where you only get so many semesters to finish your Pell, and they're getting to that point, now. Our students aren't going to have that funding available to them," Vermillion said.
That's a concern of David Yarlott, president of Little Big Horn College, a community college in south-central Montana. "Especially without the summer program, our students are going to end up having to stay here longer," he said. "Our fear is that students are going to be meeting the [Pell Grant] cap sooner, because we're not going to be able to provide a full service of courses."
Yarlott said his school had already instituted budget cuts because reduced enrollments decreased revenues. One of the casualties was a transportation service that shuttled students to campus. If sequestration continues, Yarlott will postpone improving the online and distance course offerings. "Little Big Horn College is in the midst of transferring to that, but we might have to delay it," he said.