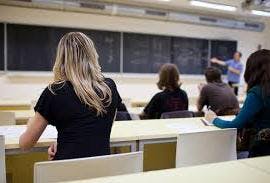 Though U.S. Secretary of Education Arne Duncan admitted that he had misspoken last week when he reported that the federal sequestration cuts would result in immediate teacher layoffs, state education officials from across the country say they expect to see a succession of cuts in teaching positions, first by the state and local districts this year, followed by cuts next year by the federal government.
Some 30,000 teachers and teachers' aides in roughly half of the states won't get hired next year because of the cuts by the federal government, the White House reported. School districts in California, New York, Texas, Ohio, North Carolina and Georgia, already facing protracted cuts in state education budgets, will be hit hardest, education policy analysts say.
Finding new teaching positions in states like Georgia is already tough, said Kelly Henson of the Georgia Professional Standards Commission, the agency that grants teaching certificates. The most recent federal cuts will only add to the slim prospect of getting hired as a teacher in the peach state, he says.
"What we've seen in the past six or seven years is employment has been down by the thousands," from 6,000 to 3,000 annually. "The sequestration will add to that. But in my view, [sequestration] won't be the 500-pound gorilla in the room. I'm not minimizing the impact of sequestration, but it's a tough job market to break into," Henson says.
School districts receiving Title I funding from the federal government, because of the percentage of low income students enrolled, will be impacted the most by sequestration, says John Eric Moore, a fiscal analyst for the North Carolina Department of Public Instruction. It will be up to the school districts to decide how those cuts will impact its hiring goals, he says.
Jeff Gagne, the policy director for the Southern Regional Education Board, a nonprofit organization that offers professional development services to school districts in 16 states from Delaware to Oklahoma.
College graduates with education degrees and certificates in hand are likely to struggle if they are looking for permanent teaching jobs. "Having an education degree and certification won't guarantee you a job," Gagne says.
Those hard facts are paramount in the minds of contract teachers, such as Audrey Cox, who teaches third grade in Brevard County, Fla., and Everett Broady, a former television producer, who is in training this week to become a substitute teacher in the Atlanta Metropolitan area.
Broady's five-day orientation class wasn't over before he felt the stress associated with breaking into the field of education.
Regular teachers in DeKalb County, a district he wants to work for, were furloughed because of local budget cuts.
He and his 28 classmates were also told funding for substitutes was appropriated by local area school districts for next year, but that doesn't mean that local school districts won't revisit those positions in the budgets.
"It's scary because they need these teachers and teachers' aides," Broady says. "We're trying to figure out what is going to happen in the long term. It's going to affect us."
Cox, 30, a classroom teacher earning about $39,000 annually, has an annual teaching contract. She says she is taking a 10-week math class hoping to obtain a "distinguished" teacher's status in the state of Florida.
She says that she's hoping that obtaining that status will help her to retain her teaching position at a time when Brevard County is projecting millions of dollars in new education budget cuts. "If you are a teacher, you are paying attention," not just about spending cuts by the federal government, but education cuts on the local level.
"Everyone is pretty much on edge here," says Cox, who is certified to teach special education and English as a second language. "I'm an annual contract employee. I'll get cut first."
"In my mind, I have more on my plate, working twice as hard [in a Title 1 school] to prove that I should be here," she says.
While some of her peers say they will get out of teaching, Cox says those "who really love teaching will be here."