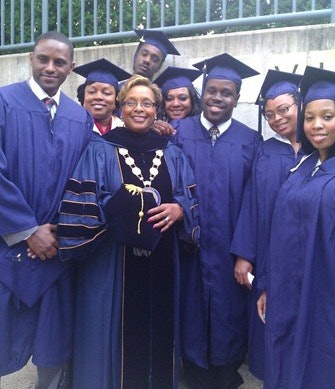 On paper, there's every indication that this woman was destined to be leading a university. A good chunk of Dr. Marie Foster Gnage's career in higher education was filled with migrations from one position to the next, each elevating her to the next career rung at institutions from Mississippi to New Jersey.
Fresh out of graduate school, she started out on the faculty side as an instructor at Alcorn State University before moving to Florida A&M University in Tallahassee and up to an assistant professor of English. Then she decided to give community college administration a try, first becoming a department chair at Central Florida Community College in Ocala, Fla. Landing that position, which also allowed her to teach, kept her moving on the administration track. She enjoyed the work and the new challenges each position brought, but even then, there was no real plan for where any of them would lead.
In her second year as an administrator, Gnage was selected as an American Council on Education fellow, an opportunity that allowed her to shadow the president of Winthrop University in Rock Hill, S.C. and get immersed in learning institutional culture, policies and decision-making processes. But even after spending a year in this competitive higher education leadership development program aimed at aspiring presidents, Gnage wasn't sure it's what she wanted to become.
She says, "I wasn't convinced that I wanted to be a president, but I never stopped looking for what that next role was that I needed if I did decide someday that I wanted to be a president."
Following the ACE fellowship, she slipped into a deanship. Still more senior posts followed for Gnage — vice president for instruction and assistant vice chancellor for education services — about the time she started thinking seriously and being intentional about becoming a university president. Her plan included moving from a district office where she was working and back onto a university campus. She spent three years at Raritan Valley Community College in North Branch, N.J. as senior vice president for academic affairs. Then she finally became President Gnage in July 2004, leading West Virginia University, Parkersburg where she is the sixth CEO of the predominantly White four-year institution and the first female and first African-American to hold the post.
But despite career successes like Gnage's, female presidents in higher education remain in the minority, even as more women occupy that office today than ever before, say recent findings from ACE's demographic study on the presidency. The share of women presidents increased from 21 percent in 2001 to 26 percent in 2011. This "is notable," say the study's authors, given that only 10 percent of chief executives in higher education were women just twenty years ago. But gains at some types of institutions have been significant: women now lead a substantially greater share of doctorate-granting institutions, rising from 13 percent in 2001 to 22 percent in 2011. And among presidents hired since January 2009, the percentage of women presidents "was even more striking." Nearly one-third of all presidents hired between that date and 2011 were women, a significantly greater share than in past years.
Since 2007, Charlene M. Dukes, president of the predominantly Black Prince George's County Community College (PGCC) in Prince George's County, Md., has been leading where ACE says growth among women presidents is also climbing: in two-year institutions. At community colleges, women often hold the executive position in associate-degree-granting institutions compared to those that grant higher degrees — 33 percent of those women are presidents and chancellors in community colleges and only 22 to 23 percent in bachelor's, master's and doctoral-granting institutions.
In a higher education career spanning more than three decades, Dukes has spent more than three-quarters of it in community colleges. For Dukes, they have been places where the "abundance of opportunities for leadership, particularly for women and minorities," abound, reasons that have largely kept her there. Prior to her appointment to the 44,000-student campus, Dukes says choosing to stay and grow her career at PGCC paid off when she sought the presidency. During her 12 years as the college's vice president for student services and in the other teaching and senior posts she held, Dukes tapped into "trusted relationships" she had forged over those years to help leverage her track record and plans to become CEO.
Dukes also was dean of students at the Community College of Allegheny County, Allegheny Campus before coming to PGCC. She remembers some of the career choices she made, especially when she was a young mother and widow striving to be a senior leader in higher education. Then, the opportunities community colleges offered to strike the sometimes elusive work life and family balance that most professional women seek helped Dukes seal the deal, as did the chance to work closely with students and the community and to be her own kind of leader.
But the mentoring and networking that many senior women leaders in higher education now come to rely on as they move to top positions weren't always there for Dukes and other women of color who tried to make their way without such ready supports. Of the estimated 1,200 community college presidents, "only about 100 are African-American CEOs," says Dukes, a contributor to a new anthology from African-American community college presidents, titled The Chocolate Truth: An Anthology of Perspectives from Community College CEOs.
Among the success stories, tumbles
For Gnage, "being prepared" made her career journey as a woman and a person of color easier, as did "enjoying every position" and feeling comfortable moving from institution to institution for a plum opportunity to advance. While she says that such movements for career aren't for every woman, "planning and preparation" for that next job is essential.
A handful of women were ready and reached a place where none had gone before in higher education. About 15 years ago, it was easy for women to turn to the Ivies if they wanted to see what it looked like when the barriers that existed between women and presidential appointments at these elite institutions crumbled. Many declared that "we've arrived," the fight is over for women's parity in higher education, recalls Judith S. White, president and executive director of Higher Education Resource Services (HERS), a 40-year-old education nonprofit for women. In 2012, three in the cohort of Ivy League presidents — Shirley M. Tilghman, of Princeton University, Ruth J. Simmons of Brown University and Susan Hockfield of the Massachusetts Institute of Technology — became the first women to hold the posts, but have now stepped down.
Today, aspiring women leaders in higher education, many connected to national networking and professional development organizations designed for them, can scroll through the pages of their membership newsletters to catch glimpses of alumni who are "making it" at two- and four-year institutions. In most cases, they are the "firsts." A beaming Dr. Mildred Garcia is one of the faces of color these communities of women advocates recently celebrated. In June 2012, Garcia, a first-generation college student, was inaugurated president of California State University, Fullerton. More than two dozen of her family members were in the audience. This was her third time as a university president.
That's why many in the academy say that diversity, especially among new senior leaders and presidents, is where the next wave of change in the academy should be aimed. HERS and ACE are among those women's programs that are pushing or gearing up. ACE, which has offered a variety of women's programs and supports for more than four decades, is now reaching out to a new cohort of senior leaders of color who want to become presidents, says Kim Bobby, who directs the association's Inclusive Excellence Group. The first group of Spectrum Executive Leadership Program, a leadership development program for senior-level administrators from underrepresented groups who are interested in seeking a presidency, will gather this month to begin planning their strategic career course with the help of current presidents of color as guides, says Bobby.
With many gains to their credit, these higher education organizations count getting women leaders to the top among them. But they know that the needle marking their progression is only inching along. Many agree that it needs to move forward quickly and with more women of color. It is likely that many current presidents — mostly White older men — will retire over the next decade, creating more opportunities to diversify the presidency, the ACE report found. The task leaders are faced with is building "a critical mass of women" primed to assume top posts left vacant.