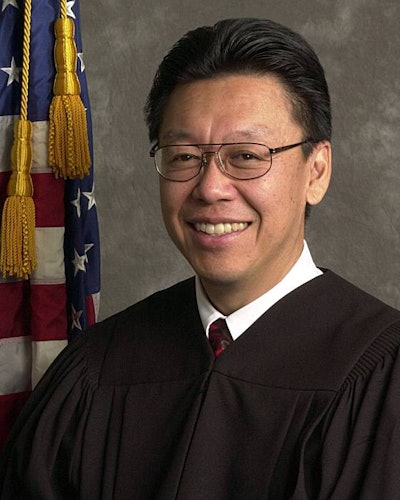 A California civil rights agency can go forward with group claims that the Law School Admission Council (LSAC) illegally discriminates against LSAT-takers with disabilities, a federal judge has held.
U.S. District Judge Edward Chen said the state Department of Fair Employment and Housing doesn't need to follow the more complicated procedure for class action certification because it's a governmental agency "authorized to act in the public's interest to obtain broad relief."
The department sued on behalf of 17 California residents who allegedly were denied reasonable accommodation in taking the LSAT between 2009 and 2012 and on behalf of "all disabled individuals in the state of California who requested a reasonable accommodation" during the same period.
The 17 individuals sought accommodation due to such conditions as ADD, ADHD, nerve damage, learning disorders, quadriplegia, impaired vision and reading disorders. LSAC turned down their requests in whole or in part, the suit alleges.
The Americans with Disabilities Act suit asks for an injunction to prohibit LSAC from noting on score reports when a test-taker received extra time and from considering "mitigation measures such as medication" when determining whether an applicant needs an accommodation.
It also seeks a "validation study to determine if LSAC scores under an accommodation of extra time for cognitive disabilities are an equal measure of aptitude or achievement as compared to non-accommodated scores."
Julie Capell, a lawyer for LSAC in Los Angeles, said, "It is our policy not to comment on pending litigation."
However, in court papers LSAC said it "denies that it engages in discriminatory practices or that any persons were harmed by any of LSAC's practices."
Annmarie Billotti, the department's chief of dispute resolution, said the court has ordered mediation completed by July 28. If the case is not resolved, trial is scheduled for March 30, 2015.
Prior test-related discrimination suits have been filed in California against the Association of American Medical Colleges, Educational Testing Service, National Conference of Bar Examiners and National Board of Medical Examiners, Billotti said.
Security Officer's Suit Moves Forward
A fired campus security and parking officer who refused to carry a gun because he's a Jehovah's Witness can pursue a religious discrimination suit against North Carolina A&T State University, a federal judge has ruled.
U.S. District Magistrate Judge Joe Webster rejected the university's bid to dismiss Bernard Westbrook's Title VII suit.
North Carolina A&T hired Westbrook in 1994 as a parking officer. When it reassigned him to be a property security and parking control officer in 2006, he told supervisors that his religion prevented him from carrying a weapon.
In 2008, however, the Police and Public Safety Department ordered him to attend weapons training and threatening termination if he refused, the suit contends. He attended but refused to accept or use a weapon, and unsuccessfully requested a transfer or exemption.
After North Carolina A&T terminated Westbrook, he complained to the EEOC, received a Justice Department right-to-sue letter and filed his suit for back pay and reinstatement against the university, the campus deputy police chief and the vice chancellor for human resources.
According to the suit, "as part of his religious views, he believes that possessing weapons is directly contrary to his belief to love his neighbors," Webster said in the court decision.
Westbrook represents himself in the case. The handwritten complaint also alleges that he was "singled out by requesting time off six months in advance to attend a Bible convention" and claims that "the police department had many problems and I was viewed as a whistleblower. I felt wrongly terminated and unfairly treated because of my faith."
Webster said the university doesn't challenge the sincerity of Westbrook's religious beliefs or dispute that he'd informed his superiors about those beliefs.
He denied the university's request to toss out the case on procedural grounds. At the same time, Webster turned down Westbrook's request to appoint a lawyer for him.
North Carolina Assistant Attorney Gen. Katherine Murphy, who represents the university, said she cannot comment on pending cases because of office policy.
Fair Housing Act Cited in Campus Suit
Student housing is a "dwelling" subject to federal disability discrimination law, a judge has ruled in a Justice Department suit against the University of Nebraska at Kearney.
The government claims UNK violated the Fair Housing Act by denying Brittany Hamilton the right to have a therapy dog in student housing as a reasonable accommodation for her disability.
A lawyer for the university, Scott Moore of Omaha, said the decision resolves only the question of whether the Fair Housing Act "applied to UNK and, more broadly, to all colleges and universities."
The case now moves to the issue of whether UNK violated the law, an allegation that it disputes, Moore said.
According to court documents, Hamilton was diagnosed with depression. A therapy dog was prescribed and trained to respond to her anxiety attacks.
She enrolled in fall 2010 and signed a lease for a UNK-owned "apartment-style housing" unit about a mile from campus, but her requests to live with her dog were rejected based on a no-pets policy for student housing. Hamilton withdrew from classes and moved out.
Another student not named in the lawsuit received a similar denial, and both complained to the U.S. Department of Housing and Urban Development.
The Justice Department sued. Although the housing policy does allow "dogs trained and certified as service animals under the ADA," it said, UNK "repeatedly indicated that students with disabilities who want to live with emotional assistance animals do not need to be accommodated, and referred to emotional assistance animals as 'pets.'"
The suit seeks compliance with the law, damages and a civil penalty.
The university argued that the Fair Housing Act doesn't cover student housing and denied violating federal law.
But U.S. District Judge John Gerrard rebuffed that argument, ruling that student living facilities clearly fall within the law's protection. At facilities such as the one where Hamilton was to live, for example, students "eat their meals, wash their laundry, do their schoolwork and sleep there, just as people ordinary do in the places they call home."
Students, Gerrard said, "obviously do not intend to live in university housing for the rest of their lives. But they do intend to live in university housing for extended periods of time that are roughly comparable to many other residential living situations."
He also criticized the university's "unflattering association between university housing and jail." The fact that "students live in an environment conducive to the educational process" doesn't "change the nature of the place where they live from a residence to something akin to a correctional center."