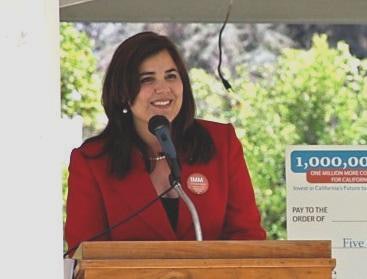 If the state of California fails to strengthen higher education opportunities for low-income residents, the state's workforce could be severely hampered with a shortage of as many as 2.3 million college graduates by 2025, a new study released Wednesday says.
In "Working Hard, Left Behind: Education as a Pathway from Poverty to Prosperity for Working Californians," a report released by the Campaign for College Opportunity (CCO) organization in partnership with the Women's Foundation of California and the Working Poor Families Project, the organizations document the challenges California faces in moving its poorest families from low educational attainment to college completion levels that would ensure the state has enough college graduates in its workforce. The report also prescribes a list of policy recommendations that should help put California on a course to meet future workforce demands.
"While there's definitely great opportunity and wealth in the Golden State, this success has not reached everyone and the California Dream is really in severe danger of slipping away," said Michele Siqueiros, the CCO executive director.
"On the one hand we have millions of hard-working, low-income adults who have limited chances at upward mobility because they don't have better education and on the other hand we have thousands of companies that are seeking highly-skilled and well-trained workers. So, I think our job is to figure out how to close that gap," she said during a webinar conference call on Wednesday.
According to the report, California has the largest number of adults without a high school diploma or equivalent in the U.S. More than one out of 10 adults older than 24 have less than a ninth-grade education and, of the 24 million adults between the ages of 18 and 64, nearly one in five have not earned a high school diploma or its equivalent.
Other report findings noted that:
1)    One in three of the 4 million working families in California are considered low-income;
2)    Of the 1.87 million low-income families in the state, 73 percent are a part of the labor force. Nearly half are without a high school diploma or GED. And 60 percent have no postsecondary education;
3)    Forty percent, or more than 3.2 million, of all California children under the age of 18 are in working low-income families.
With the report identifying low educational attainment as a common characteristic of California's working poor, it recommends the following higher education reforms to help move those families from poverty to financial stability:
1)    Improve the coordination and pathways between high schools, adult education, two-year colleges, and four-year universities with regard to early college preparation, assessment, transfer, and preparation for future workforce needs;
2)    Develop a comprehensive strategy, that includes innovative approaches, to improve the delivery of basic skills/remedial education to significantly increase the number of students successfully moving onto college-level coursework;
3)    Develop a robust, statewide data system to track progress and outcomes of all students, including by socioeconomic impact, over time and between different educational systems;
4)    Create a public agenda for higher education that sets clear goals—and monitors progress toward those goals—for preparing high school students for college, transitioning adult students into higher education and the workforce, increasing the number of certificate and degree completions, and aligning state policies and budgets needed to reach them.
5)    Improve and expand financial aid options for non-traditional students (such as older, working adults), including better leveraging of federal student aid and workforce training dollars; and,
6)    Prioritize educational resources that support student success and completion including orientation, counseling and advising services, and other support services that help close information gaps for low-income students.
Judy Patrick, the president and CEO of the Women's Foundation of California, said that she and her organization are "eager to promote the findings of this report because it contains exactly the kinds of messages that we need to be giving in California at this critical time."
"We partnered for many reasons on the creation of this report but mainly because we care deeply about California and we care about low-income families. … We know that, if California does well, women and low-income families will also do better," she said.