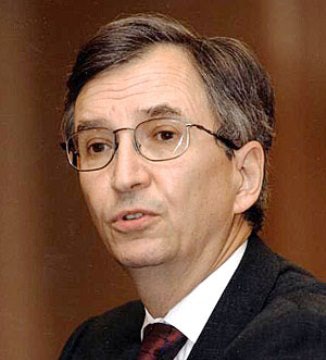 WASHINGTON — In order to improve persistence among diverse groups of students, higher education leaders should shun rhetoric and instead research and attack the root causes of failure.
Those were some of the key points that Anthony S. Bryk, President of the Carnegie Foundation for the Advancement of Teaching, made Tuesday at the annual meeting of the State Higher Education Executive Officers Association, or SHEEO.
"We need to be problem- and user-centered," Bryk said during an address titled "Leading, Improving."
He lamented that too often the public discourse about education problems is dominated by complaints about broad issues such as the "achievement gap."
"These are really macro problems," Bryk said. "You have to get down to what's the specific problem we're trying to solve."
To illustrate his point, Bryk highlighted Statway and Quantway, two Carnegie Foundation for the Advancement of Teaching-led "one-year pathways" that involve "Networked Improvement Communities." The pathways take community college students initially assigned to developmental math "to and through college math." Quantway focuses on quantitative reasoning and Statway focuses on statistics.
Statway was launched in 19 community colleges in five states in August 2011. Quantway was launched January 2012 in eight community colleges in three states. . Both Quantway and Statway have online components that replace textbooks.
Bryk said the pathways seek to make math more relevant and engaging. The overarching idea is to help students get through developmental math so that they can move on to broader fields of study and move into more careers.
"If you don't get (developmental math), you can't go to four-year institutions and many vocational and technical programs are blocked," Bryk said. "This is a specific problem to attack."
With Statway, success rates in developmental math were raised from 15 to 51 percent within one year.
Bryk said a key initial step was to analyze the status quo.
"You have to see the system that's producing the current results if you're going to have a chance of improving it," Bryk said.
Before Statway and Quantway were launched, he said, community college faculty and administrators, as well as researchers who focus on community colleges were convened to examine why developmental math passage rates were so low.
"This is what we call a 'root-cause analysis,'" Bryk said.
One problem identified was that students were being lost in the transition between different math courses due to registration issues, Bryk said. Since the typical developmental math experience was comprised of students taking three or four courses over two or three years, there was a need to compact the developmental math experience a "more integrated experience," Bryk said.
Another problem identified is the course material wasn't very engaging, Bryk said.
"In remedial math, they get taught the same thing they've been taught before in the same way, only a little faster because it is, after all, college," Bryk said. "Chances are if they didn't get it that way the first and second time, they're not going to get it that way the third time."
Another problem was that students arrived at community colleges believing that "they can't learn this" when it came to math.
"They come to think about themselves as not good at math, so they bring a set of mindsets that undermine motivation and undermine persistence to success," Bryk said.
Analyses also showed that students disengaged during the first couple weeks of class, which showed the need for "starting strong" so that students achieve success early on, Bryk said.
By attacking these specific issues, Bryk said, students involved in Quantway and Statway have showed a greater interest in math and are less likely to believe that math success comes from "fixed intelligence."
"Things seem to be moving in the right direction," Bryk said.
Bryk stressed the need to assess students for certain risk factors by using a survey that takes three minutes to fill out on the first day of class.
A key question is whether students sense they belong in class.
"Whenever we move into new environments, there's always some uncertainty that surrounds whether we really belong here, whether we can really succeed here," Bryk said.
Students who frequently or always question whether they belong are more likely to drop out, he said.
When you break down the responses by race and ethnicity, he said, it uncovers growing evidence of "stereotype threat," an idea that holds individuals are so anxious about potentially confirming a negative stereotype of their particular group that it negatively affects their performance.
Bryk urged higher education leaders to avoid "performance management."
"Often it is said we need to set targets, create incentives, hold individuals accountable," Bryk said. "It's rhetoric."
Instead, he said, educators should embrace the power of doing work through networks.
"There is a kind of ethic behind this work that we can accomplish more together than even the best of us can accomplish alone," Bryk said.