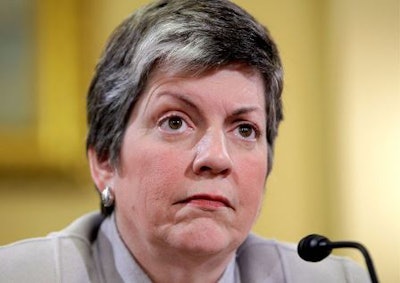 SAN FRANCISCO — State and University of California officials praised the nomination of Homeland Security Secretary Janet Napolitano to lead California's flagship university system, though critics pointed out that she has little experience in the education field.
Napolitano's nomination announced by university officials on Friday follows a rocky stretch for one of the nation's most prestigious public school systems that includes the University of California, Berkeley and UCLA. UC has recently faced tighter budgets and raucous protests over tuition, which has nearly doubled in the last five years.
In addition to her tenure as homeland security secretary, Napolitano was governor of Arizona and U.S. Attorney for the District of Arizona. But she has never served as head of an academic institution or system.
"She might have a lot of background in government, but there is concern about the depth of her knowledge and experience in higher education," said Bob Samuels, president of the University Council-American Federation of Teachers, a union that represents about 4,000 non-tenured UC faculty and librarians.
Chair of the selection committee Sherry Lansing acknowledged Napolitano is an unconventional choice, but said in a statement Napolitano brings management experience and leadership to the role. Lansing declined to comment more on how and why Napolitano was chosen through a UC spokeswoman.
Gov. Jerry Brown said her "outsider's mind" would be a boon.
"Secretary Napolitano has the strength of character and an outsider's mind that will well serve the students and faculty. It will be exciting to work with her," Brown said.
Bruce Varner, chair of the university's board of regents, said in a statement that Napolitano has a track record for taking on and tackling the toughest challenges.
"She has a reputation for seeing things through, no matter how difficult the effort," he said.
Molly Corbett Broad, president of the American Council on Education, said university presidents typically spend time fundraising and dealing with politics, which Napolitano knows how to do well. She said Napolitano will also be effective at saving money by streamlining UC administration.
"That's one of her very great strengths, key at a time when we're seeing funding from universities diminish and funding for science and research diminish," Broad said.
University officials said a selection committee considered more than 300 people for the position and unanimously voted to nominate Napolitano. The UC Board of Regents is expected to vote on the nomination Thursday. Napolitano would succeed outgoing President Mark Yudof, who led UC for five years and was frequently criticized by students and union activists for his pay package, which includes a $591,000 base salary plus generous allowances and retirement benefits.
The regents will determine Napolitano's compensation next week, UC officials said.
After several years of deep budget cuts, Brown earlier this month signed a state budget that boosts funding for UC. But the system still faces serious financial challenges, including rising costs for employee salaries and retirement benefits.
The UC system has also significantly increased the number of out-of-state students, who pay three times more than in-state residents. That has prompted complaints that many top California students are being shut out of the most prestigious UC campuses.
Associated Press writer Terry Chea contributed to this report from Alameda, Calif.