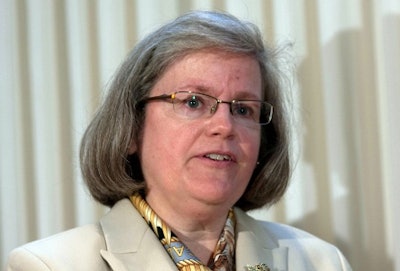 The issue of for-profit colleges and the quality of their educations returned to Capitol Hill this summer as veterans' advocates protested some colleges' predatory practices and sought congressional action to help active-duty and retired military.
"Many veterans have been subjected to highly questionable recruitment practices, deceptive marketing, and substandard education instruction in some of the schools they attend, particularly for-profit schools," said Holly Petraeus, assistant director of the U.S. Consumer Financial Protection Bureau's office of service member affairs.
In Nevada, a Department of Veterans Affairs official said she had encountered many patients with traumatic brain injury who were persuaded to sign up for classes at for-profit colleges "and didn't even remember doing so," Petraeus said. "That didn't stop the colleges from pressing them for full payment even though they were not regularly attending classes."
In Kentucky, an active-duty military spouse received multiple calls a day from what she thought was a military-affiliated college. When she enrolled, however, she found it was not military related and later could get no help when trying to access online classes. "She failed the class due to lack of access but was charged the full fee anyway," Petraeus told the Senate Homeland Security and Governmental Affairs Committee.
For-profit schools value veterans and active-duty military, these critics say, because a loophole in federal law allows them to count GI Bill and military education benefits as "non-federal" aid to meet a critical federal requirement.
Under this provision, the so-called 90-10 rule, for-profits can take no more than 90 percent of their revenue from federal programs such as Pell Grants and other U.S. Department of Education aid programs.
But since the rule was written before passage of the Post-9/11 GI Bill, veterans and military education benefits don't count toward the 90 percent limit, critics say. As a result, veterans help for-profits meet the requirement that 10 percent of for-profits' funding come from non-federal sources.
"This puts a target on every veteran's back," said Tom Tarantino, chief policy officer at the Iraq and Afghanistan Veterans of America. "Every veteran that a for-profit school recruits is worth nine more students using federal financial aid."
Tarantino urged Congress to amend the rule to count GI Bill and military education benefits as government funding. He also cited the instances of veterans who had enrolled at for-profit schools in programs of study where the college did not have accreditation.
"The classes are subpar, the teaching is subpar, and the instructors are subpar," he said.
More veterans are relying on for-profit colleges, based on available data. A 2012 U.S. Senate report showed that for-profits claimed about 37 percent of post-GI Bill education benefits and half of all other Department of Defense tuition assistance programs. Nationwide, the number of individuals using VA benefits for education at any type of institution has doubled since 1998, with a ten-fold increase in federal costs, Petraeus said.
But a leader from the for-profit sector said veterans are choosing these schools because of their customer service and flexibility.
"Our military and veteran students are not the fresh out-of-high-school, first-time, full-time student living on campus and attending college thanks to the generosity of family," said Steve Gunderson, president of the Association of Private Sector Colleges and Universities (APSCU). Instead, they "are like many of our new traditional students—working, with a spouse and children and paying for their education with money they have saved.
He said for-profits design tailored courses — many of them online — that can help veterans move quickly into a job.
Gunderson also cited a 2010 Rand Corporation survey in which he said students from for-profit colleges had higher satisfaction with academic advising compared to students at other schools. Students at for-profits also reported fewer challenges accessing required courses than students at public two-year colleges and private nonprofit colleges.
Many for-profits are appealing to the military and veterans because of what Gunderson termed a "military-friendly deployment policy" that allows students to withdraw and return to school at any time. Student advisers also evaluate past military experience to award credits for prior learning.
Although the panel that hosted this recent hearing is under Democratic control, statements from senators indicated there are still partisan differences over the idea of further regulation of for-profits.
While Sen. Tom Carper, D-Del., committee chairman, spoke about the need to change incentives for colleges to serve veterans, the panel's top Republican, Sen. Tom Coburn, R-Okla., wondered why only for-profit schools must adhere to the 90/10 rule. "Why not apply this rule to all schools?" he asked.