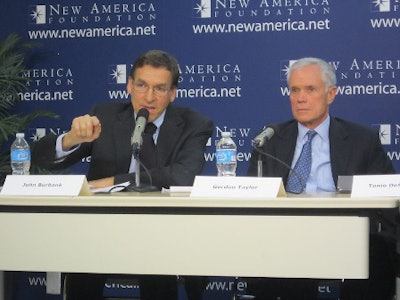 WASHINGTON –With total U.S. student loan debt having surpassed $1 trillion recently and college costs continuing to outpace inflation, there's been a growing exploration of alternative methods that students and their families can utilize to finance college.
This past Friday, the higher education-focused Lumina Foundation and the New America Foundation, a Washington-based think tank, highlighted income sharing programs during a public forum titled "A Future With Zero Education Debt." The proponents discussed income sharing agreements, also known as debt-free college financing options, including the initiative known as the "Pay-It-Forward" program. This past summer, the state of Oregon approved legislation that authorizes a "Pay-It-Forward" pilot program, which is the first state-approved plan.
In general, income sharing agreements provide either funding for college expenses or tuition-free education grants to students in exchange for a set percentage of the student's post-college salary over a certain period of time.
"We've got to find new and different ways to help students," Lumina Foundation president and CEO Jamie Merisotis told forum attendees. "We've got to do so soon, and, from the Lumina Foundation's perspective, if we're serious about achieving our nation's [degree] attainment goals, we can't simply tinker at the margins.
"We've got to find ways to significantly change the paradigm," continued Merisotis, "and focus on new ways to literally deliver more higher education to more people better." He noted that Lumina wants to help facilitate a rigorous investigation of whether income sharing agreement plans are viable.
Armed with careful economic arguments, five proponents—each representing a distinct income sharing agreement program—touted plans that would either reduce or eliminate the use of conventional student loans by a given student. Three of the five represented private companies each explained how their respective firm develops agreements with prospective college students that cover college costs in exchange for a set percentage of the student's post-college salary.
As for the other two proponents, John Burbank of the Seattle-based Economic Opportunity Institute (EOI) and Gordon Taylor of the 13th Avenue Funding organization said their funding programs are developed and managed as either public or private nonprofit entities. The EOI has advanced the Pay-It-Forward model in Oregon and is working with state officials in Washington, Vermont, New York, Pennsylvania and Wisconsin to create new Pay-It-Forward proposals.
Burbank, the EOI executive director, explained how the Pay-It-Forward model differs from private-sector income sharing plans by pointing out that Pay-It-Forward students attend college tuition-free yet come under an obligation to contribute a portion of their income to a public higher education trust fund that pays college expenses for future college students.
"So these students are not paying for their education; they're paying for the education of the next generation," Burbank told forum attendees. "They are developing a community of responsibility."
Burbank explained that, unlike the private-sector options, the public model of income sharing agreements addresses the systemic dilemma of ever-rising tuition that's risen from public disinvestment in higher education.
"Pay-It-Forward is a different mindset because one of the things that we realize is that this whole thing with student debt [originates from] … escalating tuition, and the source of escalating tuition is decreased public investment in higher education over the past 40 years," Burbank said.
"What Pay-It-Forward suggests is a complete paradigm shift—a systemic paradigm shift—so students going to school would pay no tuition, period," he added.
Taylor, a director and adviser for 13th Avenue Funding, said his organization has committed to fund 11 students from Allan Hancock College, a public community college in Santa Maria, Calif., with a $15,000 grant to help each of them finish a four-year degree program at a California state university.
"Our target market is the low-income, low-wealth student who may be struggling to enter or contemplating finishing college given the cost," he said. "We've discovered that there is an unusually high degree acceptance of an income share, or a human capital contract, among this cohort."
Taylor explained that 13th Avenue Funding's nonprofit model of college financing is designed to enable funders, such as his organization, to support individual cohorts of students who begin and end their education roughly around a similar period of time.
The Allan Hancock cohort "will repay to us five percent of their income over a period of 15 years. If they earn less than $18,000 in any given year, they owe us nothing," Taylor said.
"We're perfectly happy to let [students] defer payments so that they could attend graduate school or because of other life circumstances," noted Taylor. "This is a bit of a pooling concept that works to minimize risk, if you will, or shares risk among the students themselves."
The representatives from the private firms emphasized that the entry of private-sector capital in the American college finance marketplace through income sharing agreements would produce significant benefits for students and their families, higher education institutions and the U.S. workforce and firms.
Dr. Miguel Palacios, an assistant professor of finance at Vanderbilt University's Owen Graduate School of Management, co-founded Lumni Inc., a human capital financing company that operates in Chile, Colombia, Mexico, Peru and the U.S. He said the company began financing students in Chile in 2001 and largely operates in Latin America with only a few students in the U.S. Until now, the firm has financed roughly 4,000 students, of which 1,000 have met their contract obligations, according to Palacios.
"Most of Lumni students are first-generation college students in countries much poorer than the United States, and the best example is a group of students [who] were ex-guerrillas from Colombia's military conflict," Palacios said. "These students have had enormous success with our funding."
Dave Girouard, the founder and CEO of Upstart, said his Palo Alto, Calif., company provides capital to students nearing college completion and young professionals seeking to retire student loan debt. He countered the idea that firms like his are likely to demonstrate bias toward disadvantaged students. "Is what we're doing in some sense discriminatory or only for the elite? Far from it," he said.
"We don't care how much your family is worth," Girouard continued. "We don't care how much money you actually have today. … We want to see signals of your potential, and we can make access to private capital—capital that's not coming from the government or taxpayers."