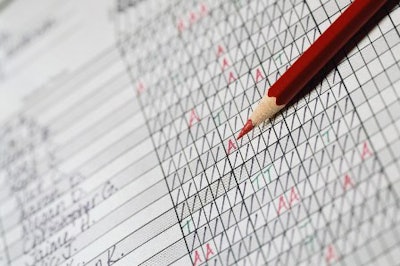 As more states use teacher evaluation systems to gauge the effectiveness of their teacher workforces, a bigger emphasis must be placed on using the systems to make judgments about teacher preparation programs.
That's one of the takeaways from a new report being released today by the National Council on Teacher Quality, or NCTQ.
According to the report titled Connect the Dots: Using Evaluations of Teacher Effectiveness to Inform Policy and Practice, only eight states have adopted policies that link the performance of students to their teachers and the institutions where their teachers were prepared for the profession.
Those states are: Colorado, Delaware, Florida, Georgia, Louisiana, North Carolina, Ohio and Tennessee.
Timothy F.C. Knowles, director of the Urban Education Institute at the University of Chicago, said the number of such states should be higher.
"One clear message in the NCTQ report is that far too few states plan to use teacher evaluation data to shed light on the quality of the teacher preparation pipeline," Knowles said. "This is a huge missed opportunity to hold teacher preparation institutions accountable for the quality of people they deliver to the American school house."
Although Knowles ― like many others in his field ― was a critic of NCTQ's "Teacher Prep Review," which judged teacher prep programs based on their structure, as opposed to actual outcomes, he called NCTQ's recommendation to use teacher evaluations as just one way to assess the quality of teacher preparation programs "more sensible."
He also credited the report for calling for policies that require only teachers with good evaluation ratings to supervise student teachers — a practice the report says is only employed in three states: Florida, Illinois and Tennessee.
"This is sound policy," Knowles said. "The nation's teacher training institutions should not be left off the hook."
Asked if it was too early to use new evaluation data to gauge the effectiveness of teacher preparation programs, Knowles said, "If school and district leaders are using these evaluations to make decisions about individuals' careers, certainly it seems fair to use aggregated data as one of several measures to gauge the effectiveness of teacher training institutions."
Sandi Jacobs, vice president and managing director for state policy at NCTQ, said the purpose of using teacher evaluations to learn more about teacher prep programs is to find out whether there are programs that "persistently produce superstars" so that "we can look under the hood and see what those programs do."
Conversely, she said, if there are consistent underperformers, those programs should also be given a closer look to see what they're doing wrong.
While the NCTQ report is just one of several efforts as of late to tie teacher evaluations that are based in part on student achievement to teacher preparation programs, there is also a plethora of new research that urges caution going forth.
For instance, the National Academy of Education's newly-released Evaluation of Teacher Preparation Programs: Purposes, Methods, and Policy Options, urges policymakers to focus on improving programs and to avoid "wrongly identifying a program as low-performing or wrongly concluding that a relatively low-performing program should be denied resources that would enable it to improve."
"No evaluation system should, in itself, be the trigger of decisions to close or eliminate programs without careful attention to direct and indirect long-term effects," the paper states.
Other papers have warned against relying too heavily on student achievement in teacher evaluations to make decisions of major import.
"It is not just that the information is noisy," Edward Haertel, professor emeritus in the Stanford University Graduate School of Education, stated in a paper titled "Reliability and Validity of Inferences About Teachers Based on Student Test Scores."
"No statistical manipulation can assure fair comparisons of teachers working in very different schools, with very different students, under very different conditions. One cannot do a good enough job of isolating the signal of teacher effects from the massive influences of students' individual aptitudes, prior educational histories, out-of-school experiences, peer influences, and differential summer learning loss, nor can one adequately adjust away the varying academic climates of different schools."
Jacobs noted that no system relies entirely on student achievement and that the report calls for using multiple measures in teacher evaluations.
At the same time, she noted, the paper also warns not to fall into the "too-many-multiple-measures" trap.
"If you start to have dozens of different things that are part of the system, you risk watering everything down so that nothing is meaningful," Jacobs said.