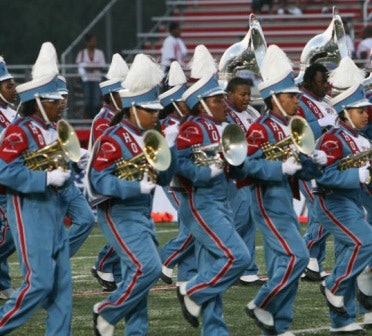 Last Thursday, Delaware State University administrators acted decisively to suspend fall semester activities of its marching band and other school performing ensembles after the university's director of bands brought hazing allegations forward to the administration.
The suspension means that all band performances, including those of the Delaware State University (DSU) Approaching Storm Marching Band, the DSU Jazz Ensembles, the Concert Band and the Pep Bands, are canceled for the remainder of the fall semester, including the university's final home football game on November 23.
"The University takes these allegations of hazing very seriously, and as such, taking action immediately to suspend the band activities and thoroughly investigate the veracity of the charges is the only appropriate course," said Dr. Alton Thompson, DSU provost and vice president for academic affairs, in a statement.
The university's investigation into the unspecified allegations surrounding the school bands remains in effect, and it's uncertain as to when it will conclude, said Delaware State University spokesman Carlos Holmes. Roughly 150 students have been active in the suspended bands.
"At this point, we have no reports of injured students or anything like that," he said.
"We are painstakingly trying to do a very thorough investigation," Holmes added. "It involves talking to a lot of people. I can't tell you how long the investigation is going to take, but we're still in the middle of it."
Observers say DSU administrators' actions proved notable since they appear to have pre-empted any significant hazing-related student accident or injury. It's also noteworthy that, according to news reports, DSU officials have said that the hazing allegations were brought to bands director Randolph Johnson from "multiple sources," likely meaning students and others from the university community.
In recent years, student injuries and deaths have resulted at colleges and universities where hazing thrived within the culture of campus groups, such as fraternities, sororities and bands. For example, the 2011 death of former Florida A&M University marching band drum major Robert Champion brought college band hazing culture to national attention.
"I think it's an appropriate response [by Delaware State] university," said Dr. Susan Lipkins, a nationally-known expert in campus violence and hazing. "In light of FAMU, [DSU officials are] being very cautious and appropriately so to say that they will not tolerate hazing at any level."
Lipkins contends "that since FAMU and Penn State," major organizations are likely to be far more vigilant with regard to allegations over hazing and other forms of misconduct. "That's why the NFL took the hazing so seriously a week ago or so… . Institutions are taking responsibility and finally saying 'we're going to do our best to stop the activities that perpetuate hazing,'" she said.
Dr. Michael Bowie, the director of recruitment, retention and multicultural affairs at the University of Florida's College of Education, said last week that developments at DSU represent "a good first step" for an institution dealing with what is possibly an embedded hazing culture at the school. Last year, Bowie, a former president of the National Pan-Hellenic Council, served on a committee that was authorized by the FAMU trustee board to develop a plan to help the historically Black university banish hazing on campus.
Hazing "is sometimes beyond the administrative reach of the university," Bowie explained.
"Even though the university has put administrative components in place to protect students, that does not always mean students will abide by established rules and policies," he said. "We can create laws, but, if we don't change behavior, if we don't change the culture, we will continue to see some of the [problems] that we've seen."