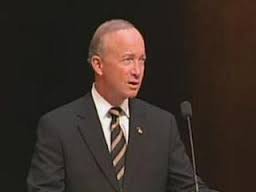 Like all leaders of American colleges and universities these days, Massachusetts Bay Community College President John O'Donnell is under pressure to increase graduation rates and turn out students ready for jobs.
And like a small but growing number of his counterparts around the country, O'Donnell has a new incentive to meet these goals: His salary partly depends on it.
"College presidents need to be accountable," said O'Donnell, a self-professed advocate of the idea that presidential pay be used to reward good performance, and whose board of trustees has recommended that he get the relatively modest maximum allowable incentive bonus of $7,390 for this, on top of his $211,150 base pay.
Taking a page from the corporate playbook, public and private college boards are beginning to tie at least a portion of annual merit raises to how well presidents and their campuses meet performance targets.
"Corporate concepts are just starting to drift into academia, and they have to," said Stephen Pollack, a partner in the San Francisco office of the human resources consulting firm Mercer, who specializes in nonprofit organizations, including in higher education. "Institutions can't afford not to have competent people in these jobs."
"Institutions can't afford not to have competent people in these jobs." – Stephen Pollack
The trend exposes the reality that presidential evaluations historically have been almost a formality at many colleges, and raises often rubber-stamped, said Patrick Callan, president of the National Center for Public Policy and Higher Education. The process appears to be undertaken "just to justify extravagant salaries, or is way too focused on fundraising," he said.
In other cases, "it's like they put the presidents on trial," and every constituency—faculty, donors, students—is invited to weigh in, said Callan. "That's just a killer. It creates presidents who won't take risks."
Now salary raises and bonuses for college leaders are being linked to results, just as public funding for the institutions themselves has been.
"It all goes to the idea of putting money behind the goals you're trying to achieve," said Dennis P. Jones, head of the National Center for Higher Education Management Systems and an expert on outcomes-based college funding. "If that's more graduates, let's pay for graduates. If it's something else, let's pay for that."
The idea of tying executive compensation to specific performance goals has been drifting slowly into higher education from the corporate world, where leaders are financially rewarded for meeting business goals. Universities and colleges are increasingly under the same kinds of pressure from parents and politicians that CEOs are from shareholders.
About a third of presidents of private colleges and universities are now eligible for so-called variable pay, or pay for performance, according to Yaffe & Company, an executive compensation consulting firm. Sixty-four percent of those received their maximum possible incentive bonuses last year, the agency said, which it said came to a median of $34,000 each.
Public universities are jumping on the presidential performance compensation train, too.
This month, for the first time, the heads of the nine universities and six health centers of the University of Texas System were given bonuses equal to as much as 10 percent of their salaries based on their cost savings, growth in research grants, fundraising, graduation rates, and other measures.
And former Indiana Governor Mitch Daniels, who took over in January as president of Purdue, is paid $420,000 a year with the potential to earn an additional $126,000 tied to such things as lowering students' debt.
Not all of these arrangements have been met with praise. Some critics complain that presidents should not be paid extra for doing things that seem to fall under their job descriptions—especially with money tight.
There was grumbling along those lines when the Arizona Board of Regents voted in September to give $40,000 each in incentive pay to the presidents of Arizona State University and the University of Arizona, who make base salaries of $475,000 apiece, plus more than $250,000 a year in other benefits. Each is due for another $40,000 in incentive bonuses next year and up to $180,000 the year after that if they can trim the cost of health care, attract more students and research funding, and lower the number of dropouts, among other things.
In Massachusetts, O'Donnell and the presidents of the state's other 14 community colleges and nine state universities are being evaluated under new guidelines linked to policy priorities set by Commissioner of Higher Education Richard Freeland, including raising graduation rates, closing achievement gaps, and aligning educational programs with the needs of local employers. The presidents will be eligible for bonuses of up to 3.5 percent based on how closely they meet these goals. "We're being very clear about the educational outcomes we're trying to produce for the state, with a growing emphasis on performance," said Freeland. "Our intention is to cause presidents and local boards to give greater attention to advancing statewide goals for public higher education."
As to whether merit raises of only 3.5 percent of presidents' salaries are enough to drive change, Freeland said he wished the proportion was higher. "It's nowhere near as meaningful as I would like it to be," he said. "I wish there were more headroom."
It's not just presidents who are being held to performance measures to get bonuses and raises. Nineteen percent of provosts and 18 percent of chief financial officers at private universities and colleges are, too, Yaffe & Company reports. In Texas, the new incentive pay plan includes vice chancellors.
It's too early to judge how much of an impact this will have, advocates and observers said. But performance-based raises are effective in the corporate world, said Pollack.
"To do it well, you have to be willing to … communicate with people at the beginning of a year about expectations and goals," he said. "If you're willing to do that and then hold them accountable, it works."