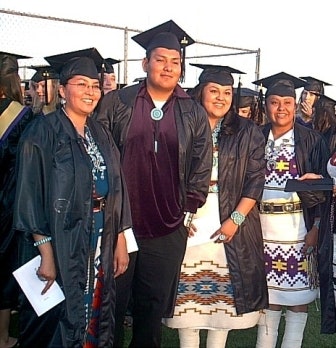 RAPID CITY, S.D. (AP) – When Dee LeBeau-Hein was a student at the University of South Dakota, she always hoped that one day an effort would be made to help more young Native Americans overcome the cultural and social hurdles that prevent them from attending college.
And she is starting to see that dream become a reality.
LeBeau-Hein made her way from the reservation of the Cheyenne River Sioux Tribe to the University of South Dakota in Vermillion in 2001, earned her master's degree and now helps mentor other Native American students.
She helps them navigate the often overwhelming and confusing environment of college campus life, and overcome cultural issues that can cause Native Americans to skip college or give up too soon.
Her mentoring efforts could be a model for a new program that will soon be launched by the South Dakota Board of Regents to increase the number of Native Americans who attend state colleges and to help them succeed once there, the Rapid City Journal reported.
The regents recently commissioned a study on Native American attitudes toward higher education to pinpoint barriers to college attendance and graduation.
The result was a vote by the Board of Regents at their meeting in Rapid City to create a new position at their office in Pierre for a liaison who will travel to schools and reservations across the state to work with high school faculty, students and their families to encourage Native American college attendance.
Some areas of focus will include smoothing the college entrance process of testing and paperwork; applying for scholarships and financial aid; preparing for the social and cultural change of campus life; and overcoming attitudes that inhibit college attendance.
LeBeau-Hein was pleased with the concept of the new program.
"That is an answer to prayer," she said.
Regents CEO Jack Warner said he's disappointed that even with 70,000 Native Americans in South Dakota making up about 10 percent of the state's population, so few Native Americans attend state colleges. Warner said only one in 10 ever attempt to obtain a higher-education degree.
He said efforts to steer more Native American students toward higher education must start in high school or earlier.
"We have to decide to do something new and different," he said. "A lot needs to happen at schools that teach Native American students."
Warner compared the stress and angst that Native American students may feel to that of a white South Dakotan who is the first in his family to attend college, a common occurrence since only about 25 percent of working-age adults in South Dakota hold college degrees.
And yet, he said, Native American students may feel even more pressure to forgo college due to other cultural pressures to conform. He said peers and family members may criticize first-time college students and Native American students alike who come home from break and use more sophisticated language, for example.
"Parents see their children come home changed, as in 'Who does he think he is? Is he better than us now?'" Warner said.
Regents Vice President Dean Krogman said far too many Native Americans return to reservations rather than break into academia because South Dakota colleges right now do not have enough Native American students or professors on campus to make students feel comfortable.
"They go back to the reservation because there's a safety net, or a perceived safety net," Krogman said.
Warner said part of the new program will be to attract more Native American faculty to state campuses to help more students feel welcome. He said Black Hills State University in Spearfish has taken positive steps in that direction and has among the state's largest Native American student population.
Warner said Native American students who obtain degrees have "tremendous opportunities" to obtain good jobs or go on to higher levels of education.
LeBeau-Hein has seen firsthand how mentoring Native American students can open new doors.
She works with students for the Tiospaye in Science and Engineering Program at South Dakota School of Mines & Technology in Rapid City. The program awards needs-based scholarships and provides support academically, culturally and socially for Native American students at the school. It has gone from just a handful of students to about 30 in just a few years.
She said there are several hurdles she sees Native American students struggle to overcome when coming to school from the reservation or tribal colleges. One is the adjustment to the academic rigor and class schedules. Another is adjusting to the differences in culture.
"Sometimes it's the financial or traveling from the reservation," she said. "It's a variety of life issues. Life is life, but that's why we're here to help them as best we can."
In the two years she has been working with the program, she said she has seen a tremendous amount of success.
"And when they succeed, you just know they are going to make it in the world, and they are going to go back and make positive changes back home," she said. "They want to go back and help fix the roads and clean up the water system. So those are dreams they have while they are here, and it's so inspiring because they believe it's possible and it's just really exciting to see that happen."
Sam Gingerich, vice president for academic affairs for the regents, called the seven recommendations that resulted from the study a "grand social experiment."
The study, titled "Like Two Different Worlds: American Indian Perspectives on College-Going in South Dakota," interviewed about 50 Native American undergraduate students at four public universities in the state in the fall of 2012.
It attempted to understand their feelings and experiences when it comes to the desirability of post-secondary education, expectations of the college experience, motives for attending, factors in college choice and barriers to entry.
The study overseen by Daniel Palmer, director of institutional research for the Board of Regents, found that among the major obstacles for Native American students is what the study called the "reservation effect."
It describes the variety of challenges rooted in living in poverty. It concludes that when families must focus on meeting basic needs for food, water, clothing and shelter, it makes it difficult to think about college.
Other obstacles include financial challenges, lack of mentorship, fear of leaving home and family, fear of culture shock, fear of alienation and other barriers like failing to graduate high school, involvement in drugs and alcohol use, teen pregnancy and a lack of quality information and engagement from colleges.
One Native American student in LeBeau-Hein's program said that, while he didn't come from a reservation, he sees his fellow students struggle with some pretty deep conflicts when it comes to leaving their families.
"The family instinct is to pull back," said Jacob Phipps, a chemistry senior at South Dakota School of Mines & Technology. "Some students will leave for the weekend, and you will never see them again."
Phipps is originally from Mesa, Ariz., but said he feels like he has become a part of a new family with his Lakota peers in the Tiospaye program, and he is especially close with LeBeau-Hein.
The word "Tiospaye" translates to "extended family." And it is that aspect that makes the program so successful, LeBeau-Hein said.
"We try to help them and receive them like we are a family, that's why we're so close," the mentor said. "I've had students say if it wasn't for this program they wouldn't be here. We really try to keep that sense of home and family for them, and that does make a difference."