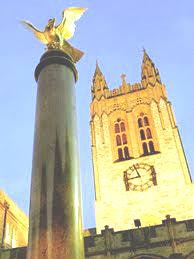 SAN FRANCISCO — No matter how many or few international students enroll at any given U.S. college and university, they should all be considered prospects for charitable gifts to their institutions. And, much of the information about these individuals' wealth is obtainable for practically nothing.
That was the consensus among multiple panelists at a conference titled, "International Fundraising: Giving Without Borders," that was convened by the Council for Advancement and Support of Education (CASE) last week. CASE is the professional association for K-12 and higher education advancement professionals who work in alumni relations, communications, fundraising, marketing and related areas.
Among foreign countries, China is the No.1 sender of students to U.S. institutions, according to the Institute for International Education. In 2012-13, the most recent year for which statistics are available, about 29 percent of international students in this country were from China, followed by India and South Korea at 12 and 9 percent, respectively. Saudi Arabia came in at 5 percent.
People from abroad tend to pay more tuition than their U.S. peers — in 2012-13, about 64 percent of international students used personal and family monies — so college fundraisers have increasingly looked to their families for large donations in recent years.
Ellen Sullivan, executive director of international advancement at Boston College, told CASE conference-goers that in two years, she has already secured a $5 million donation from an international source. She has also identified prominent Muslim families outside this country who have sent children to Boston College, a Jesuit-led, liberal arts institution.
At the CASE fundraising conference, Sullivan described the Middle East as a region "where the number of [Boston College] students and alumni are small, but the personal resources are great."
Some HBCUs, for instance, illustrate the trend of small but discernible enrollments of international students. This school year, 4 percent of Texas Southern University's total enrollment is international students. Jackson State and Tennessee State universities each have 3 percent. Meanwhile, some minority-serving institutions have launched Confucius Institutes, bringing Chinese-language courses and cultural exchanges onto the campuses. The Hispanic-serving University of Texas at San Antonio has such an institute, as do the historically Black Texas Southern and Xavier universities.
As an example of utilizing no-cost resources close at hand, CASE conference panelist Sullivan recalled asking a Boston College professor with expertise on China to vet a list of 97 undergraduates from that country to determine whose families were the wealthiest prospects. Biographical information for each student included parents' occupation and company name, businesses that Sullivan had never heard of.
"By the time we were through," Sullivan said about teaming up with the professor, "there were 14 families who were my top leads."
She has also joined faculty-led trips overseas in which professors and U.S. students meet with alumni in a profession the students are interested in. This has allowed Sullivan to get acquainted with alumni in senior-level positions at banks and hedge funds, for instance.
The CASE conference drew more than 100 attendees combined from this country, Ghana, Australia, Japan and Hungary. It featured sessions focused on new and emerging international fundraising programs as well as mature and developed programs. Other sessions examined legal issues surrounding the acceptance of donations from foreign countries and how to locate and develop high-capacity prospects among alumni and families of current students through research and collaboration. Session panelists included university research analysts as well as veteran fundraisers.
The panelists' advice for U.S. fundraisers included:
Steer the conversation with prospects in ways to learn more about their personal wealth by asking about hobbies and personal interests. Also ask about the ages and hobbies of their younger children. Ask where the children attend school.
Don't jump to conclusions based on a prospect's name. Although the person lives in foreign country, he or she might have previously lived in, or even been born in the United States and therefore is already familiar with American philanthropy.
Use Google's translator function to read Wikipedia entries about prospects. Whereas the entry in English about an Italian CEO might be only a paragraph or two, the entry in the CEO's native language might be longer and much more detailed.
Partner with university colleagues in alumni relations as well as with alumni association leaders to share information about prospects.
Ask business school faculty at their colleges and universities if any of their former students are CEOs of companies abroad.
Ask professors if they bring students from abroad onto campus during spring break for academic and research opportunities. Some of those students might come from wealthy families.
Find out if prospects have tax liabilities in multiple countries. Depending on their business and personal assets, these people aren't necessarily restricted by standard legal limits on foreign donations.
Don't forget that Canada is a foreign country. According to the IIE, Canada was the fifth-largest exporter of students to U.S. institutions in 2012-13, behind Saudi Arabia.
Marta Garcia, assistant vice president for development at Georgia Institute of Technology, explained how her school has produced — perhaps surprisingly — globally diverse alumni despite the fact that Atlanta doesn't necessarily have as international a reputation as New York City and Los Angeles.
During the late nineteenth century, Latin American engineers who came here for post-Civil War jobs were drawn to Georgia Tech for advanced study. Atlanta offered a warm climate, and Georgia Tech offered cheaper tuition than institutions along the Eastern seaboard. Word spread back to Latin countries and by 1940, Cubans comprised one of the largest subgroups at the university.
By the 1970s, students were trickling to Georgia Tech from European countries and eventually, from Asia, too. Nowadays, about 10 percent of Georgia Tech undergraduates and 35 percent of graduate students are international, Garcia said.
She began pursuing international prospects when there was extra money in her academic fundraising budget. This also kept her from competing with staff assigned to cultivate donations from U.S. alumni.
When Garcia secured two gifts at seven figures apiece, her colleagues and supervisors took notice. "It made us all wonder, who were we ignoring among the prospects?"
By 2011, she was tasked with creating an international division for external affairs at Georgia Tech, and the program is now staffed in Asia and Europe.
But despite the fertility of international fundraising, pitfalls are certainly inherent.
One conference attendee recalled how the Chinese mother of a current student at his institution hosted him and his advancement colleagues at her home overseas. While entertaining them lavishly, the woman mentioned that her husband's annual salary was $45 million.
She also mentioned that while visiting her daughter at her U.S. school, she spent a month at a nearby hotel, for the most part alone, unable to navigate through town by herself because she knew so little English.
"Here she was in our country," the man said referring to the United States, "and she was crying every night at the hotel. We had this extraordinary opportunity right in front of us, yet nobody from out institution paid her any mind the whole month."
The man's remarks dovetailed with those of Martin Shell, vice president for development at Stanford University. He emphasized that fundraisers focus on building relationships with prospects, taking care not to do so to benefit themselves individually.
Shell warned against transactional mentality and so-called pay to play tactics. "Let's maintain vigilance against the occasional donor's desire for quid pro quo relationships. Some of us might be offended by the suggestion but there are different cultural norms in different countries."