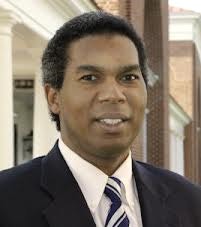 As a high school student in Seattle, Paul Harper was fired up about going to a historically Black college upon graduation. Inspired by the hit television series "A Different World," Harper became an avid reader of W.E.B. Du Bois and Cornel West, Du Bois' generational successor.
Soon, Harper was studying at HBCU Fisk University in Nashville, Tenn., eventually earning a bachelor's degree in religious and philosophical studies, then heading to graduate school to earn a Ph.D.
At some point during his graduate school pursuits, which included two years in the divinity school at the University of Chicago, Harper concluded he needed to broaden his focus in order to stay relevant and employable. He shifted gears, enrolling in the Darden School of Business at the University of Virginia, where he earned his M.B.A. with an emphasis in ethics, strategy and entrepreneurship and a Ph.D. in business administration. The Darden School is known for its business ethics training.
"I valued liberal arts," Harper recalls. "The market didn't. If law schools are having problems, you know English departments are," he adds, referring to enrollment and employment trends in liberal arts fields.
Today, Harper, 43, is a clinical assistant professor of business administration, organizations and entrepreneurship at the University of Pittsburgh. He is one of less than a handful of Ph.D. academicians of color nationwide stressing ethics and values as an integral part of their teaching of entrepreneurship and feels his role for his generation and the one behind him is to strengthen their appreciation for these concepts while nurturing their interest and grasp of non-traditional business strategies.
"I thought I was going to be the next Du Bois," Harper says, reflecting on his childhood hero. Du Bois, the historian who helped put Fisk on the higher education map during his tenure there, was "the symbolism" of what Harper aspired to. West was the influence, he adds.
After nearly 10 years of post-graduate study, Harper says he realized the need to supplement the visions and callings of Du Bois and West with a strong entrepreneurship message, as today's generation of college graduates are determined to go into business on their own and earlier in their lives. Whether they succeed is another question.
Just as Du Bois and West saw themselves as part of the intellectual elite of their eras, Harper sees himself and his peers as the economic power intellectuals of their time.
"As effective and successful as the civil rights movement has been, the important issue [today] to African-Americans is economics," says Harper, noting Black America is still in a serious effort to recover from the nation's financial crisis of 2008. "The Black entrepreneur is going to lead us out this time — not the prophets, not the ministers. We need economic prophets this time."
Challenges for entrepreneurs
The challenges on the horizon are significant, notes Harper, adding that more institutions in general need to focus on entrepreneurship education and include a heavy dose of ethics and values education as part of the effort.
"Entrepreneurship is a very new discipline," he says. Unlike the proverbial goal of his parents' era — getting a job with a strong company and staying with it until retirement, often referred to as "gold watch time" — Harper says "it's not the goal of this generation to work for GE for 25 or 30 years."
Today's generation is interested in giving back to society by the time they reach age 25 or 30 and doing so through businesses of their own, Harper says. "They're going into [business] at a greater rate and interested in getting into it at an earlier level, earlier in life."
However, "they are not succeeding as well," he notes, as today's generation still faces institutional access barriers to capital.
Harper explains that entrepreneurship is a way of being innovative and solving problems, but he emphasizes that Black Americans need to start thinking about being more than owners of hair salons or small property management companies.
"[Black Americans are] so caught up defending the old modes of entrepreneurship that we can't start focusing on tech-backed, high-growth potential business[es]," he says. "The employment market is now demanding [that] programs train students in ethics, strategy and entrepreneurship. Those are your growth areas."
Ethics and education
Good ethics education goes beyond students and includes administrators and trustees, notes Harper. Such value-driven approaches help business leaders — a group that includes college presidents and administrators — avoid many pitfalls that could derail their larger goals and personal careers.
The uncontrollable and unpredictable role of social media commentaries only complicates matters, says Harper.
Institutions allow the ethics of their enterprise and its messages to be questioned or doubted in a variety of ways at a number of levels, Harper explains. For example, the failure of presidents and their board leaders to fully engage on a regular basis is an ethical flag. When students are not as academically prepared for an internship as their school has boasted, the gap between the pitch and reality poses an ethics and credibility issue, he says.
Keeping or breaking a promise is as much a moral and ethical concern as a legal one, continues Harper. When an institution fails to deliver to its student customer the kind of student services and education that was promised during recruitment season, it's an ethical issue that damages the institution's reputation over time.
"While something might be legal, [though it may] not violate the law or [violate] an explicit employee code of conduct, it still may not be moral," notes Harper. "Overcharging institutions for travel, having affairs with people in sensitive positions, these are decisions that may seem okay [initially] but, on a second look, might not reflect well on the leader or the organization.
"One way a leader can avoid this moral hazard is to use the publicity test," suggests Harper. "'Would I want this decision and its outcomes to be told on the front page of the newspaper?' If not, then avoid [it]."
Harper adds, "Leaders should also use their moral imagination to think about how this decision would be interpreted by the people and organizations that will be affected by it. Overall, morality demands a view of the world and the workplace that is more expansive than that of any one individual, even if he or she is the chief executive officer or president."
Now in his second year at the University of Pittsburgh, Harper says the challenges are apparent. Despite the city's recovery over the last 30 years, Pittsburgh ranks near the bottom of all surveys of the top 40 metropolitan population markets with respect to African-American engagement in the city's enterprises. Part of Harper's new teaching job is to help the university come up with plans and actions to address that shortcoming. Meanwhile, he will be teaching three to five courses, hoping his economic prophecy approach to business education, with a heavy dose of ethics and values, resonates with his students.