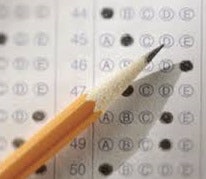 No significant differences were found in the success rates of students who provided standardized admissions test scores to colleges in comparison to those who had not submitted scores, a new national study on test optional admissions policies has found.
In "Defining Promise: Optional Standardized Testing Policies in American College and University Admissions", the report authors found "the differences between submitters and non-submitters are five one-hundredths of a GPA point, and six-tenths of one percent in graduation rates."
"By any standard, these are trivial differences," said the study, which was posted Tuesday by the National Association for College Admission Counseling on the organization's website. The three-year national study analyzed the records of 123,000 students at 33 institutions and is said to be the first major published research to evaluate optional testing policies in depth and across institutional types.
"From my point of view, the key message here is that human intelligence is far more fluid, complex, and multi-layered than we perhaps think it is," said Dr. William C. Hiss, the study's principal investigator.
Hiss, a faculty member and former admissions dean at Bates College, says critics of standardized admissions test believe the "study may be a tipping point and that it will encourage more colleges and universities to really think carefully about how much weight they put on testing and see if there's a better way."
"My hopes are that colleges use the study to examine carefully their own protocols, their own methods of admitting students, and see if optional test admissions could provide one route to substantially widen the doors to higher education. I believe it can," Hiss said.
Hiss teamed up with Valerie Franks, a higher education research consultant and former Bates College admissions official, to develop and complete the study.
The study revealed that non-submitters are more likely to be first-generation-to-college enrollees, minority students, women, and Pell Grant recipients.  In addition, the study found that students with strong high school GPAs, even without testing, are likely to succeed in college, and students with low high school GPAs, even with a broad range of testing, have much lower college GPAs and graduation rates.
Of the 33 colleges and universities in the study, there were 20 private colleges and universities, six public universities, five minority-serving institutions, and two arts institutions whose enrollments ranged from 350 to 50,000 students. The schools are located in 22 states and territories.
Robert Schaeffer, the public education director of the National Center for Fair and Open Testing (FairTest), said the new study arms colleges and universities with data that can support the elimination of ACT and SAT requirements. Since the 1980s, the FairTest organization has led a campaign to de-emphasize the of admissions test scores.  On its website, FairTest currently lists more than 800 test-optional four-year schools.
"This landmark research shows that test-optional plans promote both equity and excellence," Schaeffer said in a statement.