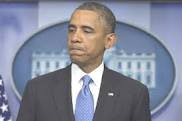 WASHINGTON — Even as President Obama announced an ambitious $200 million initiative to focus resources on helping at risk-young boys of color, a chorus of voices—both Republican and Democrat—quickly criticized the president for acting too late to address the widening crisis.
"Young men of color face a crisis—one which President Obama has talked about the past five years but seemed uninterested in truly correcting," said Orlando Watson, a spokesman for the Republican National Committee. "We're glad the President is addressing this issue, but with Black and Hispanic youth unemployment at 26.2 percent and 15.5 percent, respectively, why has it taken the President more than five years to act?"
Speaking in the East Room of the White House yesterday, Obama talked personally about the challenges that young boys of color face, drawing from his own personal experiences growing up in a household without a father.
"I didn't have a dad in the house, and I was angry about it, even though I didn't necessarily realize it at the time," he said. "I made bad choices, I got high without thinking about the harm it would do. I didn't always take school as seriously as I should have."
Throughout much of his time in office, Obama has been careful not to talk publicly about race relations. And at times when he has talked about the issue, as he did during a speech at Morehouse College in 2013, his speech was denounced by some as condescending.
But sources in the civil rights community said that they've privately urged Obama in recent months to become more outspoken about race in general and the problems in particular, now that he is in his second term in office.
My Brother's Keeper initiative, spearheaded by Broderick Johnson, the Assistant to the President and Cabinet Secretary, will partner local businesses and foundations to connect young men with mentoring networks and help them cultivate the necessary skills in order for them to be successful.
In a conference call earlier this week, Cecilia Muñoz, the Assistant to the President and Director of Domestic Policy, said that data indicated that boys and young men of color—regardless of their socioeconomic background—are disproportionately at risk of falling behind in school or becoming the victims of murder, among other things. For example, 86 percent of Black boys and 82 percent of Hispanic boys read below proficiency levels by the fourth grade, compared to 58 percent of White boys.
By the time students have reached ninth grade, 42 percent of Black male students have been suspended or expelled during their school years, compared to 14 percent of White male students. While Black youth account for 16 percent of the youth population, they represent 28 percent of juvenile arrests and 37 percent of the detained population. While just over 6 percent of the overall population, Black males of all ages accounted for 43 percent of murder victims in 2011.
To support this initiative, several foundations including Bloomberg Philanthropies, The California Endowment and the Ford Foundation have agreed to invest at least $200 million over the next five years. The money will be used to address issues like early child development and school readiness, parenting and parent engagement, literacy, school discipline reform, and interactions with the criminal justice system.
"Back in the good old days, the young brothers had confidence in themselves to succeed even in the face of Jim Crow," said Amos N. Jones, an assistant professor of law at Campbell University. "As an educator, I'm encouraged that new resources are being set aside to restore some of what has been taken away from us over the last generation or two."
Former Secretary of State Colin Powell, Chicago Mayor Rahm Emanuel, former NBA star Magic Johnson and civil rights activist and MSNBC host Al Sharpton were all in attendance.
Jamal Watson can be reached at jwatson1@diverseeducation.com