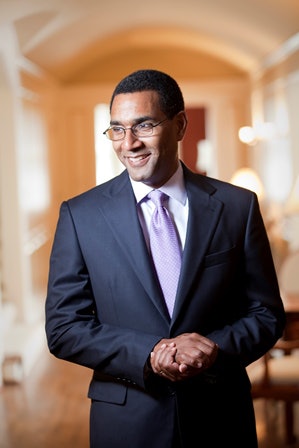 Dr. Sean Decatur arrived at Swarthmore College intending to become an engineer, but within two years, his interests turned to chemistry and Black studies.
"It was pretty clear at that stage I wasn't going to become an engineer, but I also had no idea what I was going to do after I graduated," Decatur recalls.
A professor in a Black literature course helped Decatur make up his mind, by encouraging him to apply for a new fellowship designed to increase the number of college professors of color. In 1989, Decatur became one of the first recipients of the Mellon Mays Undergraduate Fellowship.
The fellowship paid for a small stipend during Decatur's junior and senior years, travel to academic conferences, two summer research projects and regular social gatherings with faculty members.
"I went to the first chemistry conference I had ever gone to," says Decatur, who is African-American. "Just the opportunity to really get to know faculty as people outside of the classroom was incredibly important for me, at least to be able to envision myself in that role."
For Decatur, those experiences made the difference. In 25 years, he has climbed the ranks of faculty and college administration to become president of Kenyon College. He credits the undergraduate fellowship for his ascension: "That was the program and the moment that I started on the career direction that brought me to where I am now."
Decatur is not the only Mellon Mays fellow making a mark in academia. Diversifying the nation's faculty remains a slow process, but the Mellon program has made a significant contribution toward that goal — with more to come.
Almost 4,200 students have received the fellowship, and about one third have earned Ph.D.s or are working toward them. Those figures mean that in addition to 509 Ph.D.s minted, another 670 are in the process of earing their Ph.D.s.
That progress will continue. Each year, 42 elite colleges and universities select five Mellon Mays fellows, and the United Negro College Fund chooses another 25 from its member schools. So between 600 and 700 fellows — most of whom are of color — will be enrolled in Ph.D. programs each year.
"We consider that now something like a steady state number, if you think about what that means as a pipeline," says Dr. Armando Bengochea, who directs the program for the Mellon Foundation. "In a few years' time, we're really expecting kind of an explosion of these students onto the academic job market."
The foundation has had the foresight and patience to wait for results to pile up.
"The goal of this program is to help bring more diversity and diverse perspectives to the American professoriat," Bengochea says. "That's what we're interested in— changing the face of the academy."
Fellowship foundation
The idea of diversifying a predominately White, male faculty surfaced in the late 1960s, when Black students demanded that colleges offer Black studies courses and hire professors to teach them. By the 1980s, some administrators had adopted faculty diversity as a goal, but indifference or resistance in academic departments and a shortage of Ph.D.s of color stymied progress.
William Bowen, a former president of Princeton University, who was then president of the Mellon Foundation, decided to address the pipeline problem. In 1989, the foundation selected the first fellows from 19 schools and UNCF's members.
The number of participating schools has grown to 42, including all of the Ivy League institutions, prestigious research universities and liberal arts colleges around the country, and three universities in South Africa. Together, those institutions and the UNCF select more than 200 fellows each year.
Besides undergraduate support, fellows receive assistance as graduate students and junior faculty members. Those who enter a Ph.D. program have part of their undergraduate debt repaid. Bengochea estimates the program provides about $15,000 in direct funding, in addition to travel and research funds, to each fellow over the years.
The federal government and other foundations, including the Ford Foundation, have also created fellowships designed to enhance faculty diversity. But those programs direct funds to graduate students or particular fields, such as the sciences.
"This is a program that is unlike any other program," says Bengochea, "because we support students comprehensively from the undergraduate years all the way through graduate school and, then, to a certain extent, into their early career prospects."
The Mellon Foundation decided to start with undergrads, explains Bengochea, because "graduate schools were simply not receiving large numbers of applications of students of color. There was a sense that you needed to begin to socialize students at the undergraduate level to even imagine what a career in the professoriat would look like."
Paths to Ph.D.s
As with Decatur, that strategy paid off with Dr. Ben Vinson III, dean of arts and sciences at George Washington University. Vinson, who is African-American, was named a Mellon Mays Fellow at Dartmouth College in 1990.
"Academia was the furthest thing from my mind," recalls Vinson. "I went to Dartmouth to be a lawyer and I also had an interest in politics. So I was on the straight and narrow path to law school."
But a history professor nominated Vinson for the fellowship, and the campus committee chose him even though he had not committed to an academic career. "I was one of the lucky ones. I think they took a chance on me," Vinson says.
His intended career path started to shift after conducting Mellon-funded research in Venezuela on a traditional Black religious festival. "I started to understand that, 'wow, this research stuff is really cool,'" says Vinson.
Still, his dream of becoming a lawyer persisted. He enrolled into a J.D./Ph.D. program at Columbia University.
"It really was as I was doing the history part of my work that I understood that this is fascinating and that this is really my path," Vinson recalls. "I would not be here if it were not for the Mellon Mays program."
An academic career was not new to Dr. Stephen Pitti, who is Mexican American, because both his parents were historians. But Pitti says he "hadn't thought too much about what I wanted to do after college" while at Yale University. That is, until he became one of the first Mellon Mays Fellows there in 1991, after a notice about the new program mysteriously appeared in his campus mailbox.
Now Pitti is a tenured history professor at Yale and director of its Ethnicity, Race and Migration Program. He too credits the fellowship.
"It really did start me off on something that has occupied me ever since," says Pitti. "It dignified the idea of going to graduate school … I might not have had [that] in my mind if the fellowship had not existed."
Incubating professors like Pitti is exactly what the Mellon Foundation had in mind 25 years ago when it created the fellowship, later named in part for Dr. Benjamin Mays, president of Morehouse College from 1940 to 1967.
Top administrators like Decatur and Vinson are an unanticipated bonus, Bengochea says. Garikai Campbell, Morehouse's provost, was one of the first fellows at Swarthmore, along with Decatur.
Decatur, Vinson and Campbell — as president, dean and provost, respectively — are in position to be influential and promote faculty diversity.
"Having been born in the Mellon-based kind of network, you carry with you that larger sense of mission," Vinson says. "So the objectives of diversity and inclusion are very important to me in my professional life. Though Mellon may not have seen us going on into these ranks, as we do, we continue to carry the mission with us."