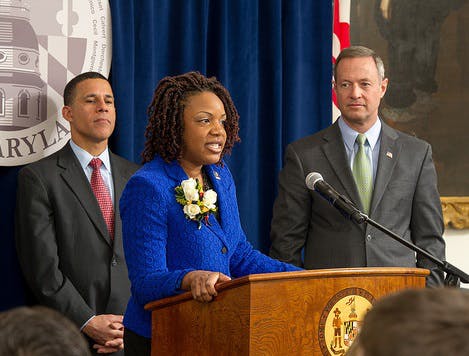 After more than a decade in higher education leadership posts in Annapolis, Md., and Washington, Dr. Danette G. Howard moves on from the Maryland Higher Education Commission to the Indianapolis-based Lumina Foundation, where she becomes vice-president for policy and mobilization this month.
Maryland Governor Martin O'Malley announced Monday that Howard is leaving her position as Secretary of Higher Education to join the Lumina Foundation, a private foundation known for its work in increasing higher education degree attainment in the U.S.
As higher education secretary, Howard had direct authority for Maryland's $110 million financial aid program, supervised the approval of new academic programs and institutions seeking to operate in the state and advised the governor and state legislators on higher education policies and initiatives. Howard had been appointed secretary in June 2012 after serving as interim secretary for 10 months.
"Secretary Howard has been an invaluable leader for the Maryland Higher Education Commission. Under her leadership, Maryland has simultaneously improved the quality of our colleges and universities, and fought to hold down tuition," Governor O'Malley said in a statement.
Catherine McCullough Shultz, the principal counsel in the Office of Attorney General at the Maryland Higher Education Commission, will become the acting secretary of the commission.
Regarded nationally as an influential analyst and thought leader, Howard had previously served as director of research and policy analysis at the commission. She also had held positions as an assistant director of higher education policy at the Education Trust organization in Washington and as a student affairs administrator and admissions counselor at the University of Maryland, Baltimore County.
This past month, Howard was named to the 2014 Maryland's Top 100 Women listing, which is compiled by the Baltimore-based The Daily Record legal and business news publication. Since 1996, The Daily Record has published Maryland's Top 100 Women honors annually to recognize exemplary achievement by women proven through professional accomplishments, community leadership and mentoring.
"Each of Maryland's Top 100 Women honorees is different in some way from one another, yet all share a common goal — to inspire those around them to be the best. Women are an amazing resource for our state, and The Daily Record is honored to recognize their accomplishments," The Daily Record publisher Suzanne Fischer-Huettner said in a statement.
Howard received a bachelor's degree, with summa cum laude honors, from Howard University. She earned a master's degree from the Harvard University Graduate School of Education and a Ph.D. in higher education policy from the University of Maryland, College Park.
Kati Haycock, president of The Education Trust, recalls that in the 2000s Howard was instrumental in helping the Washington-based education advocacy organization grow its influence in national higher education policy circles. The research in the "Engines of Opportunity" report led by Howard and Haycock brought national attention to the inequities public flagship schools were creating in their retreat from commitment to "low-income students and students of color," she explained.
"[Howard] did terrific work with us …. Needless to say, [Engines of Opportunity] raised a lot of hackles in higher education, but it did what we were supposed to do, which is remind people of what these institutions were created for and the mission to which many had turned their backs," Haycock said.
In Maryland, Haycock noted that Howard "did her very best to get the Maryland system to focus on doing better by [low-income and minority students]" in the state's colleges and universities. "I think you're beginning to see some better results from that attention. There's no question that was an important focus of her time [in Maryland] and I trust that it will be there at Lumina as well," she said.
At the Lumina Foundation, Howard will oversee key strategic areas in foundation programs aimed at boosting American attainment of high-quality postsecondary education. She will manage Lumina's strategic work in "both state and federal policy, as well as the Foundation's efforts to mobilize and engage employers, metropolitan areas, higher education institutions and other key actors with a stake in postsecondary attainment," according to the Lumina Foundation.
Lumina Foundation president and CEO Jamie Merisotis said, "I'm thrilled to have Danette join the leadership team at Lumina. …Danette's energy and dynamic skills will be critical to our efforts to help the nation achieve Goal 2025 and ensure a more economically and socially prosperous society for all Americans."