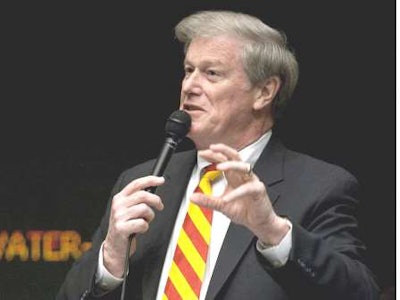 A Florida lawmaker's proposal to designate $13 million in state funds to launch a new school of engineering at Florida State University (FSU) and end its partnership with neighboring Florida A&M University (FAMU) has stirred a whirlwind of debate over the motives and possible implications of the proposal.
The two state-controlled institutions, both based in Tallahassee, established the FAMU-FSU College of Engineering in 1982 as part of the state's effort to eliminate duplicate education programs rooted in the days of racial segregation. FSU is historically White. FAMU is historically Black.
The touted joint engineering program boasts some 2,500 students, although it is as much a separate business operation today in many respects as before the two were consolidated. Many operations remain separate when it comes to behind-the-scenes functions such as payroll and credit hour revenue sharing. The two institutions even report enrollment separately. At the same time, they have developed collaborative efforts that benefit both institutions when it comes to student access to teachers, joint research projects and similar ventures.
The funding plan for a separate FSU engineering school was inserted last week into the Senate's budget bill by state Sen. John Thrasher (R-St. Augustine), bypassing legislative hearings and other traditional vetting, including detailed discussions with FAMU administration leaders.
Thrasher's proposal was adopted by the Florida Senate when it passed its version of next year's state budget. It will be considered later this month as part of the state House and Senate budget reconciliation conference.
Efforts to reach Thrasher were unsuccessful.
The proposal has been hailed by FSU's Garrett S. Stokes, interim president, despite an instant uproar from FAMU's top leaders and supporters in the state legislature.
"Having our own college for engineering will be instrumental in achieving our goal of being a Top 25 public research university," said Stokes, who had served as provost and executive vice president of FSU before becoming interim president April 2.
"FSU is committed to a positive, collegial working relationship with FAMU to ensure that the outcomes are positive for both universities," said Stokes, who came to the institution in 2011 from the University of Georgia.
FAMU officials and supporters were furious over the state Senate plan, passed only a few days after interim FAMU president Larry Robinson stepped down after greeting the university's new permanent president.
In an interview with the Tallahassee Democrat, the morning daily newspaper, Robinson was reported to have said of earlier comments by Thrasher that his idea has been discussed at length with FAMU officials was "complete nonsense."
"If this was something that Barron (FSU immediate past president Eric J. Barron) and I agreed to, why wouldn't you roll this out when we were both here, let us come down and shake hands?" Robinson was quoted as saying. "Why was it done the day he (Barron) left and two days after I was gone?"
Thrasher's move caught the attention of U.S. Rep. Corrine Brown, a FAMU graduate. In a statement, Brown assailed what she called a "behind the scenes effort" to divide the engineering program back to its segregation-era status.
"As the 1954 Brown v. Board of Education Supreme Court case has shown us, separate is not always equal," said Brown, a FAMU alumnus who served in the state's House of Representatives for 10 years. "The notion that future legislatures will equally protect the funding for both institutions is naïve and credulous," the congresswoman said in her statement.
In Florida, state Rep. Alan Williams, the State House Democratic Whip and chairman of the 21-member House Black Caucus, said in a telephone interview Tuesday evening that Thrasher's move is a "slap in the face" to fellow Floridians for a number of reasons.
"Normally, when there is something of this magnitude, all of it is fully vetted," said Williams, noting that the funding measure was introduced on the Senate floor and passed by voice vote.
In addition, Williams said, the FSU measure is not supported by FAMU's administrators, its board of trustees or the greater FAMU community and there is widespread concern the measure would be a prelude to further cuts in state funding for FAMU.
Williams said his goal and that of his fellow colleagues is to convince Thrasher that his proposal is a budget "poison pill."
"We want him to make sure this will not happen on his watch," he added.