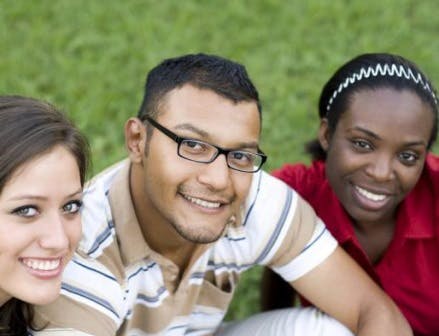 WASHINGTON – Among U.S. racial and ethnic groups, African-Americans and Hispanics are more likely to say the local K-12 education afforded their children and those of their neighbors are preparing them adequately for college than are Whites and Asian Americans, a new national survey shows.
In a poll undertaken for the Next America project by the National Journal magazine and the College Board, 53 percent of all respondents indicated that the schooling their children receive is sufficiently preparing them for college. Hispanics were the most optimistic about local K-12 education, with 64 percent saying students were being prepared for achieving success in college, compared to 60 percent of African-Americans and 55 percent of Asian Americans. Only 50 percent of Whites said local K-12 schools were adequately preparing children for college.
"First, we see that faith in local schools does persist. A majority of adults said they believed the elementary, middle, and high schools in their area are preparing young people to perform college work successfully," said National Journal editorial director Ronald Brownstein, noting "strikingly that faith is greater among African-Americans [and Hispanics] than among Whites."
Last week, the Washington-based National Journal released survey results on American attitudes about education and opportunity from the latest College Board/National Journal Next America poll in a survey series originally launched in 2012. The poll was conducted by Princeton Survey Research Associates, which surveyed 1,271 adults this past March on a range of issues, including education and the economy. The College Board, the Rockefeller Foundation and the Annie E. Casey Foundation funded the poll.
"Getting to the heart of what we were looking at in this poll, we asked people to reflect on their own educational and employment choices through their lives, and then draw out from that some of the conclusions they [have] about public policy," Brownstein said last week during "The Next America: Points of Leverage" public forum in downtown Washington at which he presented poll results.
Forum speakers, including U.S. Labor Secretary Thomas Perez, discussed the potential of childhood, teen and young adult interventions for helping disadvantaged youths attain education to become socially and economically productive adults. The need for helping children with early childhood programs and with helping them to develop solid social skills along with academics was emphasized.
Focusing his remarks on the highlights of the College Board/National Journal Next America poll, Brownstein drew attention to poll questions, to which respondents had similar responses across racial and ethnic lines and to a question asked in previous Next America polls.
When asked if they believed their schooling at the high school level had prepared them to do college work successfully, 69 percent of respondents overall said yes. Seventy-one percent of Whites responded with a yes to the question, compared to 67 percent of Hispanics, 64 percent of Blacks and 66 percent of Asian Americans.
"We also see that two-thirds of adults, regardless of the actual choices they made, that their own elementary and secondary education prepared them to do college work successfully and that view … is broadly shared with relatively little variation across racial lines," he said.
Brownstein cited another poll highlight involved the question, Do you think young people in the United States today need a four-year college degree in order to be successful or not? Forty-nine percent of all respondents indicated yes, in contrast to 48 percent who answered no to the question. While 45 percent of Whites said yes, 57 percent of Blacks, 67 percent of Hispanics and 58 percent of Asian Americans responded affirmatively to the question.
"We've asked this question three times in the Next America poll and [there has been] a steady decline across racial and ethnic lines, with again Whites being the most dubious as a broad matter of the value of college," he explained.
Brownstein noted that while the 49 to 48 percent split on the question about the value of a four-year college degree coincides with the recognition of the tough employment picture in an economy still in recovery from the recession, there's poll evidence that Americans strongly believe in postsecondary education overall.
"When people look at their own lives there is a very different verdict," he said. This is in contrast to "the social judgment" of 48 percent of Americans who said young people don't need a four-year college degree for success.
Among those who went directly from high school to the workforce or the military, 54 percent said "if I had to do it all over again I wish I would have obtained more education," noted Brownstein. Only 44 percent would make the same choice again, according to the poll.
"In very sharp contrast, those who went from high school into further education overwhelmingly would replicate that choice again," he said. "Ninety percent of them say they would still attend a four-year or two-year school, or get vocational training."
Only 8 percent would reverse the decision and go directly into the workforce, the poll shows. "I consider that a very important bookend to the finding on the growing doubt about postsecondary education overall," Brownstein said.
Dr. Devora Shamah, a research manager at the Gateway to College National Network organization in Portland, contends that with the Obama administration's attention to community colleges and postsecondary education programs, Americans may be broadening their thinking about what kind of education is needed for career success in today's economy.
"I think first and foremost looking at the time period of [the Next America polls] from September 2012 to 2014, we've obviously seen a continued trend of a really difficult job market and I think that certainly plays into how people would answer [college degree value] question," she said.
"But I also think it's important to note that [the National Journal and the College Board] asked specifically about a four-year college degree and I think that is playing into this as well as people are starting to recognize more and more the value they can get from a two-year degree," noted Shamah.
The Next America project was launched by the National Journal to explore "how changing demography is changing the national agenda," Brownstein has said. The weekly magazine, which reports largely on national politics and emerging political and policy trends, and the College Board are expected to publish the Next America poll twice a year.