Diverse established the Arthur Ashe Jr. Sports Scholars Awards to honor undergraduate students of color who best exemplify academic and athletic achievement and humanitarianism and honored its 2014 winners earlier this month.
Because they are scholars and athletes, winners of the Arthur Ashe Award have multiple choices after they graduate. Some find a place in professional athletics. Russell Wilson, a 2011 winner from North Carolina State University, led the Seattle Seahawks to their first Super Bowl win in February. Kara Lawson, a 2003 honoree from the University of Tennessee, has found success on and off the court as a WNBA player for the Connecticut Sun and, during the offseason, as a basketball analyst for ESPN.
Diverse checks in on three of its Arthur Ashe Award winners — Randal Pinkett, DeCarol Davis and Isaac Matthews — who have gone on to apply their technical skills and knowledge to the areas of business, national service and manufacturing.
Dr. Randal Pinkett
Rutgers University, 1993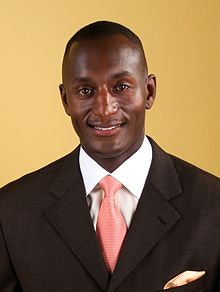 As a student at Rutgers University, Dr. Randal Pinkett trained hard to get ahead and stay ahead of competitors on the track. He has applied that same drive to running his information technology business, established in 2000.
Pinkett, a Rhodes Scholar who has a Ph.D. from MIT in electrical engineering, is growing BCT Partners in Newark, N.J., by merging with a New York City firm, expanding into new markets and services and building up business with the federal government.
"We're closing out a merger — it's our first merger — with another company called Lynx Technology Partners," explains Pinkett. "It'll double the size of the company. We're particularly excited because it's going to [expose us] to a couple of new arenas: the whole banking and financial services arena and also the area of information security."
The merged company will keep the name BCT Partners and have about 100 employees, twice as many as before. Providing banks and financial services firms with software development, systems integration and information security will be new lines of business for BCT.
In the past, the tech company Pinkett formed with three college roommates has done consulting for pharmaceutical and life sciences companies and local, state and federal governments.
"Our federal practice is particularly strong," he says.
The company got a boost two years ago when BCT landed a $1 billion, 10-year contract from the National Institutes of Health. "We've been expressly building up our health IT practice over the past few years," Pinkett explains. "There's issues around interoperability and systems integration between the different systems that manage, collect data and report on federal health systems."
The busy chairman and CEO is also working on his fourth book, "Black Faces in High Places," and hits the speaking circuit regularly. In 2011, he was inducted into the Capital One, Academic All-America Hall of Fame. He considered running for lieutenant governor of New Jersey in 2009, but didn't jump into the race.
Pinkett remains focused on being what he was "born and raised" to be, an entrepreneur. "When I move on, my goal is that BCT can continue on an upward trajectory without me," he says. "That, to me, is the litmus test of building an institution to last."
DeCarol Davis
U.S. Coast Guard Academy, 2007
In the 2012 America's Cup World Series, skilled crews from eight nations raced their 44-foot catamarans around San Francisco Bay, delighting devotees of sailing, who tend to be White and upper-class. Behind the scenes, an African-American woman cleared the waters so the international competition could take place.
Lt. DeCarol Davis, then-chief of waterways safety for the U.S. Coast Guard in San Francisco, oversaw federal regulations that steered recreational and commercial boats away from the warmup for the prestigious 34th America's Cup last year.
"That was probably my biggest contribution and accomplishment while I was in San Francisco," Davis says. Her office won a Coast Guard award for producing the regulations.
San Francisco was Davis' second posting in the Coast Guard. The first was a rigorous assignment on Staten Island in New York City as a marine inspector. She conducted safety and security checks of American and foreign vessels. In addition, Davis was on 24-hour call to respond to maritime casualties and emergencies.
Davis entered the service after graduating in 2008 as the first Black valedictorian of the Coast Guard Academy, with a bachelor's degree in electrical engineering. Topping her class was nothing new for the college basketball star; she was also valedictorian at her high school in northern Virginia. Davis is from a well-educated family — both parents have master's degrees, and an older sister, an associate professor of business at Kennesaw State University in Georgia, has a Ph.D.
After completing her five-year commitment to the Coast Guard, Davis left the service in January.
"I'm incredibly proud of my service," she says. "I feel really happy that I took the opportunity to go into military service early on in life."
This fall, Davis will enter law school at the University of California, Berkeley. Benefits under the Post-9/11 GI Bill and from being the first Truman Scholar at the Coast Guard Academy will finance her professional studies. Davis is interested in legal services for the poor, consumer protection, and labor and employment law. "My dream is to be a civil litigator," she says.
Isaac Matthews
University of Maryland, Baltimore County, 2007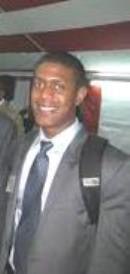 At General Electric, Isaac Matthews is on the fast track to management; his engineering experiences revved up almost as fast as the jet engines he works on
. "Currently, I'm an Edison Program Associate," says Matthews. "That's an engineering leadership development program where you rotate within various engineering functions to gain experience and good perspective on the engineering portfolio within the company."
The Edison Engineering Development Program, he explains, is one of the company's leadership programs that "take new talent, either from other businesses or straight from the academic setting, and really give them a fast-paced set of experience that will really help them build their careers at GE."
After receiving dual master's degrees in 2010 from MIT in nuclear engineering and technology and policy, the former track star went to work at the GE Aviation plant in Lynn, Mass., a suburb of Boston.
His first assignment was as a system controls design engineer, developing the software that serve as the brains of jet engines.
"I've recently moved over to a role as a fan and compressor aeromechanics design engineer," he says.
Matthews now shapes the brawn of the engines, the components that rotate at a rapid rate to power jets. He works on two engines; one is for the F-18 fighter jet that the Navy and Marines deploy.
Fast-tracking at GE is a different path from his graduate programs. Matthews has shared his knowledge about nuclear power and energy policy internationally.
In 2011, Matthews made a presentation on nuclear power to nine leaders of African countries, including Thabo Mbeki, then-president of South Africa. The session on the continent's energy agenda, held in Mauritius off Africa's southeastern coast, was organized by the African Presidential Center at Boston University.
"It was a great opportunity to present [and] show that there are folks of color who are studying nuclear energy," says Matthews.
After Matthews shared his master's research on the future cost and supply of uranium, leaders of several nations expressed interest to him in small modular reactors, which are more affordable than standard nuclear plants. Currently, only South Africa and the Democratic Republic of Congo have nuclear reactors in Africa.
Matthews is unsure of his future path. Besides jet engines and nuclear energy, he has an interest in space. He plans to get a Ph.D. and is considering aerospace and mechanical engineering.