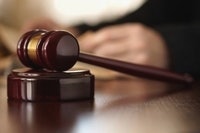 A federal appeals court has rejected a race discrimination suit by a former nurse anesthetist student who was dismissed from her program for poor performance, including faculty concerns that she might kill a patient.
Angela Miller, who is African-American, began the program at Thomas Jefferson University in Philadelphia in 2006.
She encountered problems with her first two clinical supervisors, including "leaving a blood pressure cuff on a patient's left arm, resulting in the operation being performed on the wrong arm," according to the 3rd Circuit U.S. Court of Appeals decision.
She complained to a program administrator about racial tensions but didn't file a complaint with the university's student services office as the administrator recommended.
In 2007 the program placed Miller on probation and gave her an improvement plan. However, she continued to receive criticism from her clinical supervisors for lack of preparation and failing to follow a physician's instructions, including prematurely removing a catheter.
Ultimately she was dismissed and unsuccessfully pursued administrative appeals within the university. An investigation by the dean of student affairs found no evidence of harassment or discrimination, according to the decision.
A lower-court judge threw out Miller's race discrimination, hostile work environment and retaliation claims.
In upholding that ruling, the 3rd Circuit found no causal connection between Miller's discrimination complaint and her dismissal from the program. For example, it said the negative evaluations by supervisors didn't demonstrate antagonism.
She also offered no evidence that two supervisors intended to discriminate against or harass her. A supervisor's one-time use of the phrase "you people" was insufficient to demonstrate racial discrimination, the court said in a unanimous opinion by Judge Joseph Greenaway Jr.
Beyond that, there was no showing that the university's explanation for her dismissal was a pretext for discrimination, the court said. "Miller made serious mistakes throughout her time in the program," it said, and she "admits to making the mistakes cited in her negative evaluations."
Last, the court said three incidents she cited — two uses of the phrase "you people" and the fact that another African-American student was urged to seek psychiatric help — "are neither severe nor pervasive and cannot support a claim of hostile work environment."
Professor's Retaliation Claim Rejected
In what apparently emerged from a longstanding battle of noncollegial colleagues, a federal judge has rejected a faculty member's retaliation claim based on the University of Oklahoma's refusal to give her a second teaching assistant.
In what sounds like an understatement, U.S. District Judge David Russell said Dr. Luz-Eugenia Cox-Fuenzalida, an associate professor of psychology, and fellow faculty member Dr. Michael Mumford "have had their differences over the years."
For example, the judge said, "As early as 2006, Mumford began physically growling at her when they passed each other in the halls, sometimes doing this while her children were present." Other incidents included Mumford blocking her from sharing an elevator with him, although not physically touching her.
Cox-Fuenzalida complained to their chair about Mumford's behavior more than once a year, including complaining that Mumford treated male professors in the department differently from her. She also complained to her college dean, the decision said.
She sued for retaliation in violation of Title VII, asserting that the department's assistant chair had promised two teaching assistants for her two sections of a large introductory class for fall 2011 but failed to fulfill that commitment in retaliation for her complaints against Mumford.
In his decision dismissing the lawsuit, Russell said Cox-Fuenzalida's informal complaints "indicated her concern over conduct made unlawful by Title VII" and qualified for protection under the law.
However he agreed with the university that she didn't show any "materially adverse employment action."
First, he said Cox-Fuenzalida had the same number of teaching assistants — one — in both fall 2010 and fall 2011 "when she taught the exact same course to the exact same number of students in the exact same number of sections with the help of only one teaching assistant." She also had more instructional aides than anybody else in the department.
In addition, Russell said annual performance evaluations "illustrate that she did not suffer an injury rising to the level of seriousness the law requires." To the contrary, her overall performance score was higher in 2011 than in 2010, and she "was able to publish during 2011, while she did not publish at all during 2010."
Title VI Suit Reinstated
A federal appeals panel has reinstated a Title VI suit by an unsuccessful applicant who blamed his rejection by an Eastern Illinois University graduate program on race and national origin discrimination.
The unanimous decision also allows Junhao Su to pursue a claim that the school retaliated for discrimination charges he had filed against two other universities he attended.
According to the suit, Su previously attended graduate programs in counseling at Bowling Green State University and Florida International University but left them because of purported discrimination by his supervisors. The program director at Bowling Green allegedly warned officials of other Midwestern schools, including Eastern Illinois, about Su's discrimination charges.
Based on that information, Eastern Illinois rejected him and the assistant dean for admissions told him to "go to another country and start a new life," the suit contends. It also claims two faculty members who interviewed him intentionally gave him lower scores than other similarly qualified applicants.
The suit attributed the rejection to his Asian race and birth in China and to retaliation for his complaints against Bowling Green and Florida International.
A federal magistrate-judge dismissed the case for failure to state a potentially valid claim.
But the 7th Circuit U.S. Court of Appeals disagreed, saying Su had adequately alleged that Eastern Illinois "intentionally employed discriminatory admissions standards that the administration as a whole decided to retaliate against him and that the decision wrongfully to deny him admission was implemented by administration officials with authority over the admissions process, the assistant dean and the department chair."
Even so, reinstating the suit doesn't guarantee Su will win, the court cautioned, saying that he will have to present evidence of intentional discrimination.