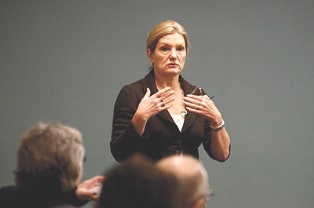 In an effort to drive the ongoing discussion on the quality of educator preparation programs in the United States—or lack thereof—the National Council on Teacher Quality on Tuesday released a bigger and bolder version of its controversial Teacher Prep Review.
Like its inaugural predecessor that lamented an "industry of mediocrity," the latest review paints what it calls a "grim picture" of teacher preparation in the United States: four out of five of the 2,400 teacher preparation programs in the United States are "weak or even failing."
The review acknowledges, however, that many improvements—such as higher grade-point average requirements or college entrance exam scores for entry into teacher prep programs—are afoot throughout the nation and will take time to yield positive results.
Probably the most significant difference between this year's review and the first review is that the new review ranks teacher prep programs numerically, whereas the first review just rated them with stars.
In what some view as a surprise finding, under NCTQ's ranking scheme, Western Governors University came out as the top training program in the nation for secondary teachers—a distinction that a WGU administrator says "validates" its online, competency-based approach to teacher preparation.
In another unexpected finding, "elite" institutions didn't dominate NCTQ's top ranked teacher prep programs like they often do in other college rankings.
"The list of who's the best in the country doesn't look much like other people's lists," NCTQ president Kate Walsh said in a conference call with news reporters Tuesday.
While this year's review is bigger in that — despite noncooperation from numerous institutions mistrustful of NCTQ and its aims — it evaluates the core components of teacher preparation at 836 institutions of higher education — 40 percent higher than the 608 it evaluated last year — critics say the review's switch from ratings to rankings doesn't necessarily translate into progress.
"Assessing the quality of teacher preparation in America is a vitally important undertaking. Unfortunately, the NCTQ effort doesn't get us very far," said Timothy F.C. Knowles, director of the Urban Education Institute at the University of Chicago.
"There is an almost total absence of attention to things that matter—like where teachers teach, how long they stay, measures of instructional quality or the extent to which students from particular programs actually learn," Knowles said. "Until we focus on outcomes we are unlikely to move the needle very far, if at all.
"Some rankings are useful, some are irrelevant," Knowles continued. "The NCTQ rankings fall decidedly into the latter category, and I fear will have very little impact on the quality of the teaching workforce and may serve to make it worse."
However, Chris Minnich, executive director of the Council of Chief State School Officers, or CCSSO, said the report provides "useful data that states can use in their work with educational stakeholder groups and policymakers to transform educator preparation programs."
The American Association of Colleges for Teacher Education dismissed NCTQ's move from ratings to rankings.
"The fact that they moved from ratings to rankings in the 2014 Teacher Prep Review doesn't represent progress," AACTE said in a statement. "It just represents another diversion away from the profession's focused agenda of preparing effective teachers to advance student learning."
In an apparent response to critics, NCTQ's new review also launched a pilot study to take a critical look at alternative certification programs, such as Teach for America (TFA), and concludes that alternative certification is "generally more broken than its traditional counterpart."
A TFA spokesperson said: "We're eager to see how this pilot study evolves in future years as standards are refined and as more states have access to data showing what models and practices contribute to student growth."
Walsh said the review's overall findings are distressing.
"On a 125-point scale, most programs earned less than 50 points," Walsh said. "The implications for that are huge for any number of goals in the U.S."
Specifically, Walsh said, the findings suggest the nation's teachers collectively are not qualified enough to produce students sufficiently educated in STEM to pursue STEM-related careers.
The report concludes that only one in five elementary and special education teacher preparation programs looked at in the review are doing what it takes to make sure their candidates have the "conceptual understanding of elementary math necessary for effective instruction."
"When we looked to see what programs are requiring of elementary teachers, there's almost no requirements that relate to the elementary curriculum they have to deliver," Walsh said, echoing the review's finding that teacher prep in the U.S. maintains a "scattershot" approach to mathematics education.
Walsh said there is an "appalling neglect" by university-based teacher prep programs of the rigor that the Common Core State Standards demand.
"Higher ed has yet to take ownership for delivering teachers who can meet that need," Walsh said.
Teacher prep programs also come up short in reading, Walsh noted of the report.
"Coursework in just 17 percent of programs equips their elementary and special education teachers to use all five fundamental components of reading instruction, helping to explain why such a large percent of American school children (30 percent) never learn to read beyond a basic level," the report states. Those five components are: phonemic awareness, phonics, fluency, vocabulary and comprehension.
Walsh said NCTQ hopes aspirant teachers and school districts looking to recruit talent will use the review as a "screening tool." However, she conceded—and the review notes—that good teachers may come from poorly-ranked schools and that the Teacher Prep Review should not be used to decide which candidate from a handful of candidates should be hired.
Rather, she said, the review can be used to figure out where to go on "recruiting trips" based on which institutions are most likely to deliver and to narrow down large numbers of applicants.
"It's probably best not to use it as a second or final screen," Walsh said.