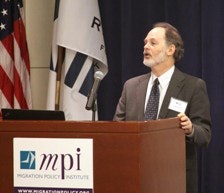 After suffering what was arguably the most severe state budget crisis in the nation, California has begun to pull itself out of the recession. Its public school systems were particularly impacted by the loss of funds. As the state rebounds, the question remains of how to rebuild the public school system to best serve the needs of California's current population.
The Migration Policy Institute released a report Wednesday, "Critical Choices in Post Recession California: Investing in the Educational and Career Success of Immigrant Youth," addressing just that issue. A full 54 percent of youth in California are immigrants or children of immigrants—3.3 million youth between the ages of 16 and 26.
Though immigrant youth are heavily represented demographically, they were hit hard by the effects of the recession.
"The budget crisis, and the attendant cuts that resulted from it, we think fell particularly heavily on a set of institutions that are relied on by immigrant youth, including summer school, including community colleges, and, within them, non-credit courses including ESL and adult education," said Michael Fix, CEO and director of studies at MPI, during an MPI telebriefing on the report's finding.
The report shows how immigrant youth were impacted by state budget cuts to the school system and how their educational outcomes can be improved.
Between 2007―08 and 2010―11, as California school districts laid off 32,000 teachers, or 11 percent of its teaching workforce, student enrollment stayed the same. As a result, schools slashed instructional time, crowded classrooms, and reduced the length of the school year. Funding for adult educational programs was redirected toward general funds, resulting in the closure of some programs altogether or a substantial decline in their offerings.
As California rebounds economically, it is cautiously renewing its investment in all levels of public education. "While the crisis may have largely passed and much spending has been reinstated, in substantial measure because of the remarkable passage of Proposition 30, education spending in general remains below pre-recession levels," said Fix.
The 2013-2014 State Budget Act notably implemented a Local Control Funding Formula (LCFF), which is designed to streamline funding, as well as adding grants to districts based on the number and concentration of students designated as English Language Learners (ELLs).
The report shows that, among high school students, ELLs are particularly vulnerable academically. California is home to one-third of all ELLs in the U.S. In the state, their high school graduation rate is 63 percent, compared to the 92 percent graduation rate of their Asian contemporaries and California's 80 percent overall average high school graduation rate.
"Our field work interviewees stressed that mainstream content area teachers need more professional development with English learners, even though California is one of only a handful of states that require that all teachers with ELLs in their class hold an ELL authorization. Our interviewees caution that this certificate alone does not ensure that teachers are prepared to make rigorous content accessible to ELLs, especially in light of the Common Core state standards," said Sarah Hooker, policy analyst at MPI.
To remedy the poor outcomes of ELL students at the high school level, the report recommends that LCFF re-invests funds toward additional learning time for ELL students and addresses issues in college counseling capacity. Currently, California's high school guidance counselors have the second highest case load in the nation, at about 800 students per counselor.
"As the system capacity is rebuilt, it really needs to think about meeting learner needs that are across the basic skills spectrum, not just serving those who are at the higher levels of underlying education in English education proficiency," said Margie McHugh, director of NCIIP.
Ensuring that all of California's youth have access to an education is an investment in the state's future. "Studies show that, if you have not escaped poverty by the age of 26, you are highly likely to never do so, and to transmit the poverty inter-generationally," said Fix.