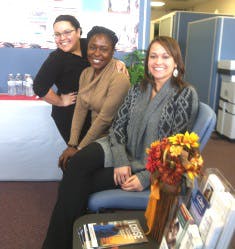 Student veterans at the Veterans' Center at Fayetteville State University.
After serving 10 years in the Air Force, including a deployment to Afghanistan, Rommie Parker decided to pursue higher education. Though he was last stationed at Bolling Air Force Base, where he was surrounded by colleges and universities in the Washington, D.C., area, Parker chose instead to return to his hometown, Fayetteville, N.C.
Two years ago, Parker enrolled as an undergraduate at Fayetteville State University and has worked about halfway through a bachelor's degree in criminal justice. He aims to become an FBI or Secret Service agent.
" Fayetteville State does a good job. They have a dedicated office for veterans. We don't deal with anybody else on campus," says Parker, who is employed at the Student Veterans' Center on work-study.
Parker, 31, is among many military veterans who have gone to college on the Post-9/11 GI Bill since Congress approved it in 2008. The educational benefits have provided a modest boost to enrollments at some HBCUs, particularly those near military installations like Fayetteville State, which is a 20-minute drive from Fort Bragg.
The overall impact on Black colleges is not quite as widespread as that of the original GI Bill, which in 1947 pushed veterans to a peak of 35 percent of their enrollments. But the Post-9/11 GI Bill has helped a number of HBCUs keep pace amid intense competition for students.
At Fayetteville State, the enrollment of about 500 post-9/11 beneficiaries has increased the overall number of veterans on campus by about 15 percent, as estimated by Veronica Alexander, director of military-affiliated services.
At Huston-Tillotson University, a small liberal arts college about 70 miles from Fort Hood in Killeen, Texas, the 83 students who have enrolled under the Post-9/11 GI Bill make up 10 percent of the enrollment.
There has been less impact at Savannah State University, which is near Fort Stewart and Hunter Army Airfield in Georgia. Retired Navy commander Carlton Baldwin, the school's military liaison, says 91 of 4,700 students are using post-9/11 benefits—and more than half of them are dependent children of veterans.
Representatives of Fayetteville State, Huston-Tillotson and Savannah State were unable to provide a graduation rate for post-9/11 student veterans.
Alexander says veterans in general have graduated from Fayetteville State at the same rate as traditional students, or slightly higher. Baldwin says Savannah State has been working to improve its tracking of the academic performance of veterans.
"It's had a positive impact on us," says Baldwin. "But it's a hard one to measure."
The student veteran
Fayetteville State has had a long and deep relationship with Fort Bragg, the Army home to airborne troops that was founded in 1918. Since the 1970s, the school has operated a center on the base that offers classes to active duty personnel, military dependents, Defense Department civilians and, if they so choose, veterans.
But Alexander, whose office is in the Fort Bragg center, says most student veterans attend classes on the main campus. They choose a variety of academic majors, she notes, but are particularly attracted to programs in business, criminal justice and intelligence studies.
In addition to the on-base center, Fayetteville State runs another center for veterans across the street from campus, where they can get the paperwork done to receive their GI benefits, do homework on computers or socialize in a supportive environment.
"The veterans tend to stick with veterans," says Parker. "There are a lot of us in [our] mid-twenties, early thirties. We have a lot of life experience."
The services available at the campus center are one reason the Military Times last year ranked Fayetteville State as one of the colleges "Best for Vets." It was the only HBCU on the list of 86 four-year schools.
As at Savannah State and Huston-Tillotson, the Post-9/11 GI Bill has brought to Fayetteville State a larger number of older, goal-oriented students.
"They know exactly what it is they want and so they're more focused," says Alexander. "Traditional students coming in straight out of high school, they're unsure of what they want, and I think that they don't really have the maturity. But the veterans are very mature and know exactly what it is they want, and, once they're set on the right path, they just go forth."
At Savannah State, Baldwin has observed a similar pattern.
"They make good grades …," he says, "but they don't necessarily participate very heavily in extracurricular activities because their goal is to get that degree and get on with their life after their military service."
At Savannah State, Baldwin also detects a pattern of veterans who have had long careers in the military opting to transfer their post-9/11 benefits to dependent children.
"The sponsors of these dependents have a full military career for which a college education is not necessarily needed," says Baldwin. "They see this as an opportunity to better their children, so that, if they don't need it, they pass it on to the children and let the children rise another level up in the socioeconomic strata."
Of 91 students enrolled at Savannah State on the Post-9/11 Bill, 49 are dependent children. Single mothers sponsor a significant number of those children, Baldwin notes.
Because of their proximity to Army bases, most post-9/11 veterans at the three HBCUs have served in that branch of the service, with smaller numbers from other forces.
The growing number of post-9/11 veterans at Huston-Tillotson was last posted at Fort Hood, according to Linda Y. Jackson, a spokesperson. Two enrolled in the Austin, Texas, colleges in 2009, compared with 25 in 2011. She says business and kinesiology have been popular majors with veterans.
Huston-Tillotson has attracted some veterans to an evening adult education program, established in January 2013. The program is geared to adults who already have some college credits and whose other commitments fit better around a schedule of four hours of class one evening a week.
"It is specifically targeted to working adults," Jackson says, "and it is very focused on recruiting veterans."
Jackson says Huston-Tillotson conducts "a very targeted recruiting effort" through newspaper and radio ads around Fort Hood, visits to the base and brochures available there.
Fayetteville State is gearing up for a similar marketing campaign in the fall, explains Alexander, possibly with ads in GI Bill magazine and The Paraglide, Fort Bragg's official newspaper.
Baldwin says he has proposed a new marketing campaign targeted at veterans, but so far Savannah State has relied on word of mouth about its attentive services at its veteran's center.
"If we give good customer service to the veterans and the dependents, who make up a significant proportion of our population of veterans here, then by word of mouth that gets out that we're open to doing whatever it takes to help them get their GI Bill [benefits] or work through other problems here," Baldwin says. "That has probably been our most successful outreach—simply attitude in the office."
Two years ago, Savannah State established the Veterans Affairs Office, which Baldwin directs. It was an outgrowth of a mutual understanding between the leadership of Savannah State and Fort Stewart about the need for a liaison to better connect the two institutions.
Other HBCUs are taking similar steps to institutionalize their services and attract more post-9/11 veterans. Florida A&M University, for example, this fall plans to launch a Department of Veteran Affairs. Florida has a large number of military installations, and its population includes more than 1.6 million veterans.