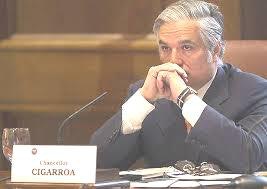 AUSTIN, Texas ― The chancellor of the University of Texas System says that a breakdown of trust and communication led him to demand the resignation of the flagship campus' president, not pressure from members of the Austin school's governing board.
University of Texas president Bill Powers resigned last week, effective June 2015. The move came several years of clashes with the board of regents and several previous attempts to fire him.
Chancellor Francisco Cigarroa then testified before a state House committee Wednesday that is investigating whether to impeach Regent Wallace Hall, one of Powers' biggest critics.
Cigarroa insisted Hall did not pressure him to demand Powers' resignation and said he didn't discuss the matter with Hall until July 9, the day before he accepted Powers' offer to step down next year.
Cigarroa also said he didn't tell Powers that he must quit or be fired, only that if he didn't resign, Cigarroa would take the matter of his employment before the nine-member board for discussion.
"It wasn't like I said, 'Bill if you don't accept this, you're going to get fired,'" Cigarroa said. He defended his move as well, noting previous discussions with Powers about planning an exit.
Cigarroa praised Powers' "exemplary record" as a campus leader in areas such as improving graduation rates and drawing research money to the 50,000-student university since his tenure began in 2006, but insisted that Powers did not meet his demands to improve cooperation between the two men.
Cigarroa provided little detail other than to suggest Powers' office leaked confidential information to the media, further eroding trust.
"I have been very straightforward. This has been a very strained relationship," Cigarroa said.
Powers did not attend Wednesday's hearing by the Select Committee on Transparency in State Agency Operations. His office did not immediately respond to a request for comment. Last week, Powers said he is "delighted" with the resignation plan that will let him finish a $3 billion fundraising campaign and see the university through the budget negotiations of the 2015 legislative session.
Committee members asked Cigarroa and Board of Regents Chairman Paul Foster why they would ask for Powers' resignation after the panel had asked three times for the university system not to take "adverse" action against anyone ― notably Powers ― who would be a witness in their investigation.
Foster said he didn't think Powers' resignation violates that request, but also said he considered it "offensive" for lawmakers to try to directly influence personnel decisions. That authority lies solely with the board, which is appointed by governor and confirmed by the state Senate, Foster said.
Foster called it inappropriate "for a committee such as yourself to write a letter protecting somebody's job … That's where I draw the line."
The House committee has previously voted that grounds exist to impeach Hall over his previous efforts to oust Powers, but has yet to vote on specific articles of impeachment. Hall, who denies breaking any laws, also faces a separate criminal investigation by Travis County prosecutors.