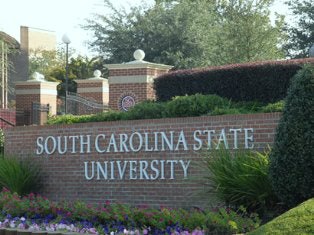 Around the same time lawmakers in the North Carolina State Senate recently floated the idea of closing historically Black Elizabeth City State University, the United Negro College Fund reported that the Koch brothers, who routinely support Republican candidates and right-wing causes, had made a $25 million donation to the UNCF to help struggling HBCUs.
Although financially ailing Elizabeth City State won't benefit from the Koch money because the UNCF only supports private HBCUs, both situations focused attention on the plight of numerous Black institutions, especially smaller schools facing dwindling financial resources and enrollment declines.
Last September, the University of North Carolina System reported that Elizabeth City State faced a shortfall of $5 million, and UNC President Tom Ross warned that "hard decisions" were ahead.
At the time, ECSU's enrollment for the fall 2013 semester was just over 2,400 students, a decline from about 3,300 in 2010.
Then, in May, a provision in the State Senate draft budget proposal called for possibly eliminating "small, unprofitable" institutions, specifically citing ECSU. Within hours, the blowback from Black legislators, alumni and community leaders was so strong that the Senate voted unanimously to drop the provision.
It was just the latest jab in what has become a perennial joust by lawmakers in various states, typically Republicans, recommending closing an HBCU or merging it with another institution. In 2010 then-Gov. Haley Barbour of Mississippi brought up merging that state's HBCUs. Swift reaction, involving marches and demonstrations, ensued. When the president of one of the institutions, Jackson State's Ronald Mason Jr., also proposed a "unification" of the campuses, he quickly became persona non grata and soon thereafter announced his departure.
Despite the uproar in Mississippi, Mason crossed the state line and within months was named president of Louisiana's historically Black, five-campus Southern University System, where Gov. Bobby Jindal has also made known his preference for mergers and consolidation.
Looking to consolidate
In recent years, lawmakers in several states have raised the subject of closure or mergers or involving HBCUs, only to be drowned out by various constituents of the institutions.
However, consolidation has become acceptable among non-HBCUs. For example, the University System of Georgia has merged eight college campuses into four to save money. But suggestions that Georgia's historically Black Albany State be merged with predominantly White Darton State have been vehemently opposed by students, faculty and alumni from both campuses.
Yet some Black institutions continue to slide downward, making the loss of accreditation a reality, which in itself could trigger closure. South Carolina State was placed on probation in June by the Southern Association of Colleges and Schools, which cited numerous issues, including financial instability and conflicts of interest on the governing board.
The probation only exacerbated the school's plight. In April, a state Inspector General's report had concluded that SCSU diverted $6.5 million in targeted program funds for operating expenses. A few weeks later, SCSU President Thomas Elzey sought $13.6 million from the state legislature to pay its bills. The Budget and Control Board approved a $6 million bailout.
Like Elizabeth City State, South Carolina State's enrollment has steadily declined in recent years, to approximately 3,100 in spring 2014.
One legislator who voted against the bailout, Senate Finance Chairman Hugh Leatherman, R-Florence, said, "We've got an institution that's bleeding to death, and a Band-Aid is not going to solve the problem."
Although he voted against the aid, saying it didn't solve anything, Leatherman put together a group of current and former presidents of South Carolina's public colleges to come up with a plan to help the school become solvent.
Johnny C. Taylor, president of the Thurgood Marshall College Fund (TMCF), says state legislators are taking a new approach to handling troubled HBCUs. "They're saying, 'We're not going to talk about closing HBCUs, and having people call us racists. We're going to give you so much money, and that's all you're going to get.' … You asked for $14 million and we'll give you $6 million. Best of luck to you.'"
He says it's time for HBCU leaders to have their own discussion about closing or merging flagging institutions "before others make the decisions for us. Yes, it's controversial, but we need to do it."
Despite the unpopularity of his unification plan in Mississippi four years ago, Mason still says he believes such proposals have a place in the discourse about the future of HBCUs. "There is a new reality in higher education," he says.
Mason notes that "HBCUs used to have 100 percent of the Black market, (and) now we have around 10 percent.
"Higher education in general has to rethink its business model, but the need to change is especially acute at HBCUs." He contends that "consortia or system approaches" are models that should be considered. "Numbers don't lie, and the numbers say that we have to adapt to survive and ultimately thrive."
But TMCF's Taylor says adapting to the times won't be easy. "People have become almost maniacal about it," he says. "You can't even bring up these topics. As someone who supports HBCUs, I think some of these conversations need to begin happening."
Taylor uses examples of shuttered schools such as Virginia's St. Paul's College, which closed last year after losing its accreditation. Leaders of St. Paul's and North Carolina's St. Augustine's University — both affiliated with the Episcopal Church — discussed a merger in the final days of St. Paul's existence, but it was too late to save the school and St. Augustine's was having its own financial problems at the time.
Taylor also cites the private Wilberforce and the public Central State universities, which he noted were once the same school, in Wilberforce, Ohio. "Could these institutions be stronger as one than they are as two? That's a conversation worth having," Taylor said.
Examination needed
John Garland, a former president of Central State and current president-in-residence at TMCF, suggests that more analysis is needed. "When you really look below the surface, you'll see historic underfunding," he says.
Garland notes other factors, including deficiencies in public K-12 education and required use of "performance-based funding metrics," are hurting public HBCUs, which have a mission to serve disadvantaged students.
"If you say we need talk about closing or merging schools, it presumes the outcome," Garland says. "It constricts and inhibits the discussion and people won't participate." However, he says he "absolutely" believes it's time for a more serious examination of the future of struggling HBCUs.
Despite differences of opinion, Taylor says there is agreement among HBCU leaders that a key element in the challenges facing HBCUs has been the U.S. Department of Education's changes to the Parent PLUS Loan program, which made it more difficult for lower-income families to qualify.
Alumni and other supporters pointed to the historic inequities in funding and program investment for all five of North Carolina's HBCUs, compared to the state's predominantly White universities. ECSU, in particular, benefited from this support; the legislation that put it on the chopping block was dropped from the budget, giving the school another shot at survival.
Meanwhile, South Carolina State's outlook remains uncertain. Its bailout of less than half its request was aimed only at paying its bills through July 1. Leatherman, the bailout's chief opponent, said, "How does this university operate past July 1 if all we're doing is getting them to July 1? We'll be right back to where we are."