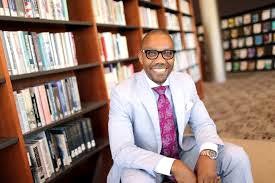 In what one scholar described as a significant step toward diversifying its corps, Teach for America—the controversial alternative teacher certification program that has sought to reshape public education in high-need schools throughout the nation—announced Monday that its next wave of teachers is the most racially and ethnically diverse in the organization's 24-year history.
Whereas last year 41 percent of incoming corps members identified as people of color, this year half of the organization's incoming teachers identify as teachers of color, officials say.
Andre Perry, an urban education scholar and a vocal critic of Teach for America for its historic lack of diversity, said the organization deserves credit for taking steps to diversify its teacher workforce.
"The first thing one has to acknowledge is that a mainstream reform organization has made significant strides in diversifying its corps," said Perry, Founding Dean of Urban Education at Davenport University.
"Why that is important is multifold," Perry said. "First, it provides the requisite foundation for inclusion and equity.
"The other thing is that we have long known that students resonate with people who look like them," Perry said. "They resonate with people who are from similar circumstances. So when you have a diverse group of teachers, you have more options to find somebody to attach to.
"It makes for a more comfortable learning environment and a richer learning environment," he said.
Perry said the increased diversity helps Teach for America from a political standpoint because the organization, which historically drew applicants from elite colleges, has been seen as "paternalistic," sending in mostly White and privileged college graduates to teach kids at predominantly low-income and minority schools.
"Their whiteness has dogged them prior to this class and it will continue to dog them," Perry said of TFA.
The organization secures two-year teaching commitments from its teachers. Critics have noted that many of TFA's teachers move on as soon as their two-year commitments are over, but TFA says many of its alumni go on to impact education in other arenas outside the classroom.
Perry said the increased diversity of Teach for America puts more pressure on colleges of education to improve diversity among their teacher candidates. But he added that questions remain about whether Teach for America can sustain its diversification efforts over time.
"It's about doing this year in and year out," Perry said. He also warned that the diversification has to be meaningful in more ways than just numerically.
"Communities can sniff out tokens quick," Perry said.
Figures released Monday by TFA show that among its incoming teachers:
· 50 percent identify as people of color, compared with less than 20 percent of all teachers nationwide. The figure is up from 41 percent of TFA new hires who identified as people of color last school year.
· 47 percent received Pell Grants, which TFA says is a "reliable indicator" of having a low-income background.
· One-third are the first in their families to attend college.
Here is a more detailed ethnic breakdown of the figures:
· 22 percent identify as African American, up from 14 percent the year prior.
· 13 percent identify as Hispanic, up from 11 percent the year prior.
· 6 percent identify as Asian American or Pacific Islander, the same as the year prior.
· 1 percent identify as Native, the same as the year prior.
· 6 percent identify as multi-ethnic, the same as the year prior.
· 4 percent identify as other, up from 3 percent the year prior.
· 48 percent identify as White, down from 59 percent the year prior.
The increased diversity was achieved through a shift in recruitment strategies, said Takirra Winfield, a spokeswoman for Teach for America.
"This is more than just about diversity for diversity's sake," Winfield said. "It's about ongoing changes that we make in our recruitment and selection models."
Among other things, she said, TFA achieved gains in diversity by working more closely with various partners—such as the United Negro College Fund and the Congressional Hispanic Caucus Institute—to recruit talent from diverse backgrounds.
Winfield said there was no change in TFA's admission criteria.
"Our admissions standards didn't change; they remained high with corps members coming from a diverse set of institutions and professional sectors," Winfield said of its 50,000 applicants. "We had an admission rate of 15 percent."
The average GPA among new hires was 3.4. Applicants included 11 percent of graduating seniors at Morehouse College; 23 percent at Spelman College; 12 percent at Princeton University; 8 percent at the University of North Carolina; 5 percent at the University of Michigan-Ann Arbor; and 4 percent at the University of Texas at Austin, according to TFA.
The incoming corps includes alumni of more than 850 colleges and universities across the country. They include more than 30 student body presidents, more than 30 Posse Foundation scholars, 10 Hispanic Scholarship Fund recipients or finalists, and nine Gates Millennium Scholars, TFA said.
And 30 percent of incoming corps members have backgrounds in science, technology, engineering or math, or STEM fields, according to TFA.
Winfield said TFA has also done research that has led the organization to place a bigger emphasis on recruiting applicants who have had experience in low-income communities and a commitment to reach goals over time—with the idea being that these things will aid teachers in the classroom setting.
She also cited two annual recruiting campaigns that helped the organization build the talent and diversity of its applicant pool.
They include an effort to create a "path to teaching" for individuals with Deferred Action for Childhood Arrival, or DACA, status—that is, individuals who took advantage of a 2012 U.S. Department of Homeland Security initiative that grants work authorization and deferment of removal to certain people who came to the U.S. as children.
TFA says 40 individuals with DACA status joined the 2014 corps and will be teaching across 10 regions.
The other campaign is "Dream. Rise. Do," which was launched in February and is designed to encourage more African-American men to consider teaching.
Five percent of this year's new TFA hires are African-American men, figures show. Four percent are Latino men.
This year, the 5,300 new Teach for America teachers will join an equal amount of second-year corps members, meaning 10,600 TFA teachers will be working in 50 regions in 35 states and the District of Columbia. Two new locations this year include Buffalo, New York; and the Piedmont Triad region of North Carolina.