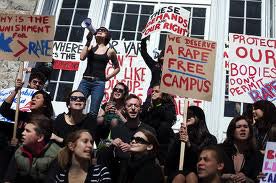 SACRAMENTO, Calif. — California is on the brink of becoming the first state to define when "yes means yes" while investigating sexual assaults on college campuses.
A bill doing so, SB967, passed the Assembly on a 52-16 vote Monday as states and universities across the U.S. are under pressure to change how they handle rape allegations. It now heads back to the Senate for what is expected to be a final vote on amendments.
The bill by state Sen. Kevin De Leon, D-Los Angeles, changes the definition of consent for campuses investigating sexual assault cases by requiring "an affirmative, unambiguous and conscious decision" by each party to engage in sexual activity. That marks a shift from the popular sexual-assault prevention refrain, "no means no."
"Sexual assaults are too common on our campuses, and the need for change is now," said Assemblyman Jimmy Gomez, D-Los Angeles.
Advocates for victims of sexual assault supported the change as one that will provide consistency across campuses and challenge the notion that victims must have resisted assault in order to have valid complaints.
Some critics say the legislation is overreaching and sends universities into murky, unfamiliar legal waters.
Silence, lack of resistance and an existing sexual relationship are not considered consent under the legislation. Students also are not able to grant consent if they are unconscious or incapacitated by drugs or alcohol to the point where they "could not understand the fact, nature, or extent of the sexual activity," according to the legislation.
All California post-secondary schools, public and private, that receive state money for student financial aid must abide by the legislation. The California State University and University of California systems are backing the legislation after adopting similar consent standards this year. Legislative staffers were unable to determine if independent and community colleges already comply, according to a bill analysis.
But some Republican lawmakers questioned if statewide legislation is an appropriate venue to define consent.
"This bill goes so far past what is acceptable for government to regulate," said Assemblywoman Kristin Olsen, R-Modesto, a former vice president of marketing at California State University, Stanislaus. "It will just become another one of the many laws in California that always lead to litigation."
Ada Meloy, general counsel of the American Council on Education representing college presidents, said law enforcement is best suited for handling serious sexual assault cases.
"Frequently these cases involve two individuals, both of whom maybe were under the influence of alcohol or drugs, and it can be very tricky to ascertain whether consent was obtained," Meloy told The Associated Press earlier this month.
SB967 also requires colleges and universities to adopt "victim-centered" sexual-assault response policies and implement comprehensive programs to prevent assault.
Gov. Jerry Brown has not indicated his stance on the bill.