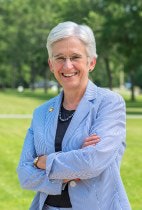 "It's about time," says the first female president of the University of Maine's flagship campus in Orono, Susan Hunter, about the historic appointment.
While July 7 was her start date, Hunter is no new face on campus, having begun in 1987 as an adjunct professor.
"Because I have spent my entire career here, I know people throughout the state. I feel very comfortable on the other campuses, visiting and meeting with people," she says.
Since September 2013, she had served as vice chancellor of academic affairs for all seven of the state's public universities. Before that, she held various posts from associate provost and dean for undergraduate education to assistant director in the College of Natural Sciences, Forestry and Agriculture.
"She is, moreover, already extremely well-known throughout the state as a tireless advocate for public higher education. She is the clear choice to advance the University of Maine," stated system chancellor James H. Page in announcing the appointment.
Although she's steadily climbed the administration's ranks, Hunter's training is in the sciences, having earned a degree in biology from James Madison University and a Ph.D. in physiology from Pennsylvania State University. She also completed postdoctoral studies at Case Western Reserve University and Penn State.
"I had a fabulous husband-and-wife mentorship team, Harold and Rosemary Schraer. [Rosemary] started out without a faculty position, and she came in as sort of a research tech and worked her way up.
"She was the associate provost at Penn State at the time that I was a graduate student and then went on to be executive vice chancellor and chancellor at UC Riverside," says Hunter.
"When you see women succeeding as a student or young professional, it does sort of open your eyes—if other people can do it, I can do it, too," she adds.
It was one particular dean, though, Dr. G. Bruce Wiersma, who spurred her to new heights in administration by hiring her in her first administrative appointment. "He still tells the story that he knew within 10 minutes of knowing me that I should be in administration," she says. "I was good at paying attention and being receptive."
Self-described as one of a handful of female state university presidents, Hunter has a tight relationship with other women leaders.
"That close connection is going to help me do my job better," she says. "I think people are feeling comfortable that a faculty member ended up as the president from the internal ranks."
Implementing the school's Blue Sky campus plan in its fourth year, education advocacy statewide and mounting a major fundraising campaign are all on her immediate to-do list.
"Sue's contributions as president will be thoughtful and forward-thinking, particularly with respect to The UMaine Blue Sky strategic plan," says Dr. Allyson Hughes Handley, president of the University of Maine at Augusta. The initiative involves serving as a catalyst for economic revitalization via technology, research, and commercialization, according to the university.
Specifically, Hunter notes that IT and procurement will undergo coordinated centralization. A new $20 million National Science Foundation EPSCoR grant announced this month will help to establish a Sustainable Ecological Aquaculture Network in Maine.
Overall, creating a fiscal sustainability in the school and strengthening the school's undergraduate and graduate experiences are also in the docket.
"Continuity is critical right now since the state of Maine needs to advance the research and development cycle of commercialization to improve the economy of the state," says Handley.
Among the issues Hunter will be facing is declining enrollment systemwide, which dropped by 6.1 percent between 2009 and 2013. Enrollment dropped 5.2 percent at the Orono campus alone. A projected $69 million budget deficit that needs to be sorted out by 2019 is another major challenge at hand.
While Hunter is not yet clear on how personnel will be affected, because wages and benefits are the largest portion of the budget it will almost certainly impact staff. "At this critical time, we have turned to a seasoned pro," trustee chairman Samuel Collins announced.
Undaunted, Hunter says she likes the excitement and energy of a college campus. "I see a role for the universities in the state," she notes.
Hunter is also attempting to reach out to community boards and groups to engage a wider audience in discussions and parlay goals, carrying on immediate past president Paul Ferguson's work.
"What I find about administration is the ability to be involved in a lot of different facets of the organization, and I think … that's one of the things that I have enjoyed from every job," she says. "I remind myself, I sort of [need to] visualize pushing away from the table to broaden out my view."