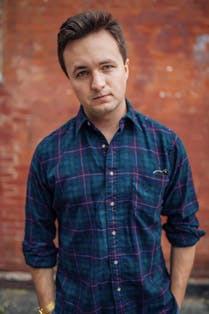 Andrew Lohse stepped forward as a whistleblower, detailing some of the abusive activity he and his fraternity, Sigma Alpha Epsilon, engaged in. (Photo courtesy of St. Martin's Press)Dartmouth College was rocked when Andrew Lohse stepped forward in 2012 with an op-ed in the college paper and a profile in Rolling Stone detailing the hazing he endured as a pledge at Sigma Alpha Epsilon fraternity.
Now, two years later, he has authored Confessions of an Ivy League Frat Boy, his memoir of his rise and fall as a fraternity brother. Lohse claims SAE built its brotherhood on a foundation of brutal hazing and an enforced code of silence. He condemns the Dartmouth administration for tacitly condoning the abuses that go on in its powerful Greek system.
Before delving into the book, it is important to take note of Lohse's biases as a narrator. By stepping forward as a whistleblower, he subjected his own character and reputation to intense public scrutiny. His excesses and run-ins with police authority are well documented online, and the memoir is a partial attempt to rationalize such behavior.
As a brother, Lohse also perpetuated the same abuses that he was a victim of initially. At times, the memoir appears to whitewash his own involvement in hazing activity, particularly when read in conjunction with police reports of some of the incidents he describes.
Finally, he abdicates personal responsibility for his own actions by blaming SAE and the college for creating an environment that "allowed" him to behave that way.
"When compared to hazing horror stories I've heard from colleges in the southeastern (United States) and even elsewhere at Dartmouth, I always viewed SAE's pledge term as tame, fun and inclusive," a former SAE brother who graduated from Dartmouth in 2012 tells Diverse via email. "Of all the brothers I've spoken to about pledge term, (Lohse) is the only one who does not remember that time with some degree of fondness, and the only one who seems to feel victimized by the experience."
Dangerous culture
Despite its controversial elements, Confessions is a worthwhile and arguably essential read for administrators, professors and students, particularly at Dartmouth. Students should be aware of the potential risk they run when pledging a fraternity, and administrators and professors should be aware of what goes on in the Greek system.
Lohse's memoir provides insight into Dartmouth's fraternity culture and the mindset of a brother who takes its precepts to the extreme.
One of the pivotal moments of the book involves an instance where an upperclassman in SAE turns in Lohse, another SAE brother, and two female students to campus safety and security for using cocaine in an SAE common room.
In the aftermath, SAE lashes out, not at Lohse and friends for their illegal activity, but at the whistleblower for breaking the house code: "what happens in this house stays in the house."
­Their reaction foreshadows Lohse's eventual fall from grace after publicly exposing the hazing he endured at SAE. ­The whistleblower — whom Lohse dubs "Rector" in the memoir — eventually has to move out of the fraternity due to the abuse.
SAE brothers destroyed all physical vestiges of Rector's existence in the frat, including smashing a wooden table Rector built as a pledge. ­They burned the shards of the table in a grill.
"It seemed that every project that Rector had ever done as a pledge or as house manager had been mauled," Lohse writes in the memoir. "As I walked around the house trying to piece together what was going on, I was more unsettled by the Lord of the Flies vibe in the air than anything else."
­The Rector incident is a true story and is recorded in several police affidavits, first regarding Lohse and his friends' cocaine possession, and then for the president of the local frat chapter's witness tampering after the real-life Rector complained of the harassment he received.
Rector is actually Phil Aubart, then a senior and ROTC cadet. Aubart said he felt threatened by his table being burned and destroyed, emails sent out by brothers saying that he should be "killed," being spat at, beer bottles thrown at his door and brothers attempting to break into his room. Finally, Aubart severed ties with the fraternity and moved into a dormitory.
In the book, Lohse paints an unflattering portrait of Rector, describing him as harsh and unpopular. In one scene, Rector punishes a new pledge, "Pulaski," for failing to fulfil his pledge duties by forcing him to drink vinegar until he throws up.
Allegedly, Pulaski vomited blood from drinking so much vinegar. By portraying Rector as cruel and unlovable — almost sociopathic — Lohse makes the retaliation Rector suffers for breaking the house code of silence seem more plausible. It could be portrayed as a reaction against not just his whistleblowing but also his tenuous position in the house more generally.
Yet reading more closely, there are clear parallels between Rector — Lohse's novelistic depiction of the real-life Aubart — and Lohse. Neither quite fits in with the other brothers, and both are driven out when they violate the house code.
­The priority for SAE, in Lohse's telling, was to keep campus safety and security out, rather than to ensure that brothers were living healthy and productive lives. Brothers face social isolation and ostracism for speaking out about abuses within the fraternity.
Speaking with Diverse, Lohse says that the harassment Aubart received was a wake-up call for him. "­That experience was one of those moments where I started to think, 'Wow, maybe I have really gotten off track here. Maybe there's something really morally fraught that we're doing, and the things that I was doing,'" he says.
Rector and Lohse's respective social downfalls help explain why students are hesitant to speak out about the abuses that go on at frats: condoning and encouraging binge drinking, sexual assault, and other forms of violence.
According to Lohse, drinking at Dartmouth is taken to an extreme, particularly within fraternities. "Booting," or throwing up in order to continue drinking, is so de rigueur that at some weekly fraternity meetings the president will "boot" in front of everyone else to set the tone and kick off the proceedings.
"Doming," another Dartmouth ritual that Lohse describes in great detail, involves a drinking contest between two brothers. Whoever throws up first loses and the victor wins the right to vomit on the loser's head. That such behavior is relatively commonplace at some fraternities speaks volumes about what some fraternity brothers view as acceptable.
Yet fraternity culture is tacitly condoned by the administration. In Lohse's telling, even when abuses do make themselves known to the administration, it attempts to downplay them.
"For the most part, from where I stand, it doesn't seem that there's been a meaningful evolution about how we address fraternity life, and the problems that are inherent to fraternity life that poison the community," Lohse says in an interview.
Traditions of hazing
Even outside the Greek system, traditions of hazing abound at Dartmouth. Rosalie Lipfert, a graduate of the class of 2013, tells Diverse that,though she never joined a sorority, she still encountered hazing on Dartmouth's ski team. "I do think that Dartmouth is more focused on its traditions than other places," she says.
During her freshman year, upperclassmen on the team organized an event in which they encouraged the freshman girls to drink alternating mugs of beer and whole milk. Although Lipfert says she opted out, she nevertheless felt uncomfortable. "Clearly there is some need always with new groups of people joining a pre-existing group for there to be a hierarchy," she says.
Instead of cracking down on the drinking, the Dartmouth administration chose to focus on a more public and innocent ski team tradition. During Winter Carnival week, female freshmen on the ski team dye their hair bright pink, and the men sculpt theirs into bright green Mohawk hairstyles. The administration forbade it in 2013. "Out of all the hazing traditions that happen on campus, that's pretty minor," Lipfert says.
With Confessions, Lohse brings the abuses that go on — tacitly condoned by the administration — to light. Even if Lohse's version of events is slightly spurious, as some of his fraternity brothers insist, it is not the specific details that are so important. His "confessions" are more accurately an exposé of Dartmouth's fraternity culture, rather than a specific condemnation of SAE.
In an interview with Diverse, Joseph Asch, a Dartmouth alum and lead editor of Dartblog, a blog focused on the university, says that the value of the memoir comes from its depiction of a world that is secretive and hidden.
"It shows people this world that they've had hints of, but this shows it from the inside," Asch says. "(Lohse) is just showing people what it really is. I think people are understanding it better."