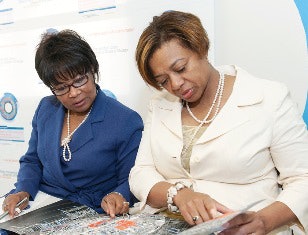 The field of institutions vying to become the host site of the Barack Obama Presidential Library has been narrowed from 13 applicants to four finalists. The finalists selected by The Barack Obama Foundation are the University of Chicago, the University of Illinois at Chicago, Columbia University, and the University of Hawaii.
By December 11, the four institutions will have to submit formal detailed proposals that include site development plans, community partnerships, project management and organization plans, marketing strategy, and financial commitments. Earlier this year, the foundation sought Requests for Qualifications from the 13 applicant institutions, which were evaluated on factors such as accessibility, community involvement, and economic development.
"We were amazed by the quality of responses to our Request for Qualifications and we are grateful to every institution that expressed interest in carrying President Obama's legacy forward," said Martin Nesbitt, the chair of The Barack Obama Foundation board, in a statement.
"These four potential partners have come the farthest in meeting our criteria and have each demonstrated a strong vision for the future Obama Presidential Library. We look forward to working with each institution to further refine their proposals over the coming months, and to presenting our recommendations to the President and First Lady early next year," he added.
Obama has ties to each location. A native of Hawaii, the 44th U.S. president completed his undergraduate education at Columbia University. Following his Harvard University law school years, Obama returned to Chicago where he had previously resided while working as a community organizer. After moving back to the Windy City where he would launch his political career, Obama taught at the University of Chicago law school and lived nearby in the Hyde Park community.
The University of Chicago has been touted as a top contender, and the school has proposed three sites from the city's South Side section that are near the university's Hyde Park campus and the Obama residence. University officials have expressed their expectations that the presidential center help revitalize the South Side. The University of Chicago's designation as a finalist "affirms our strong belief that the library could be transformative for the heart of the South Side, bringing new economic and cultural opportunities to all of Chicago," University of Chicago president Robert J. Zimmer said in a statement.
"We will move forward with a bid that honors the rich history and traditions of the South Side and the promising future of our city," he noted.
Chicago's other library site finalist, the University of Illinois at Chicago (UIC), has promoted its status as a public institution and has proposed city West Side locations whose proximity to public transportation would make the library accessible to a wide audience. "We have some great sites that are easily accessible from downtown and are not being contested in any way," UIC university librarian Mary Case told Diverse.
"We have a campus that has great affinity with the values of President Obama and Mrs. Obama in terms of what our core values and missions are," she said.
UIC president Paula Allen-Meares has stated that Obama and UIC share the goal that public institutions play a major role in creating and facilitating "a more open and inclusive" society. "As a land-grant institution, UIC makes it possible for aspiring students, regardless of race, gender or socioeconomic status, to obtain a high-quality education at an affordable cost," she said in a statement.
The Barack Obama Foundation board is expected to share its library site recommendations with the president and First Lady, who will make the final decision in early 2015. The Obama Presidential Library will be the 14th in the federal presidential library system. The George W. Bush presidential center in Dallas opened in May 2013.