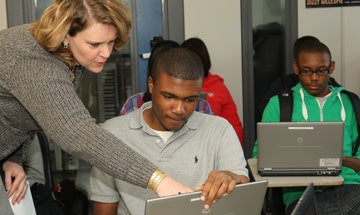 Too many teacher candidates are graduating with high marks that don't truly reflect their readiness to teach because too often their programs lack the kind of rigor that will prepare them for what they will encounter in an actual classroom.
That is one of the key takeaways from a report being released today by the National Council on Teacher Quality.
The report—titled "Easy A's and What's Behind Them"—is the latest in a series of recent NCTQ reports that takes teacher prep programs to task for how well they produce teachers who are ready to put their skills to use on the first day of school instead of relying on trial and error.
One of the most interesting aspects of this latest report is the fact that, in order to build its case that too many students are graduating from teacher prep programs with honors for those honors to mean much, NCTQ examined an unlikely source: commencement brochures obtained online.
The tactic speaks to the lengths that NCTQ is willing to go to illuminate the pedagogies being employed in America's teacher prep programs, which have been on edge ever since NCTQ started soliciting and gathering information on their syllabi and coursework in order to launch its annual Teacher Prep Review in 2013.
In examining commencement brochures, researchers at NCTQ spotted what they characterize as a curious trend: Teacher prep programs are letting students graduate with honors far more frequently than other higher education programs. More specifically, NCTQ found that, while 30 percent of all graduating students qualified for honors at 509 campuses for which commencement brochures were examined, in teacher prep programs, the proportion stood at 44 percent—or 14 percentage points higher than the rest.
"This difference means that teacher candidates are 50 percent more likely to earn honors than undergraduate students across the campus," the NCTQ report states. "These results provide clear evidence that many teacher preparation programs are far too liberal in awarding high grades rather than reserving them for the teacher candidates who truly do exemplary work and who are ready to hit the ground running."
Sharon Robinson, CEO and president of the American Association of Colleges for Teacher Education, gave the NCTQ report a failing grade.
"Like previous NCTQ studies, 'Easy A's' has many methodological flaws and relies on inadequate sample sizes and points of evidence," Robinson said in a statement to Diverse.
The NCTQ report says high grades would normally not be an issue "if they represented a genuine recognition by teacher educators that candidates have fully mastered the material at hand and can advance."
"However," the report states, "given the nearly universal experience of novice teachers that the first years in the classroom are filled with struggle, and the hard evidence that students of novice teachers are consistently at a disadvantage when compared with students taught by more experienced teachers, successful completion of a preparation program clearly does not ensure a successful first year of teaching."
In seeking to explain why teacher prep graduates are so much more likely to graduate with honors, NCTQ examined course assignments listed on syllabi it obtained for its ongoing examination of the teacher prep programs.
The aim was to identify which assignments were "criterion-referenced," that is, those that deal with a "clearly circumscribed scope of knowledge or a specific skill," versus which ones were "criterion-deficient," or those with a "broad scope of content" and or involve content "that may not be entirely knowledge or skill based, making it harder for instructors to offer high-level feedback."
The report found that, out of 6,000 assignments in 862 courses at 33 institutions, a course taught in teacher preparation "almost always relies heavily on criterion-deficient assignments (accounting for 71 percent of course grades), the type of assignment that we assert increases potential for trial and error in novice teaching."
The reason that's significant, NCTQ says, is because, as the percent of grades attributed to "criterion-deficient" assignments rises, so does the average course grade.
Among those assignments identified as criterion-deficient were the well-known "reflection" assignments in which teacher candidates journal their experiences and the like—a practice that NCTQ says adds little value to the preparation experience.
The report notes that, while reflection assignments only constitute about five percent of a grade on average, they are much more common in teacher prep courses versus other courses, 34 percent versus 12 percent, respectively.
Robinson, of AACTE, said the NCTQ report authors themselves admit that one of their primary hypotheses—that criterion-deficient assignments lead to higher grades—"cannot be proven." As evidence, she cites an endnote from the NCTQ report in which the authors concede that "we cannot assert that having criterion-deficient assignments causes higher grades."
"We do find a relationship between these components, and we believe that the criterion-deficient assignments provide a plausible and compelling reason for higher grades," the endnote states. "However, because we cannot feasibly design an experiment in which we randomly assign some instructors to give more criterion-deficient assignments than others, we cannot claim to have found causality."
Robinson also found fault with NCTQ's reliance on syllabi and commencement brochures to analyze teacher candidates' academic performance.
"Even if we were to accept that these items were indeed full and accurate representations of course rigor and candidate performance, only half of institutions with an undergraduate teacher prep program provided enough information for NCTQ to carry forward an analysis," Robinson said.