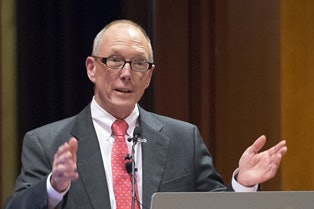 WASHINGTON ― A simpler financial aid system and better learning outcomes for college students emerged Wednesday as some of the top things that Congress should seek to bring about when it works to reauthorize the Higher Education Act.
No one at the New America Foundation panel discussion—titled "Will Reauthorization Save the Higher Education Act"—had an authoritative read on if or when Congress would actually reauthorize HEA.
One of the most astute observations came in the form of a question from audience member Allen Sessoms, former University of the District of Columbia president who is now senior fellow at the American Association of State Colleges and Universities.
Sessoms suggested that recent pushback over the Common Core State Standards could serve as a bellwether for how difficult it could be to see any progress with respect to the things the panelists suggested be done through HEA.
"We've had governors of states push the Common Core and it's been adopted in lots of places, but all of a sudden it's a political football and the federal government is being blamed for the Common Core and had very little to do with it," Sessoms said.
"How do you expect discussions around the reauthorization of HEA to be less political than something as simple as that?"
"No one is talking about a Common Core for higher education," responded panelist Kevin Carey, director of education policy at the New America Foundation.
"The Common Core was really an attempt to bring regularity to the processes of K-12 education," Carey said. "There is a deep historical principle in American higher education of leaving the processes alone.
"But to have a bottom line perspective about what happens afterward, particularly if we're framing it in terms of loan money, which is federal money, these are taxpayer dollars that we are lending to students, who then turn around and give it to colleges; it's reasonable to find out what's happening to them afterward."
Carey also said that, while policy changes could be made incrementally through budget and appropriations bills, he predicted that no action would be taken on HEA until after 2016 given the "dysfunction" of Congress in recent years.
"It's been very hard to be wrong about betting on congressional dysfunction over the last 10 years, so I'm going to stick with that," Carey said.
U.S. Under Secretary of Education Ted Mitchell said he'd like to see federal regulatory frameworks encompass more about outcomes and not processes and inputs. He also expressed optimism about being able to work with Congress on higher education policy even if it's handled incrementally by passing bills that could impact students and at the same "keep our eyes on a bigger prize."
Laura Perna, Executive Director at the Alliance for Higher Education and Democracy at the Penn Graduate School of Education, said she liked the idea of "trying to figure out ways to incentivize states" to invest more in higher education—reversing a general trend in the opposite direction—and making sure college is more affordable and that all students are ready for college-level work.
She also called for more ways to help people make better choices about postsecondary institutions where they can succeed but expressed skepticism that any one thing, such as the long-awaited college ratings system of the Obama administration, could achieve that end.
Nick Anderson, higher education writer at The Washington Post, predicted that the higher ed policy issue most likely to be tackled by the next Congress is one of money.
"When I talk to college presidents about what their priorities are, priority number one is probably Pell grants," Anderson said. "They want more funding for Pell grants. It's universal among the college presidents that I talk to."
But the flip side of the coin is how much bang the public is getting for its buck—something that could be illuminated by the college ratings system that the Obama administration has said it will put forth this fall.
"I'd be very interested to know what are the colleges that have the best graduation rates of Pell grant students" as well as information about transfer students, Anderson said. "As a reporter, I'd love to have that kind of information."