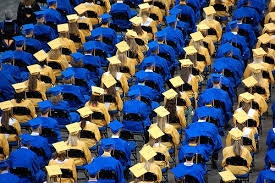 University and college graduation rates have declined since the beginning of the economic downturn, according to a new report, even as policymakers prod universities and colleges to turn out more people with degrees.
While enrollment has gone up since 2008, the proportion of students who graduated has gone down, the report, by the National Student Clearinghouse Research Center, found.
Fifty-five percent of students who started college in 2008 had finished their two- or four-year degrees even six years later, the Clearinghouse said. That's down from the previous rate of 56.1 percent.
Colleges and universities complain that they are also held responsible for students who enroll on their campuses and then transfer to other institutions and don't graduate. But the report found that most of the decline in the graduation rate occurred among students who stayed at the same school and did not transfer or receive degrees.
The proportion of students who started at two-year community colleges and managed to graduate within six years also fell slightly, to about 39 percent.
The results come from data provided to the Clearinghouse by most universities and colleges.
"Getting more students to enroll is only the first step to increasing the number of Americans with a postsecondary credential," said Doug Shapiro, its executive research director. "We also need to do more to help them stay enrolled to the finish line."
The report acknowledged that some of the students who never graduated may not have ever intended to, but took courses during the recession solely to improve their job prospects.