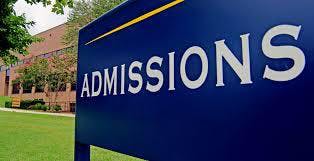 WASHINGTON ― When Destiny Sharpe had to settle on a high school a few years back, Capital City Public Charter School was far from being first on her list.
The school had no football team and seemed virtually unknown among her peers.
"My dream was I wanted to be a cheerleader, homecoming queen," Sharpe said. "At Capital City, I saw that would not be possible."
But Capital City Public Charter School ended up providing Sharpe with something much more valuable than the chance to shake pompoms on the sidelines or don a tiara in the school gymnasium. The school provided step-by-step help with the college application process.
All that help culminated this past Friday with a chance-of-a-lifetime event to meet first lady Michelle Obama, who visited the school to encourage the Class of 2015 as they walked their college applications to a mail bin as part of the school's second annual "College March."
Sharpe said the experience of meeting the first lady in person made it worth forgoing the chance to be a cheerleader or homecoming queen.
"I could not think. All I knew is that I was approaching one of the most important ladies in the whole world," Sharpe recalled of the moment when she — along with the rest of the Class of 2015 at Capital City — got a hearty hug from the first lady.
"I felt so special," Sharpe said.
Obama — who has made college enrollment one of her personal causes through her Reach Higher initiative — commended Capital City for doing what it takes to help students make their college dreams come true.
"You guys go to a school where the goal isn't just to finish eighth grade or twelfth grade, or to have a cool boyfriend or girlfriend, or to wear the right shoes," Obama said. "The goal here at your school is for all of you all to get the best education possible."
Obama said the help that Capital City Public Charter School provides students with the college application process "should be the model for every school in this country."
"Every young person in this country should have a team of teachers and counselors and school leaders who are pushing them, supporting them, like you all have here at Capital City," Obama said. "Because we all know the difference that this can make in a student's life."
Research clearly shows that counselors can be "highly influential in the college admission process" when they are available to provide direct counseling to students, according to Cheryl Holcomb-McCoy, professor of counseling and human development at the School of Education at Johns Hopkins University.
However, recent reports show that public high school counselors often carry heavy caseloads in excess of 400 students and have precious little time for college advising.
The story is different at Capital City Public Charter School, where a team of counselors serves 75 seniors.
Belicia Reaves, principal at Capital City Public Charter School, said the school's counseling team is the "best counseling team this side of the Mississippi."
Support for that view can be found in the school's statistics. School officials say 100 percent of its first graduating class — the Class of 2012 — got accepted to college.
This is particularly noteworthy given that 80 percent of graduates are the first in their families to attend college, and 30 percent have been first in their families to finish high school, school officials say.
"For many of our students pursuing a college education, they are fulfilling the dreams of their parents and setting an example for their entire families," said Bridget Jackson, director of college counseling.
Among this year's seniors, 100 percent have already completed at least one college application and, collectively, they have completed 500 applications for colleges and scholarships, school officials said. To date, the students have won more than $500,000 in merit scholarships, according to Reaves.
But perhaps the best testimony regarding the effectiveness of the college advising at Capital City Public Charter School came from the students themselves.
After the ceremony, several graduating seniors spoke regarding the help they got from the school with their college applications.
Al of the students spoke highly of the counselors and a senior seminar class that focuses exclusively on the college application process.
Sharpe, who has sent off applications to a variety of colleges — from "dream schools" to "safety schools," said the class and counseling proved invaluable.
"I didn't know anything about how to apply to college," Sharpe said. "In the summertime I was stressing. I didn't know the first place to start."
Other students described Jackson, the counseling director, as a tireless worker who stayed after school well into the evening to make sure students got all the help they needed.
"She'd stay until 9:30 or 10 o'clock," said LaNique Lilly, 17, also a senior. "She doesn't want anyone to say this is why they didn't do XYZ or that our college counselor didn't help us out."
At the same time, Capital City encourages students to take ownership and responsibility for the college admissions process, said Miguel Portillo, son of immigrants from El Salvador and who is on track to become the class valedictorian.
Obama recognized Portillo — who has a 4.11 GPA — by quoting something he said in response to a question her staff asked about his stellar academic performance.
"When we asked Miguel how he achieved so much … he said, 'Being a scholar at CCPCS makes you feel like you are part of a community that is always pushing you to go above and beyond,'" Obama said. "He said, 'If you have self-discipline and are self-motivated, you will be successful.'"